Use our On-Line 100% Secure EncryptedShopping Cart Ordering System. Simply browse
our site and Click the ADD TO SHOPPING CART buttons to place items in your Shopping Cart
[ HOME ] [ COMICS ] [ MOVIES ] [ NOVELS ] [ CD-ROM ] [ Order info ] [ Help ] [ ARTIST SITES ] [ SEARCH ]
[ Disclaimer ] [ CATALOGUE ] [ Copyright ]
FANSADOX ALBUM 2:
DREAM HOLIDAY #1 by DAMIAN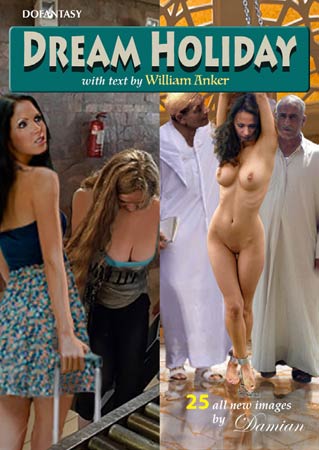 NEW IN PDF ELECTRONIC VERSION! Adult Album by DAMIAN. Shocking texts by William Anker
HIGH RESOLUTION PDF deluxe edition.
25 full color pages!!!
-COMPLETE, UNABRIDGED VERSION-

THESE BEAUTY QUEENS WENT ON A WELL DESERVED VACATION TO THE MEDITERRANEAN TO RELAX AND HAVE FUN IN THE SUN! THEY WERE NOT PREPARED WHEN A VIOLENT REVOLUTION CAME TO THEIR HOTEL DOORSTEP!
THE DESERT LIBERATION ARMY IS HELL BENT ON OVERTHROWING THE GOVERNMENT, BUT A REBELLION NEEDS FUNDS… THESE WHITE SLAVES WILL DO NICELY WHEN THEY'RE SOLD TO THE HIGHEST BIDDER!
IMPORTANT NOTICE - DISCLAIMER
All characters are 18 years old or older. This is an entirely fictional work based on cartoon characters for adult entertainment. It shows no real people or events. The characters are shown participating in CONSENSUAL role-play for their own personal satisfaction, simulating activities which involve sexual dominance and submission. No actual toons were harmed in the making of this comic.
Damian takes you on yet another riveting tale a little bit closer to home. When these gorgeous beauty queens all congregated on the fabulous beaches of the Mediterranean to celebrate their victories in grace and elegance throughout the western world, they had no idea of the unrest or violence brewing under the surface. A violent rebellion soon sweeps through the country leaving nothing untouched, least of all these posh and gentrified hotels where bikini clad females are playing innocently.
Soon the girls will find themselves swept up in the awful ferocity of these desert fanatics as they're split up and separated and sold to desert sheiks and sultans! These girls will soon learn obedience and submission when they're forced to endure painful and violent sex and bondage! These naughty and haughty ladies will be beaten into submission until they learn to properly serve their exacting masters…
One way or another, these girls will learn to submit to their new masters. One way or another, they will obey. These poor girls will disappear into the shimmering sands of the desert, never to be seen again…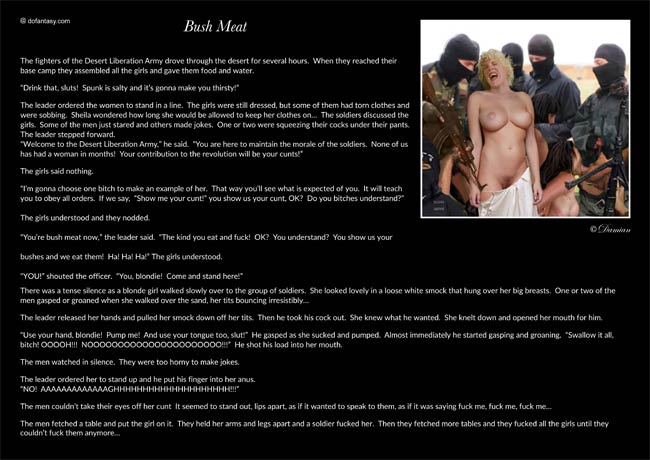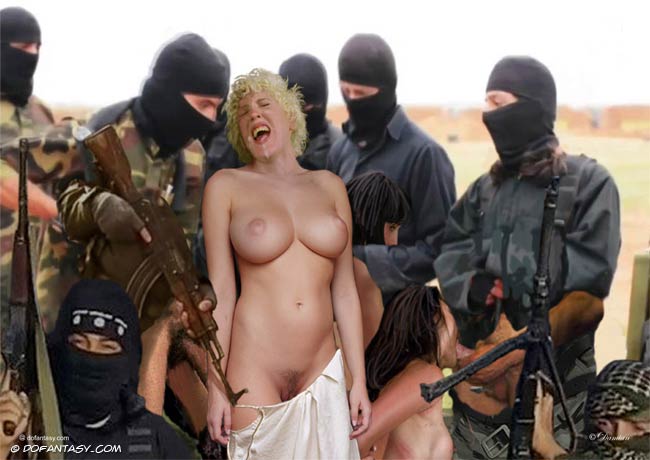 THIS SHOCKING TALE SHOWS WHAT HAPPENS WHEN NAIVE, YOUNG GIRLS SEEK ADVENTURE IN A DARK AND DANGEROUS PLACE! THEIR BODIES ARE USED, ABUSED, AND VIOLATED OVER AND OVER AND OVER AGAIN AS THEY'RE FORCED TO SERVICE AND SUBMIT TO THEIR NEW MASTERS: THE DESERT LIBERATION ARMY! TAKEN ON A WILD RIDE, THESE WHITE WOMEN ARE MADE TO WHORE AND SCORE WITH THEIR BRUTAL CONQUERORS! YOU DON'T WANT TO MISS THIS EXCITING ADVENTURE, BROUGHT TO YOU HERE EXCLUSIVELY AT DOFANTASY.COM!
THE BEST DAMIAN!