Use our On-Line 100% Secure EncryptedShopping Cart Ordering System. Simply browse
our site and Click the ADD TO SHOPPING CART buttons to place items in your Shopping Cart
[ HOME ] [ COMICS ] [ MOVIES ] [ NOVELS ] [ CD-ROM ] [ Order info ] [ Help ] [ ARTIST SITES ] [ SEARCH ]
[ Disclaimer ] [ CATALOGUE ] [ Copyright ]
ROMAN CRUELTY & DECADENCE #6 by DAMIAN
NEW IN PDF ELECTRONIC VERSION! Adult Album by DAMIAN. Shocking texts by Barbaria, Eulalia & Phlebas
HIGH RESOLUTION PDF deluxe edition.
25 full color pages!!!
-COMPLETE, UNABRIDGED VERSION-
DAMIAN WOWS YET AGAIN WITH THIS SHOCKING DISPLAY OF ANCIENT ATROCITY! THESE POOR GIRLS WILL SUFFER UNDER ROMAN SADISM WHETHER THEY WANT TO OR NOT!
A FINE AND FIRM SET OF GERMANIC GIRLS ARE TAKEN AWAY FROM THEIR HOMES AND SOLD INTO SLAVERY IN ROMEíS DISEASED HEART! HOW LOW WILL THEY GO, AND HOW FAR WILL THEY FALL?
IMPORTANT NOTICE - DISCLAIMER
All characters are 18 years old or older. This is an entirely fictional work based on cartoon characters for adult entertainment. It shows no real people or events. The characters are shown participating in CONSENSUAL role-play for their own personal satisfaction, simulating activities which involve sexual dominance and submission. No actual toons were harmed in the making of this comic.
Roman lust for fresh women and girls knew no boundaries. Once the fat plunder of rival empires had been plucked, the corrupt and decadent Senators and Centurions wanted, nay, DEMANDED more! Though the poor, Germanic tribes of the north had little to offer in the way of gold or treasures, they still were rich in the one resource that still mattered: shapely and succulent sluts! Rome marched on the orders of pampered politicians sitting snug and safe in the capitol while the Roman legions forced their way through woodland, bulldozing everything in their path.
Out of all the horrors that Rome has inflicted on the ancient world, the cruelty and barbarism it would show to the poorest and most helpless of peoples is shocking and horrifying, even among the other Romans! When a people have nothing to offer but their prettiest and most beautiful, Rome will make sure to defile, deface, and shame those pretty girls in each and every one of their lovely, open, and helpless holes. The girls will scream, cry, and beg before the end, and the Romans will make sure they get their worth out of these quivering hunks of female meatÖ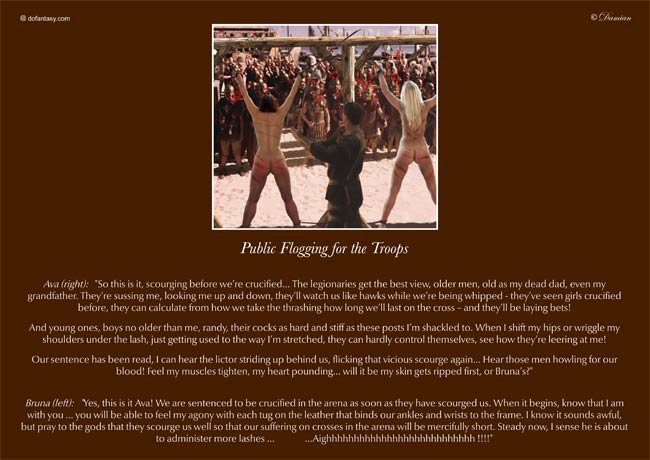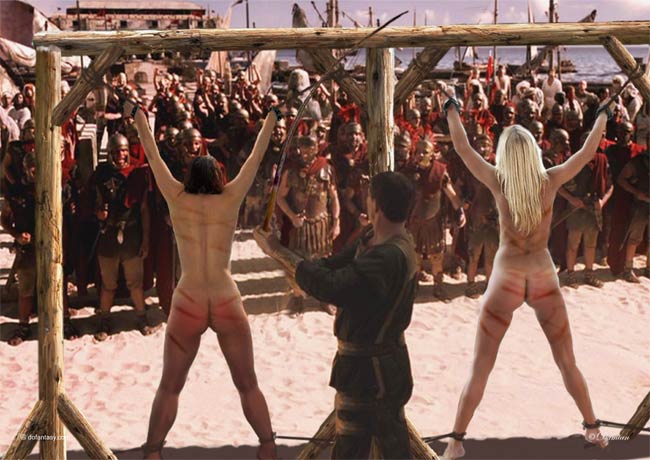 DAMIANíS WILD AND WICKED IMAGINATION TAKES FLIGHT ONCE MORE IN THIS STUNNING AND BEAUTIFULLY RENDERED BOOKLET FULL OF ONLY THE MOST HEINOUS AND HORRIFYING TABLEAUS OF PAIN AND TORMENT! THIS LATEST ISSUE IS EVEN HARDER THAN BEFORE, AND ITíS FULL OF SOME OF THE BEST AND MOST BEAUTIFUL RENDERINGS AND DRAWINGS YET AND TOLD IN SOME OF THE MOST SHOCKING AND SADISTIC STORIES OUT THERE! YOU DONíT WANT TO MISS THIS AMAZING ISSUE, BROUGHT TO YOU HERE EXCLUSIVELY AT DOFANTASY.COM!
THE BEST DAMIAN!