Use our On-Line 100% Secure EncryptedShopping Cart Ordering System. Simply browse
our site and Click the ADD TO SHOPPING CART buttons to place items in your Shopping Cart
[ HOME ] [ COMICS ] [ MOVIES ] [ NOVELS ] [ CD-ROM ] [ Order info ] [ Help ] [ ARTIST SITES ] [ SEARCH ]
[ Disclaimer ] [ CATALOGUE ] [ Copyright ]
CHINESE TORMENTS & BONDAGE #1 by DAMIAN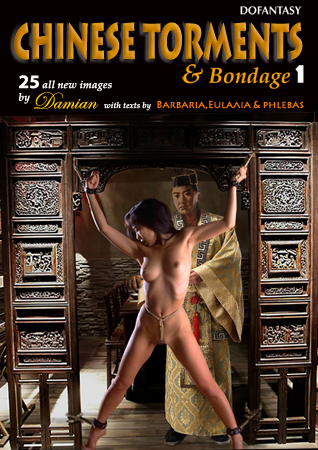 NEW IN PDF ELECTRONIC VERSION! Adult Album by DAMIAN. Shocking texts by Barbaria, Eulalia & Phlebas
HIGH RESOLUTION PDF deluxe edition.
25 full color pages!!!
-COMPLETE, UNABRIDGED VERSION-
THE SICK AND TWISTED MIND OF DAMIAN HAS CREATED A BRAND NEW AND EXCITING SERIES SET IN THE EXOTIC, FAR EAST IN THE ANCIENT WORLD OF IMPERIAL CHINA!
THESE POOR GIRLS AND CONCUBINES WILL KNOW WHAT HAPPENS WHEN THEY INTERFERE WITH THE INTRIGUES OF THE COURT AND THE WILL OF THE IMPERIAL BUREAUCRACY WITH THEIR BODIES AND THEIR LIVES!
IMPORTANT NOTICE - DISCLAIMER
All characters are 18 years old or older. This is an entirely fictional work based on cartoon characters for adult entertainment. It shows no real people or events. The characters are shown participating in CONSENSUAL role-play for their own personal satisfaction, simulating activities which involve sexual dominance and submission. No actual toons were harmed in the making of this comic.
The world of ancient, imperial China is deep and rich with history and intrigue. Over a thousand years, through the generations and dynasties, stretches the sophistication and tradition of the Middle Kingdom. In this world, that tradition and ritual has firmly taken root, and that world will not abide change, not from within, and certainly not from without! But even over the centuries and millennia, a dark and perverted strain of human cruelty and malice has taken hold, far from the open pavilions and sunny courts where the masses can see.
Deep in the recesses of the palace sits the Red Chamber, where the concubines of the sprawling imperial family lay in waiting. In this world, women are treated as little more than objects to be used and abused as their noble masters see fit! But that's far from the worst of it, as courtly deception and a failed revolution lead to the ultimate punishment of the most delicate and feminine of scheming concubines… If centuries of civilization have metastasized into a dizzying array of tradition and ritual, think what cruelties must lie in the dungeons of the Forbidden City?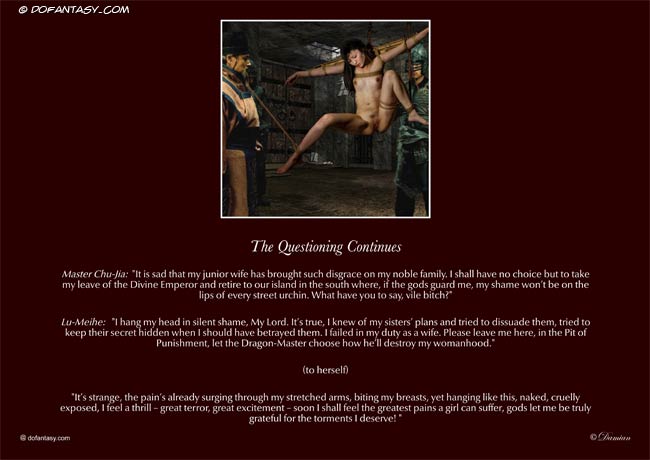 DAMIAN HAS CREATED A BRAND NEW AND EXCITING HISTORICAL ESCAPADE SET IN THE MISTS OF ANCIENT, IMPERIAL CHINA! PALACE PLOTTING, BITTER BACKSTABBING, AND COURTLY INTRIGUE ALL COME TO A HEAD IN THIS AMAZING, ORIENTAL ADVENTURE! THE WILL OF THE IMPERIAL COURT IS STRONG, BUT THEIR LUSTS AND CRUELTY ARE STRONGER! YOU WON'T WANT TO MISS THE START OF THIS EPIC SERIES, BROUGHT TO YOU HERE EXCLUSIVELY AT DOFANTASY.COM!
THE BEST DAMIAN!