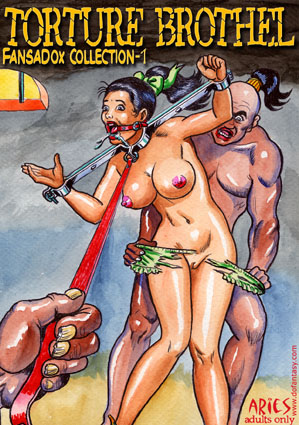 New in English!!!
by ARIES
HIGH RESOLUTION PDF deluxe edition
40 full comic pages by ARIES
IMPORTANT NOTICE:
All characters are 18 years old or older.
All action is simulated and involves
no real people.
The authors/publishers do not condone
violence of any kind.
These are completely fictional comics
for adult entertainment.
In a High Security Detention Centre in the remote Amazon jungle, a selected bunch of beautiful young women are kept naked and in chains, waiting… They are all foreigners with no relatives in the country. No one knows they are there. They just disappeared one day…
The girls are forced to work in a rather special brothel, hired out by the day and even sold if a rich client takes a special fancy to them.
The only limits in the Brothel are provided by the client's imagination. He is King and is free to do whatever he likes with his whore. If he goes too far and the girl dies or is disabled and cannot do her job, the client pays the bill and no questions are asked.
Three selected girls, blonde, brunette and redhead, wait in the reception room. They are in chains. It's early in the morning and no one has come to get them yet. Suddenly, a door opens and the girls turn their head in terror to the door.
They have every reason to look terrified. A middle aged man is running his eyes greedily over them. He is horrendously ugly: bald, fat, and repulsive. His eyes flicker urgently over them as if they were the first girls he has seen in many years. A strange erection flops between his short, hairy, flabby legs…
His name is Severo Matanzas, drug lord and millionaire. It's his first time in the brothel. He's here early because he wants first choice…

Severo Matanzas submits the girls one by one to a long, detailed, humiliating physical examination before selecting Monique.

Monique is a young French girl, a brunette, who has only been in the brothel for just over a week. Matanzas is her first client…

Matanzas cannot restrain himself. Crazed by lust, he cannot wait to get to the private room. Monique is the sexiest woman he has ever seen.

Calmer now, Matanzas starts the sadistic sexual games he has always dreamed of turning into reality...

Matanzas works on the girl with uncontrolled violence. She receives on her lovely body all the grievances and resentment the sadist feels towards all beautiful young women. Matanzas knows he will not be punished whatever he does...
He makes the girl to perform the most humiliating actions…



A exciting, well told and well drawn story
from the publisher of FANSADOX
High resolution Full-Color
in Large A4 (8 1/4 x 11 5/8)
GRAPHIC NOVEL FORMAT