Use our On-Line 100% Secure EncryptedShopping Cart Ordering System. Simply browse
our site and Click the ADD TO SHOPPING CART buttons to place items in your Shopping Cart
[ HOME ] [ COMICS ] [ MOVIES ] [ NOVELS ] [ CD-ROM ] [ Order info ] [ Help ] [ ARTIST SITES ] [ SEARCH ]
[ Disclaimer ] [ CATALOGUE ] [ Copyright ]
FANSADOX COLLECTION 128
TOP MODEL'S HELL - TEMPLETON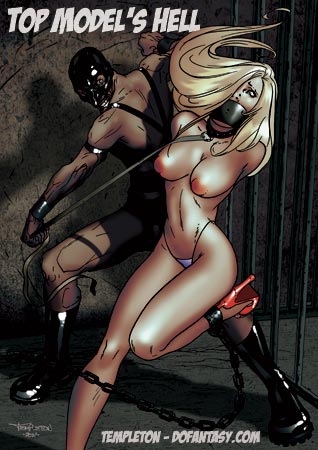 TOP MODEL'S HELL
NEW IN PDF ELECTRONIC VERSION!
Adult Comic Album by
TEMPLETON
HIGH RESOLUTION PDF deluxe edition
46 full color comic pages by
TEMPLETON
-COMPLETE, UNABRIDGED VERSION-
TWO LESBIAN TOP MODELS,
NOW PRISONERS OF
A CRAZY MAN!
IMPORTANT NOTICE - DISCLAIMER
All characters are 18 years old or older.
This is an entirely fictional work based on
cartoon characters for adult entertainment.
It shows no real people or events.
The characters are shown participating in
CONSENSUAL role-play for their own personal satisfaction, simulating activities which involve sexual dominance and submission.
No actual toons were harmed in the making
of this comic.
Sarah Mills, just turned 19, is the hottest new model, the one with the curves you would die for, the one you've seen in the trendiest celebrity magazines. But where is she? Nobody has had any news of her for three weeks now, not even her friends and family. Word in the press is she's sassing around some Caribbean island with a muscular new boyfriend.
Nothing could be further from the truth…
Which is, that Sarah Mills is held captive by a big fan. Big, retarded and crazy for her…

She's been his naked prisoner all this time. The famous Sarah Mills, the woman who gave a new meaning to walking the catwalk in the hands of a dumb man!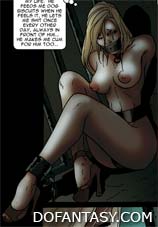 It's all a far cry from the comfortable, pampered life she always knew, and it's hard to take for a woman who's always been in control of any situation. She only had to arrive a little late for a party, wearing a clinging blouse or a breast-revealing tank top, and the room fell silent. Men stopped in mid-sentence, their jaws hanging slack, as they followed her with their gaze…
Now Sarah is naked, chained and gagged, locked up in a cage, waiting to be taken out by the man who owns her.
She has no control at all over this situation. She is not even allowed to satisfy her most intimate physical needs…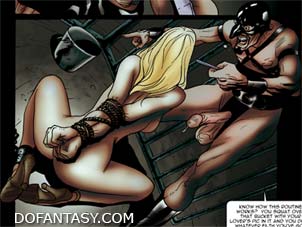 Reading her diary, he discovers that she is a lesbian and decides to cure her of what he considers to be her "illness"…
He soon finds out the identity of her lover. Sarah's partner, Cindy, is another well-known model...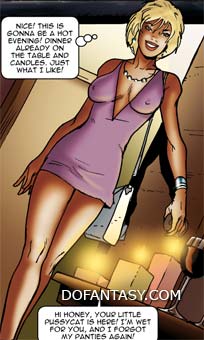 He mades Sarah to set a trap over the email...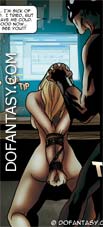 And soon the illiterate owner of a seedy kebab eatery becomes the owner of two of the sexiest women in the world…
Heavily chained, severely gagged and unable to speak to each other, the girls wait in horror and apprehension for the heavy footsteps of their jailor. Their famous eyes are wide open in fear, their famous breasts are trembling wildly...
The two young celebrities, the stuff of a million fantasies for both men and women, are now the property of a demented bastard...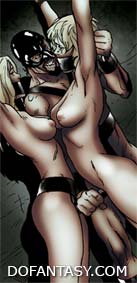 They know that this cruel, primitive man has the power to turn his fantasies into very real, very intimate humiliation…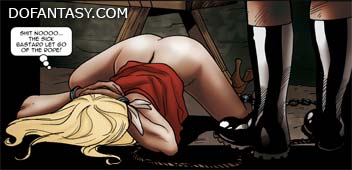 DON'T MISS THIS GREAT
NEW TEMPLETON!
TWO LESBIAN TOP MODELS,
NOW SLAVES OF A CRAZY MANIAC

HOT, OUT-OF-THIS-WORLD IMAGES
AND DIALOGS BY TEMPLETON
A CRUDE, SPINE-CHILLING EPISODE...
DON'T MISS 'SNATCHED MODEL' THE FIRST PART OF THIS DARK, HAUNTING STORY
VISIT TEMPLETON SITE FOR A COMPLETE LIST
OF TEMPLETON COMICS AND OFFERS