Use our On-Line 100% Secure EncryptedShopping Cart Ordering System. Simply browse
our site and Click the ADD TO SHOPPING CART buttons to place items in your Shopping Cart
[ HOME ] [ COMICS ] [ MOVIES ] [ NOVELS ] [ CD-ROM ] [ Order info ] [ Help ] [ ARTIST SITES ] [ SEARCH ]
[ Disclaimer ] [ CATALOGUE ] [ Copyright ]
FANSADOX COLLECTION 17
SLAVE OWNER CLUB - TEMPLETON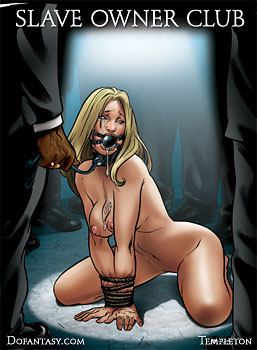 NEW IN PDF ELECTRONIC VERSION!
Adult Comic Album by TEMPLETON
HIGH RESOLUTION PDF deluxe edition
45 full comic pages by TEMPLETON
-COMPLETE, UNABRIDGED VERSION-
EXCLUSIVE ART BY TEMPLETON
A tale of money and sexual humiliation!
IMPORTANT NOTICE:
All characters are 18 years old or older.
All action is simulated and involves
no real people.
The authors/publishers do not condone
violence of any kind.
These are completely fictional comics
for adult entertainment.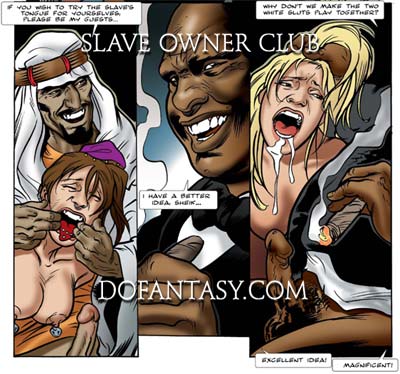 Slave Owner Club is one of most discreet and exclusive clubs in the world. Its secret meetings are held on a rotary basis in the mansions and country houses of the club members, who include leading businessmen, politicians, and the wealthy bosses of organized crime.
These men are all sexual sadists, with the money and the inclination to acquire and abuse beautiful, unwilling women as sexual slaves.
The reunion begins in an isolated mansion in Central Europe. One of the guests is Amid-Dada a rebel general from an African republic. His trousers are open, and he is being kissed and fondled by a naked young blonde of ravishing beauty.
The General tells the guests how he acquired the girl and also her attractive mother.
Mother and daughter, who hated the country and its black inhabitants, were driving through remote countryside when they were stopped at a military control. They were arrested for allegedly insulting the soldiers. The General arrived in time to save them from being abused by the soldiers only to convert them into his first white sexual slaves…
A retired KGB Colonel and the host of the meeting, tells how three American backpackers were snatched from a low-budget hotel, stripped naked and brutalized in a cold cell. The girls are missing since then. The Colonel has most precise plans for them…
Sheik Al-Rashid arrives late at the meeting. His escort is an astonishingly beautiful slave girl he has acquired at a public auction. Cruelly ravaged and humiliated by the Sheik during the first night as his slave, the girl is forced to show her sadistically pierced body to the audience…
At the end of the evening, the two slaves are thrown onto the floor together and obliged to work on each other's naked bodies to entertain the SOC members' dinner…
SLAVE OWNER CLUB
by TEMPLETON
EXCITING, IMPRESSIVE ART!
VISIT TEMPLETON SITE FOR A COMPLETE LIST
OF TEMPLETON COMICS AND OFFERS