Use our On-Line 100% Secure Encrypted Shopping Cart Ordering System. Simply browse
our site and Click the ADD TO SHOPPING CART buttons to place items in your Shopping Cart
[ HOME ] [ COMICS ] [ MOVIES ] [ NOVELS ] [ CD-ROM ] [ Order info ] [ Help ] [ ARTIST SITES ] [ SEARCH ]
[ Disclaimer ] [ CATALOGUE ]
FANSADOX COLLECTION 227
RUNAWAY DAUGHTER - MOFFETT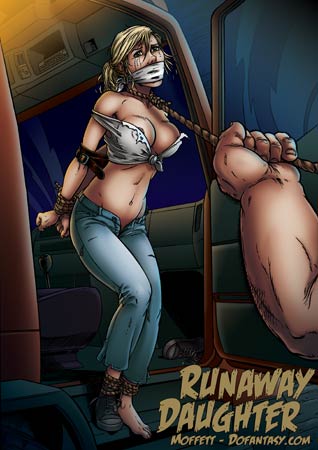 NEW IN PDF ELECTRONIC VERSION!
Adult Comic Album by MOFFETT
HIGH RESOLUTION PDF deluxe edition
44 full color comic pages.
-COMPLETE, UNABRIDGED VERSION-
AN INNOCENT YOUNG WOMAN,
OUT ON HER OWN FOR THE FIRST
TIME, SUDDENLY PLUNGED INTO A
WORLD OF HILLBILLY HORROR, VICTIM
OF THE INSATIABLE PERVERSIONS
OF A FAMILY OF DEGENERATE FREAKS!
IMPORTANT NOTICE - DISCLAIMER
All characters are 18 years old or older.
This is an entirely fictional work based on
cartoon characters for adult entertainment.
It shows no real people or events.
The characters are shown participating in
CONSENSUAL role-play for their own
personal satisfaction, simulating activities
which involve sexual dominance and
submission. No actual toons were harmed in the making of this comic.
CRUELTY AND SADISM ARE THE ONLY LANGUAGE SPOKEN BY THE INBRED INHABITANTS
OF THE DARK WOODS. DEPRAVITY AND SICK LUSTS RUN RAMPANT
ON THE FRINGES OF CIVILIZATION!
_____________________

BACKGROUND

I always prided myself on being smart, but shortly after my 18th birthday I made the dumbest mistake of my young life.

Because I'm naturally intelligent, I was driven by a desire to get out of the small town I lived in. I'd lived in this tiny backwater all my life, and couldn't wait to escape. But opportunities were hard to find, and all my friends seemed happy to spend the rest of their lives within the narrow border of our town.

That all changed one day when I was a little girl, and my mother drove me to a hospital in the nearby city to have my tonsils taken out. The moment I stepped into the cool, air conditioned building, I saw my opportunity!

I immediately fell in love with the nurses. Walking around with confidence and grace in their freshly starched uniforms, they were so smart and beautiful! Each one radiated integrity and strength of character. I couldn't take my eyes off of them while they did their rounds, comforting people in pain and laughing with each other as they nurtured patients back to health.

I knew right then, I was destined to be a nurse!

Of course, my mother wouldn't hear of it. When I graduated from high school, she wanted me to start working as a waitress in the family restaurant. It wasn't a restaurant so much as a greasy diner that served local truckers and farmers. I hated the thought! I was far too smart to be a simple waitress taking orders from a bunch of dirty clodhoppers!

So I worked especially hard at school and applied at every nursing school in the country. Finally, just after my 18th birthday I received a letter from St. Mary's Nursing School accepting my application. They were so impressed with my grades that they were willing to accept me even though I hadn't finished high school yet! I was so happy that I instantly started packing my small suitcase, even though I knew mom would try to stop me.

She wanted to be around, protecting me from "city boys" and young doctors who might see me as more than just a young student and colleague...
_____________________
THE COMIC
Chrissi is a sexy, bright student who leaves her small town life behind to pursue her future. But her sheltered life has left her unprepared against the harsh cruelties of the world.

Living a secluded existence, the young student is oblivious to the dangers around her as she hitches a ride into town to start her first day of college classes, and her new life. When a sinister truck pulls up to offer her a lift, she unthinkingly climbs in.
With little past experience with meeting strangers, she is startled by the driver's menacing appearance but undeterred....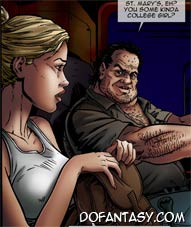 Against better judgment, she stays in the cab as it turns off the highway and onto a rutted road winding through the countryside.
Trapped in the sinister truck, Chrissi is rendered helpless when a sudden, brutal assault by the driver pins her in the seat, and seals off any chance at escape. Transformed by lust and savagery, the driver gloats over his nubile prize...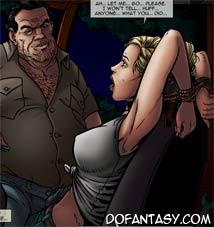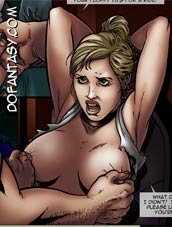 Heart pounding with terror, the young woman can only plead with the driver as he begins his conquest of her body and dignity. Not used to the depths men will sink to in the throes of lust, she is sickened by his demands, and the rough treatment inflicted on her tender flesh.
Awaking in the back of the dilapidated truck, horrified by what she's experienced...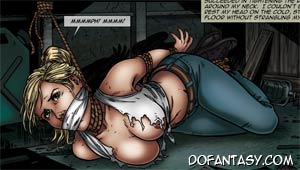 ...Chrissi is more determined than ever to escape.
Her mind still reeling from the cruelty she's endured, Chrissi is horribly aware of how unprepared she is to be on her own, away from the safety of her house and family. Inside the rotted dwelling, she finally understands the depths of the driver's sick fascination with the total domination and humiliation of women.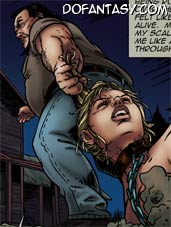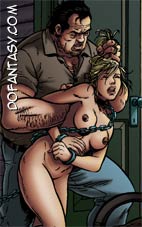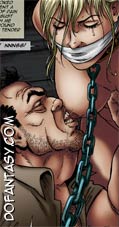 Aware that she is nothing more than just another mindless doll to the brutal hick, Chrissi desperately tries to escape the stinking, filthy figure towering over her. Cowering in terror, she pleads with her captor futility as his lust grows.
Not satisfied with only the physical domination of the young woman, the loathsome hillbilly plans to add Chrissi to his farm as a breeding sow, to produce his twisted offspring....
Shaken and exhausted by endless nightmares, Chrissi awakes in the filth to meet the other members of the depraved family nesting in the wood....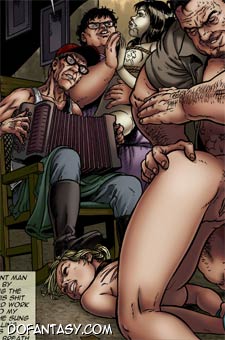 ...The unnatural family is centered around Momma a cruel ogre of a woman whose violent lusts are only satisfied through repulsive humiliation and degradation of the most primal sort.
Feeling and unendurable shame at the acts she's participated in, the young girl leaps at her once chance to flee the nightmare of the crumbling hell-house hidden in the woods. But the long confinement has weakened her body, and left her vulnerable to the hicks inhabiting the woods, who know far more about its ways than a young girl out on her own for the first time. A moment's inattention dashes her plans...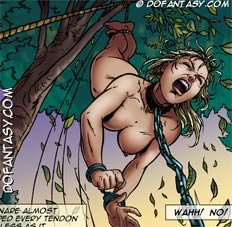 ...and brings her face to face with Momma's unleashed wrath...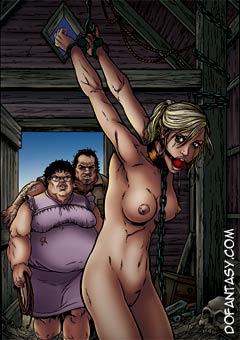 Broken almost to the core, Chrissi's hell has just begun. The enraged driver hauls the terrified girl back to the ghastly shack to present her to the rest of the family, and delivers a strong warning about any thoughts of disobedience...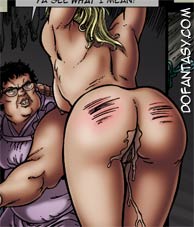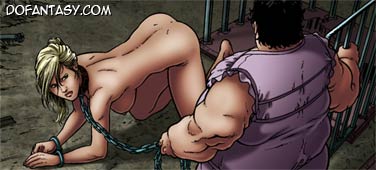 Fearing for more than the loss of her purity and dignity, Chrissi struggles to hold onto her very sanity as she's participates in the most vile and loathsome acts of perversion with the family's figurehead: Grandpappy. The wizened fossil is only too eager to debase the young woman and use her for his ancient lusts. Her will failing, and body abused and exhausted, Chrissi knows she must act soon or be trapped with the degenerate family forever!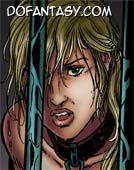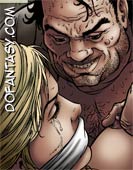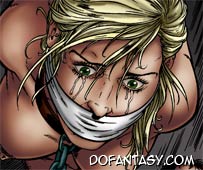 DEPRAVITY AND SICK LUSTS RUN RAMPANT ON THE FRINGES OF CIVILIZATION...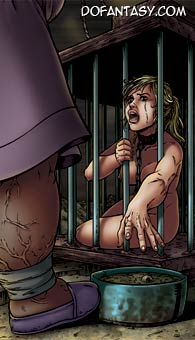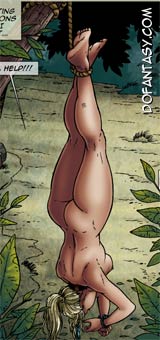 FASCINATING STORY!
STIRRING STORY TELLING AND DIALOGS BY SANDOW!
WORLD CLASS ART BY MOFFETT!
DON'T MISS THE SECOND PART OF THIS EXCEPTIONAL COMIC!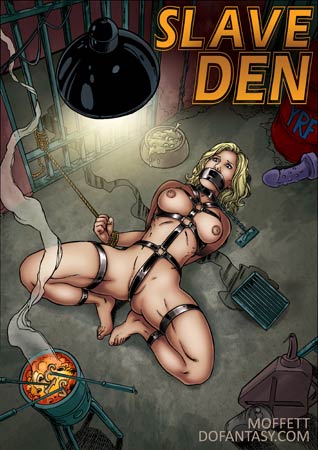 VISIT MOFFETT SITE FOR A COMPLETE LIST OF MOFFETT COMICS AND OFFERS
PDF by DOWNLOAD. The PDF electronic version contains the same images and text as the paperback edition (if a paperback exists). Please be aware that most of the ENGLISH VERSIONS are in PDF version exclusively. You'll have instant access to your files just after the credit card transaction is approved. You'll receive a confirmation e-mail with directions to download if you prefer to download at a later time. To open PDF files you need Adobe Acrobat Reader. Download it for free by clicking here!
PDF in a CD. If you prefer, we'll burn a CD-ROM e specially for you with the PDF files that you choose. Postage (14.99 Euro) will be added to the total cost of the books. If you want to order on a CD-ROM please check the corresponding check-box in the shopping cart.
Copyright © 1998-2011 Dofantasy - ETHAN ltd