Use our On-Line 100% Secure EncryptedShopping Cart Ordering System. Simply browse
our site and Click the ADD TO SHOPPING CART buttons to place items in your Shopping Cart
[ HOME ] [ COMICS ] [ MOVIES ] [ NOVELS ] [ CD-ROM ] [ Order info ] [ Help ] [ ARTIST SITES ] [ SEARCH ]
[ Disclaimer ] [ CATALOGUE ] [ Copyright ]
FANSADOX COLLECTION 234
PRIVATE PROPERTY - VIKTOR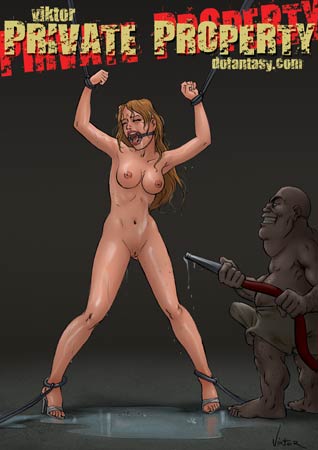 NEW IN PDF ELECTRONIC VERSION!
HIGH RESOLUTION PDF deluxe edition
48 full color comic pages by VIKTOR
-COMPLETE, UNABRIDGED VERSION-
A STUNNINGLY BEAUTIFUL AND RICH BRUNETTE IS THE VICTIM OF
A TWISTED DWARF!
HE'S CAREFULLY PLANNED A WORLD
OF HUMILIATION AND TORMENT FOR
THE TERRIFIED YOUNG WOMAN...
SPECTACULAR ART AND AN EXTREMELY
HOT STORY BY WORLD CLASS ARTIST
VIKTOR!!!
IMPORTANT NOTICE - DISCLAIMER
All characters are 18 years old or older.
This is an entirely fictional work based on
cartoon characters for adult entertainment.
It shows no real people or events.
The characters are shown participating in
CONSENSUAL role-play for their own personal satisfaction, simulating activities which involve sexual dominance and submission. No actual toons were harmed in the making of this comic.
READ THE DISCLAIMER PAGES IN THE COMIC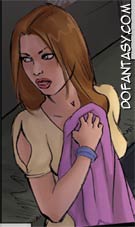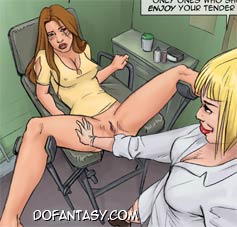 What should have been a routine physical exam becomes a nightmare for a beautiful, successful young woman. When she trusts the wrong doctor with her care, the mistake costs her more than she could possibly imagine!
Cursed with a twisted body, Dr. Ned wants nothing more than to be envied by "normal" people. Becoming a respected doctor has brought financial success, but his drive to possess the perfect trophy girlfriend pushes him even further. Although his body is stunted and deformed, his mind is as sharp as a razor. Turning his intellect to his dark desires, he's determined to have the sexy brunette act out his carnal fantasies… even if he has to break her mind and body to do it!
__________________________
THE COMIC
Going to the hospital for a physical is never on the top of anyone's list of fun summer activities. For Melissa Collins, she could think of a dozen things she'd rather do with her day. The successful career woman is constantly on the go, bouncing from meetings to power lunches. She's always been aware of her beauty, and how it's helped her get ahead in the business world. Considering her good looks one of her top assets, she's careful to make sure she's in perfect physical health… even if it means undergoing uncomfortable physical exams twice a year.
Life hasn't been kind to Dr. Ned. Born a dwarf, he seemed destined to go through life as an outcast. His stunted body was an automatic target for teasing by bullies and girls alike. But what he lacked in height, he made up for in brains. Ned worked feverishly to get his medical degree and establish a thriving practice. But success has never brought him a curvaceous woman to flaunt in public. Without a sexy babe waiting on him hand and foot, he feels like a homely runt. Wanting what taller men seem to get so easily, he burns with repressed lust and anger.
For Melissa, she's come to expect people to automatically cater to her needs. Her natural charisma has made her successful, and she's accustomed to getting her way. Although she's a sensual young woman, she keeps romance at arm's length. Her past relationships have been sweet, but never wild. When her new doctor, a leggy blonde woman, innocently flirts with her, she's shocked! Embarrassed, but also furious at the casual flirtation, Melissa demands to see a new doctor.
When the dwarf doctor realizes the sexy brunette is his new patient, he plans to take care of her body in ways she can't possibly imagine. The busty Melissa will turn heads as he parades her around as his devoted, submissive girlfriend, or in other words, his miserable sex-slave...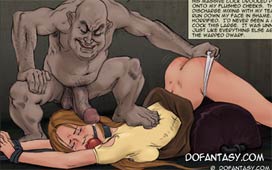 I know an easy slut like you has tons of boyfriends...
bouncing your tits in their face... getting them to buy you expensive clothes...
fine jewellery... all for the chance to get a quick feel of your titties before
you kiss them on the cheek and send them home... cockteasing tramp!
That's over! None of these tricks are gonna work with me!"
Stunned by finding herself in the presence of the sinister dwarf, Melissa is at a loss for words. She'd planned on getting her first doctor fired for the flirtation, but the stocky dwarf fills her with foreboding. Her outrage catches in her throat, and it's all she can do to keep the tremble out of her voice as she speaks.
Before she realizes what's happening, Melissa finds herself caught in the dwarf doctor's trap...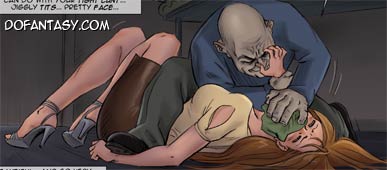 "Don't fight, my little slut! I know beneath those clothes beats
the heart of a shameless whore... You wanted me to snatch you...
Show you what a real man can do with your
tight cunt... jiggly tits... pretty face..."
He plans to do far more than just satisfy himself with her body. He's planned a world of humiliation and torment for the terrified young woman...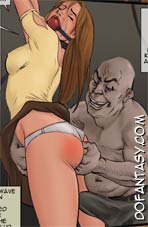 "You think I'm a disgusting troll who shouldn't even
be allowed to look at you! Admit it! You'd never willingly kiss me,
much less suck my dick and lick my balls!"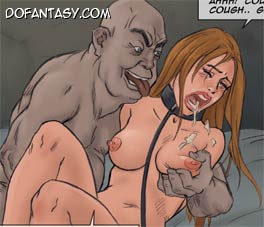 "What's up, slave? I know you love the taste!"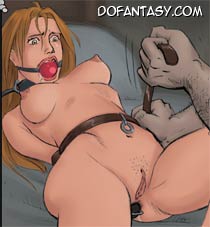 "Do you like your new toy, fuckmeat?
I've got another surprise for you
that you'll enjoy even more!"
A lifetime of ridicule has twisted his mind as well as his body. His mania won't let him rest until he's molded the bombshell into the slutty, devoted pet he's always wanted.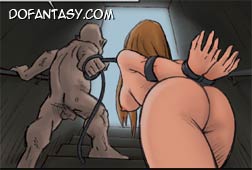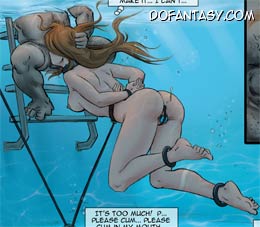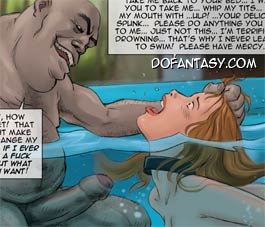 "Your rich daddy got you anything you wanted, but with me you've
got to earn everything the hard way... including air. Now start working!"
For Melissa Collins, she'll have to control the power of her unbridled sexuality. She'll have to learn how to use her hot body in ways she'd have found revolting and degrading just days ago...
Melissa knows that someone will have noticed her disappearance, and will have notified the police. There is no way a successful woman like her could vanish without the police launching a full investigation....
But when help arrives, will it be too late? Will they find her shaken but unharmed? Or will they find a broken slut, unable to resist any humiliation no matter how disgraceful? If they find her, will she be completely under the control of the Evil Dwarf Doctor?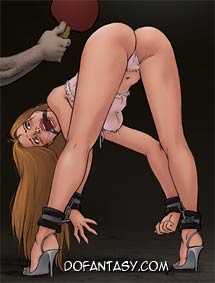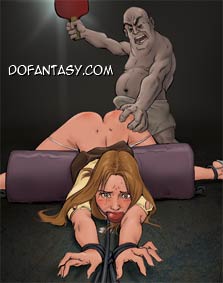 Melissa Collins won't be that lucky...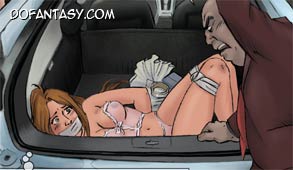 DON'T MISS THE LATEST GRAPHIC COMIC BY DOFANTASY!
THIS ONE WILL MORE THAN SATISFY YOUR DARKEST FANTASIES.








INTENSE DIALOGS AND EXTREMELY HOT ART FOR AN INCREDIBLE HOT STORY!
DON'T MISS THIS EXCEPTIONAL COMIC BY VIKTOR,
AN AMAZING NEW TALENT AT DOFANTASY.COM!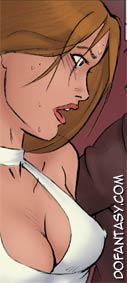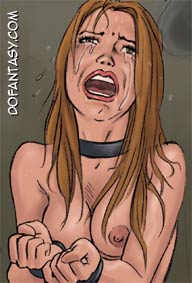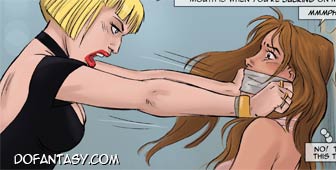 A STUNNINGLY BEAUTIFUL AND RICH BRUNETTE
IS THE VICTIM OF A TWISTED DWARF!
HE'S CAREFULLY PLANNED A WORLD OF HUMILIATION AND
TORMENT FOR THE TERRIFIED YOUNG WOMAN...
DON'T WAIT, BUY IT NOW!

DON'T MISS THE FOLLOWING COMICS IN THIS SERIES
**** BUY THE THREE COMICS OF THE SERIES AND GET 10% DISCOUNT! ****
VISIT VIKTOR'S SITE FOR A COMPLETE LIST OF VIKTOR COMICS AND OFFERS