Use our On-Line 100% Secure Encrypted Shopping Cart Ordering System. Simply browse
our site and Click the ADD TO SHOPPING CART buttons to place items in your Shopping Cart
[ HOME ] [ COMICS ] [ MOVIES ] [ NOVELS ] [ CD-ROM ] [ Order info ] [ Help ] [ ARTIST SITES ] [ SEARCH ]
[ CATALOGUE ] [ Disclaimer ] [ Copyright ]
FANSADOX COLLECTION 243
SLAVE FAIR YEAR 2 - ERENISCH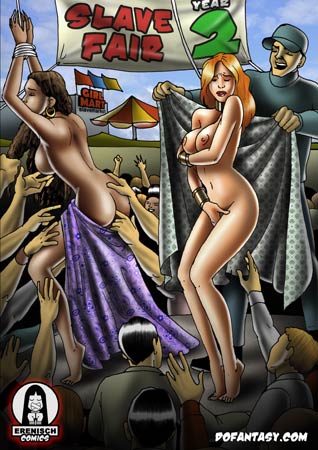 NEW IN PDF ELECTRONIC VERSION!
Adult Comic Album by ERENISCH
HIGH RESOLUTION PDF deluxe edition
52 full color comic pages by ERENISCH
-COMPLETE, UNABRIDGED VERSION-
GAWK AT THE NEWEST INVENTIONS,
LEARN THE LATEST TRAINING TECHNIQUES
AND BUY THE MOST ENTICING WOMEN
ON THE PLANET!
YOUNG WOMEN ARE BOUGHT, SOLD
AND TRADED TO ANYONE WHO HAS THE
CASH AND DESIRE TO OWN A NUBILE
FEMALE FOR THEMSELVES.
IMPORTANT NOTICE - DISCLAIMER
All characters are 18 years old or older.
This is an entirely fictional work based on
cartoon characters for adult entertainment.
It shows no real people or events.
The characters are shown participating in
CONSENSUAL role-play for their own personal
satisfaction, simulating activities which involve sexual dominance and submission. 
No actual toons were harmed in the making
of this comic.
BACKGROUND
In 2022 Many countries have passed the Compulsory Female Slavery Law' that legalizes the sexual-use and trade in nubile women over 18 years of age.
When a girl reaches slavery age, she can be bought and sold, hired and whored, and be used in every imaginable way... She becomes her owner's personal property.
After the law, increased demand for ex-slaves created a huge market in which females are bought and sold in great numbers.
Slave traders ranging from neighborhood pimps to huge slave companies compete to supply the prettiest and better trained slavegirls to the customer.
Annual Slave-fairs provide the best opportunity to sample the best sex-slaves companies and slaveshops bring out...
RECAP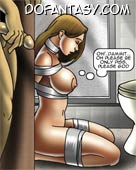 Best buddies Jason and Freddie visit the national slave fair every year, selling their old slaves, buying fresh girls, checking out the new gadgets and technologies that make woman-use more enjoyable, and having a good time playing with the endless supply free pussy served at the fairgrounds.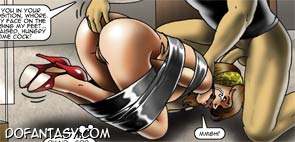 A year after he conned Jamie into handing him her virgin sister Colleen, Jason still keeps the poor woman as his captive. Unlike his slaves Anita, Mandy and Colleen, Jamie serves under heavy restraint and constant blackmail, since she is legally a free woman.
When the big day comes, Jason and Freddie are excited as two little boys in a candy store once again. Now the poor slavegirls serving their masters face a scary dilemma. Is it better to keep serving their cruel and ruthless masters, or would they be better off if they are sold to someone else at the Slave Fair?


THE COMIC
What would you do if you had one day to experience an unlimited feast of the most beautiful women in the world? Two young studs are about to find out!
Jason and Freddy have 24 hours to experience everything the Slave Fair has to offer.
A whirlwind of delights and distractions wait inside...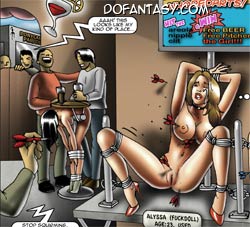 "Aaaah! Locks like my kind of place..."
...but at the end of the day they'll have to decide who they are picking up, and who is getting left behind!
In 2022 a series of strict laws have been enacted which grant men total control over all women. Young women can be bought, sold and traded to anyone who has the cash and desire to own a nubile female for themselves.
Jason and Freddy already have homes packed with desirable young women to serve them, but there is always the temptation to get more…
The Slave Fair is the answer to every man's prayers, and wildest desires.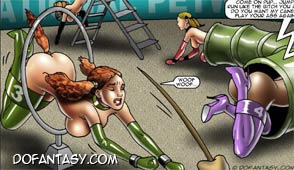 "C'mon pup... JUMP! Run like the bitch you are and bark loudly!
Do you me to flay your ass again?
The grand event is held just once a year, a single day when buyers and sellers from across the world gather to gawk at the newest inventions, learn the latest training techniques and buy the most enticing women on the planet!
Jason thinks that he has seen it all. His house full of submissive maids has left him longing for new adventures and conquests. He believes he's immune to the charms of a seductive wink and shapely body. But the Slave Fair was made for men just like Jason, and it knows thousands of ways to get his blood hot!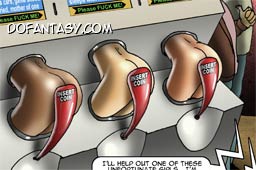 "I want this one, where the fuck I insert the coin?"
Freddy takes his friend to show him a good time, and check out the newest advances in slave technology.

"Wow... this model is my favorite. look how the used
her butt as the seat and her feet as the back support... genius!"
He has money burning a hole in his pocket, and an endless capacity for satisfying his lusts.
But the moment he enters the glittering doors to the Slave Fair, he knows he's met his match!
He'll need every ounce of stamina to withstand the endless parade of delights the Fair offers.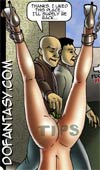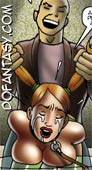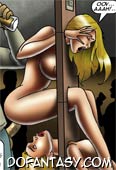 Time is running out for him to find the best slave to add to his collection before the glittering temptations of the Fair overwhelm him completely!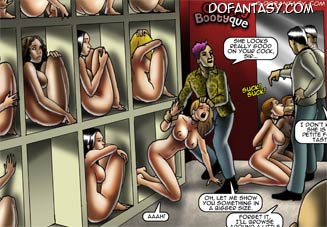 "I don't know, she's too petite for my taste.
No this one's too old and that one too white.
Hey! what about the pink one? She's cheap too!"
It's a bizarre of the bizarre as the two friends race through the fair in search of the most precious possession a man can own: a wild and untamed woman!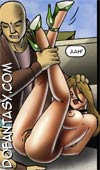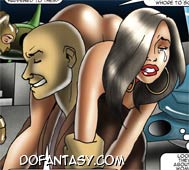 Come on now, slave... It's time to go home
and put you into a good use all night long!
Slave Fair 2 is your gateway to a world beyond imagination. Enter a festival packed with amazing sights, outrageous humor, and the most thrilling situations money can buy!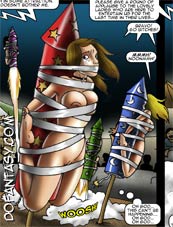 A rich world of delight awaits you inside this comic. Once you've stepped though the door, you'll never want to come back!
SLAVE FAIR, WHERE YOUNG WOMEN ARE BOUGHT, SOLD AND TRADED TO ANYONE
WHO HAS THE CASH AND DESIRE TO OWN A NUBILE FEMALE FOR THEMSELVES!
GAWK AT THE NEWEST INVENTIONS, LEARN THE LATEST TRAINING TECHNIQUES
AND BUY THE MOST ENTICING WOMEN ON THE PLANET!
EXTREMELY HOT GIRL-NEXT-DOOR, HUMILIATION COMIC!!!

DON'T MISS THE FIRST PART OF THIS COMIC: SLAVE FAIR!
VISIT ERENISCH SITE FOR A COMPLETE LIST OF ERENISCH COMICS AND OFFERS