Use our On-Line 100% Secure EncryptedShopping Cart Ordering System. Simply browse
our site and Click the ADD TO SHOPPING CART buttons to place items in your Shopping Cart
[ HOME ] [ COMICS ] [ MOVIES ] [ NOVELS ] [ CD-ROM ] [ Order info ] [ Help ] [ ARTIST SITES ] [ SEARCH ]
[ Disclaimer ] [ CATALOGUE ] [ Copyright ]
FANSADOX COLLECTION 245
CHINESE WARLORD SEX SLAVE - HELPLESS POW - FEATHER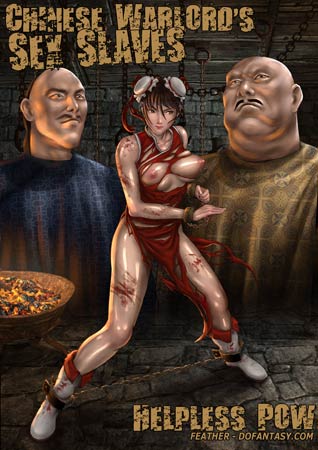 NEW IN PDF ELECTRONIC VERSION!
Adult Comic Album by FEATHER
HIGH RESOLUTION PDF deluxe edition
50 full color comic pages by FEATHER
-COMPLETE, UNABRIDGED VERSION-
A TALE OF HOT ACTION IN ANCIENT
CHINA! TAKEN PRISONER THROUGH
DECEPTION, A NOBLE WARRIOR
WOMAN FIGHTS FOR HER LIFE
AGAINST THE BARBARIC MAN
SHE'S VOWED TO KILL!
GREAT, EXOTIC ART BY
NEW CHINESE ARTIST FEATHER!
IMPORTANT NOTICE - DISCLAIMER
All characters are 18 years old or older.
This is an entirely fictional work based on
cartoon characters for adult entertainment.
It shows no real people or events.
The characters are shown participating in
CONSENSUAL role-play for their own personal satisfaction, simulating activities which involve
sexual dominance and submission.
No actual toons were harmed in the making
of this comic.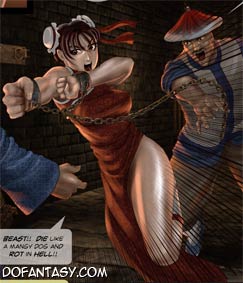 A tale of hot action in ancient China ! Taken prisoner through deception, a noble warrior woman fights for her life against the barbaric man she's vowed to kill!
Suddenly helpless, the sexy Li HongJiao must fight against her captor's debased appetites, without her sword to protect her! Honor demands vengeance, but now Li is plunged into a fight with no rules, and everything to lose!
When China was ruled by brute strength, the strongest survive. Only those skilled in warfare could rise to power, and their rule lasted only as long as they could hold their sword to their enemy's throats.
In this fiery caldron of war, only the most elite fighters were trusted enough to be bodyguards. Deadly with both sword and dagger, these warriors held the lives of their leaders in their hands. Beautiful Li HongJiao is one of the best. Having proved herself through countless battles, the sexy warrior has become the most trusted officer in the army of Princess Xiao Meiyun.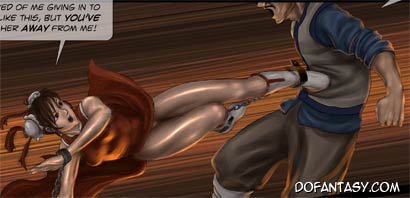 But a cruel betrayal places not only her own life in peril, but also the lives of Princess Xiao and her battle-sister Zhou RuoYi. All three have been caught in a trap by the barbaric General WangLun. Suddenly, the unstoppable warrior finds herself at the mercy of her most hated enemy...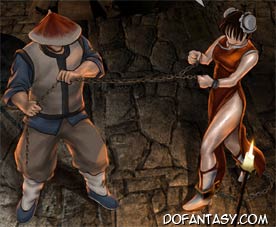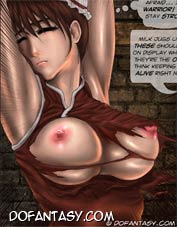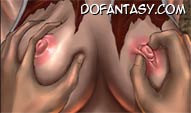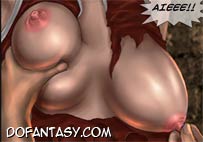 Seeing cruelty flashing in his eyes, the buxom Li HongJiao knows that every moment could be her last...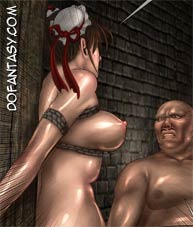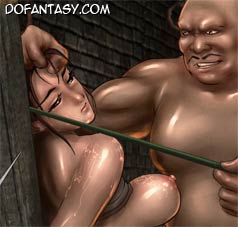 Li has been tested in battle before, but now she must fight an even more desperate war to save her dignity and win her freedom.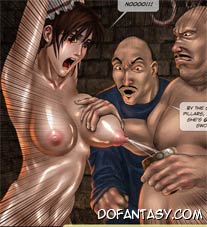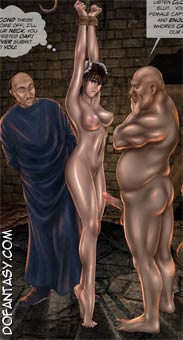 General WangLun has become insane from suffering humiliations on the battlefield, all caused by these female masters of combat. But when he sees the most dangerous officer dragged before him in chains, he realizes the tables have turned. Now is the time for revenge!
War makes all men savages. And Li HongJiao is about to see how quickly General WangLun changes from a simple-minded thug, to an inhuman brute!
Action doesn't get any hotter than this! Only the exotic setting of ancient China could contain such a story of breathtaking beauty, and mindless savagery! Every page explodes with hot action!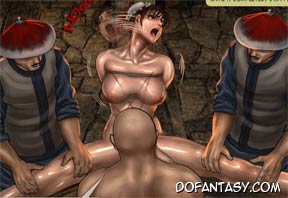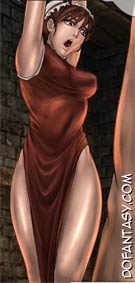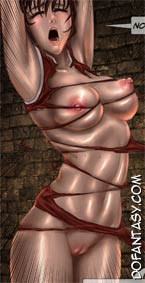 A NOBLE WARRIOR WOMAN FIGHTS FOR HER LIFE
AGAINST THE BARBARIC MAN SHE'S VOWED TO KILL!


SUDDENLY HELPLESS, THE SEXY LI HONGJIAO
MUST FIGHT AGAINST HER CAPTOR'S DEBASED APPETITES, WITHOUT HER SWORD
TO PROTECT HER!
HOT ACTION IN EVERY PAGE!

PREVIOUS CHAPTER: CHINESE WARLORDS SEX SLAVE
NEXT CHAPTER: CHINESE WARLORDS - PUBLIC PUNISHMENT