Use our On-Line 100% Secure Encrypted Shopping Cart Ordering System. Simply browse
our site and Click the ADD TO SHOPPING CART buttons to place items in your Shopping Cart
[ HOME ] [ COMICS ] [ MOVIES ] [ NOVELS ] [ CD-ROM ] [ Order info ] [ Help ] [ ARTIST SITES ] [ SEARCH ]
[ Disclaimer ] [ CATALOGUE ] [ Copyright ]
FANSADOX COLLECTION 253
BIRTHDAY GIFT 7 - THE EXCHANGE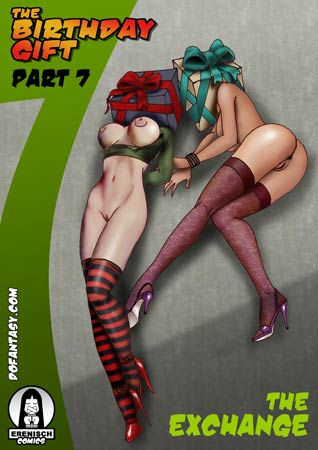 NEW IN PDF ELECTRONIC VERSION!
Adult Comic Album by ERENISCH
HIGH RESOLUTION PDF deluxe edition
51 full color comic pages!!!
-COMPLETE, UNABRIDGED VERSION-
WHEN A GIRL REACHES SLAVERY AGE,
SHE CAN BE BOUGHT, SOLD AND RENTED.
SHE BECOMES HER OWNER'S PROPERTY!
SEXY MAGGIE SWEETIE'S OWNER
CELEBRATES HIS 19th BIRTHDAY AND
THE GIRL'S FIRST YEAR AS HIS SLAVE!

51 COLOR PAGES!!!
IMPORTANT NOTICE - DISCLAIMER
All characters are 18 years old or older.
This is an entirely fictional work based on
cartoon characters for adult entertainment.
It shows no real people or events.
The characters are shown participating in
CONSENSUAL role-play for their own
personal satisfaction, simulating activities
which involve sexual dominance and
submission. No actual toons were harmed
in the making of this comic.
The year 2022...
Many countries have passed the 'Compulsory Female Slavery Law' that legalizes the sexual use and trade of nubile women over 18 years of age.
When a girl reaches slavery age, she can be bought and sold, hired and whored, and be used in every imaginable way...
She becomes her owner's personal property.
_________________
THE STORY SO FAR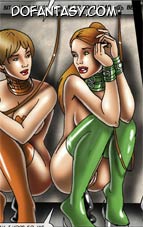 18 year-old high school students Maggie and Sherry have been serving their former classmate Peter as his personal fucktoys for a long time.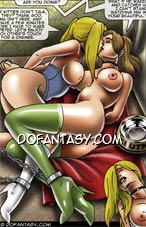 The poor schoolgirls' plight gets even worse when Peter meets Anna, a vicious and sadistic foreign exchange student who likes to play rough with the young girls.
But the constant torment at Anna's hands brings the girls closer, and a hint of romance blooms between the best friends…
Meanwhile, Peter's relationship with Anna creates all kinds of tension between Peter's slaves and friends alike.
Encouraged by her diplomatic immunity from the Female Slavery Law, Anna becomes even more assertive and daring in her attitude.
Exactly one year after Maggie was enslaved and given to Peter as a gift, today Peter celebrates his 19th birthday. Would he get a gift just as good this time?
_________________
IN THIS COMIC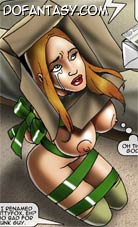 A year ago, Maggie Sweetie was a carefree schoolgirl with good grades and a nice circle of friends... but her life took a bad turn when she was purchased by her neighbor as a birthday gift for his son Peter.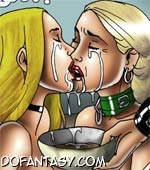 Overnight, she became one of her classmates' property, his fuckslave.
As she learned to serve her master in the most painful and humiliating ways, she witnessed her friends follow her horrible fate one after another.
After a long year she's now an experienced and well-trained slavegirl in her master's small personal harem, which now includes some of her best friends and even her own mother Carol.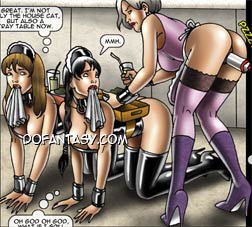 Peter, together with his equally sadistic father, continues to use the women they own in the most perverted ways.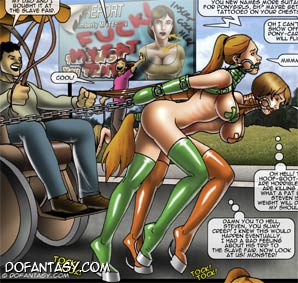 "Move those asses, ponies! What is this,
a joy ride around the park?
We are going to be late for school.
If I miss the first class, I'll whip your skins off."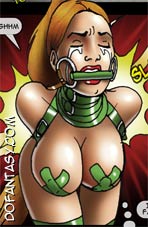 Exactly a year after Maggie's enslavement, Peter celebrates his 19th birthday with a wild party...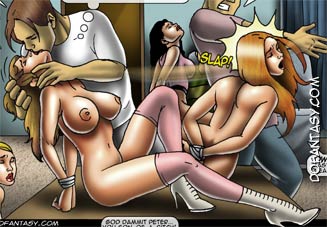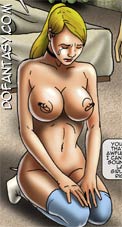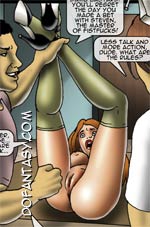 After a year of painful service, Maggie hopes for some sympathy from her horrible master, but Peter remains apathetic to the suffering of the poor slavegirl.
Maggie and her slave-mate Sherry also have to put up with the terrible attitude of Peter's girlfriend Anna, a mysterious foreign exchange student with immunity from the compulsory female slavery law.
Serving a free female is worse for the poor girls, especially one with violent sadistic tendencies and skills to abuse other females.
Anna uses her status as Peter's girlfriend to sadistically play with girls, and even teaches them tricks to please herself. Anna becomes more and more assertive, creating tension among Peter's slaves and friends alike.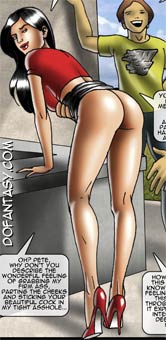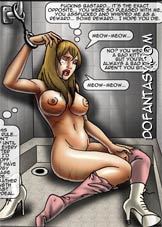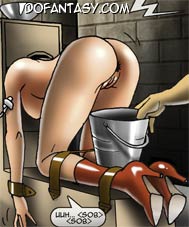 Hiding behind her immunity, she doesn't hesitate to insult male students and seduces female students with total disregard of the social norms. Eventually tensions flare in a friendly gathering, where Peter has a falling out with one of his closest friends.
In the morning, after a serious hangover, Peter finds another birthday gift wrapped up in his room. He was later reminded that at the previous night's party, when he was drunk out of his mind, he won a girl in a bet. Delighted with this unexpected addition to his personal harem, he immediately starts to take advantage of the young supple bodies of three of the most beautiful girls in his school...
MAGGIE SWEETIE'S OWNER CELEBRATES HIS 19th BIRTHDAY
AND THE GIRL'S FIRST YEAR AS HIS SLAVE!
EXTREMELY HOT GIRL-NEXT-DOOR, HUMILIATION COMIC!!!
DON'T MISS THE 1st PART OF THIS STORY: BIRTHDAY GIFT PART 1
DON'T MISS THE 2nd PART OF THIS STORY: BIRTHDAY GIFT PART 2
DON'T MISS THE 3rd PART OF THIS STORY: BIRTHDAY GIFT PART 3 - DETENTION
DON'T MISS THE 4th PART OF THIS STORY: BIRTHDAY GIFT PART 4 - HOMEWORK
DON'T MISS THE 5th PART OF THIS STORY: BIRTHDAY GIFT PART 5 - TEACHER'S PET
DON'T MISS THE 6th PART OF THIS STORY: BIRTHDAY GIFT PART 6 - FAMILY REUNION




DON'T MISS THE 8th PART OF THIS EXCITING STORY: BIRTHDAY GIFT - 8 - THE FAVORITE
DON'T MISS THE 9th PART OF THIS STORY: BIRTHDAY GIFT PART9 - VENGEANCE
**** BUY THE 9 COMICS AND GET 15% DISCOUNT! ****
VISIT
ERENISCH SITE
FOR A COMPLETE LIST OF ERENISCH COMICS AND OFFERS