Use our On-Line 100% Secure Encrypted Shopping Cart Ordering System. Simply browse
our site and Click the ADD TO SHOPPING CART buttons to place items in your Shopping Cart
[ HOME ] [ COMICS ] [ MOVIES ] [ NOVELS ] [ CD-ROM ] [ Order info ] [ Help ] [ ARTIST SITES ] [ SEARCH ]
[ Disclaimer ] [ CATALOGUE ]
FANSADOX COLLECTION 257
MISSING COAST GUARD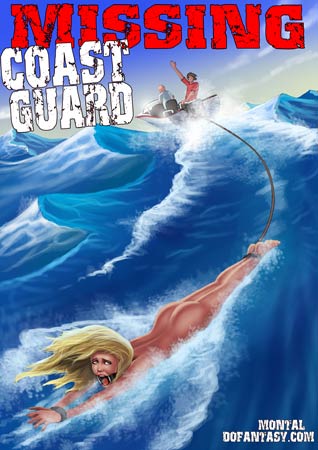 NEW IN PDF ELECTRONIC VERSION!
Adult Comic Album by MONTAL. Dialogs by SANDOW
HIGH RESOLUTION PDF deluxe edition
43 full color comic pages!!!
-COMPLETE, UNABRIDGED VERSION-
BUXOM BEACH BUNNIES MISSING,
AND A HUNDRED SQUARE MILES OF OCEAN
TO SEARCH! ITíS A TALL ORDER FOR ONE
DETERMINED MEMBER OF THE COAST GUARD,
AND ONE SHE MAY LIVE TO REGRET!
IMPORTANT NOTICE - DISCLAIMER
All characters are 18 years old or older.
This is an entirely fictional work based on
cartoon characters for adult entertainment.
It shows no real people or events.
The characters are shown participating in
CONSENSUAL role-play for their own
personal satisfaction, simulating activities
which involve sexual dominance and
submission. No actual toons were harmed
in the making of this comic.
MIA KNOWS THAT EVEN THE MOSTINVITING TROPICAL WATERS CAN HIDE
BLOODTHIRSTY PREDATORS. BUT WHEN THIS COAST GUARD KNOCKOUT EXPLORES
A DEEP SEA MYSTERY, SHE FINDS HERSELF IN WAY OVER HER HEAD!
A BEAUTIFUL AND HOT COAST GUARD INVESTIGATES THE DISAPPEARANCE OF A YOUNG
TOURIST AT SEA, ONLY TO FIND HER IN THE HANDS OF A BRUTAL MOB OF WHITE SLAVERS!
Mia Jansen is a hot bombshell in the US Coast Guard, searching for a missing jet-skier. Soon the young officer discovers that the waves weren't the culprit in the young woman's disappearance, but a tough gang of white slavers.

Unaware of the danger, Mia falls victim to the criminal mob. She's kept prisoner in a lost island where the young and stubborn beauty is being broken by the bunch of criminals. But the strong willed officer keeps her integrity and doesn't surrender.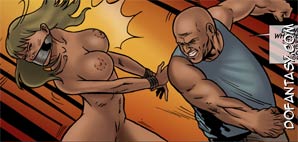 "Stop whimperiní, slut! Youíre safe as kittens... as long as ya
remember to keep your pretty head above water! HAW!"
Unable to sell her to a South American brothel, Mia is finally sold to a rich and sadistic Miami couple of Cuban origin who are more than happy to own the unbroken Coast Guard beauty....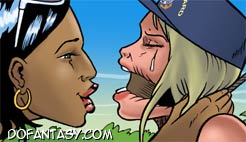 "Lemmie see your tongue. I want to see if itís up to
the job of slurping my damp clitty all night long."
____________________________________________________________________

Bimini is more than a vacation destination for beautiful young women; itís a magical piece of paradise in the middle of a tropical heaven. Hot sun and warm sands promise thrilling nights to the thousands of tourists who flock to the islands each year. And when inhibitions melt away under the Bahama sun, caution goes out the window.

Mia is on the front line of safety for tourists who get carried away on the islands. When a voluptuous brunette suddenly disappears while water skiing on the coast, itís up to the Coast Guard to make sure she gets home safely. Mia knows finding the woman quickly is critical. One tourist on a jet ski is a very small target in a very large ocean. If she doesnít find her soon, the tourist may become another missing tourist. And there have been reports of other sight-seers, all beautiful young women, suddenly vanishingÖ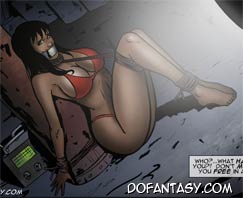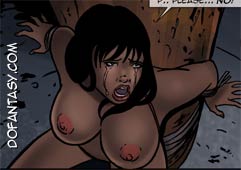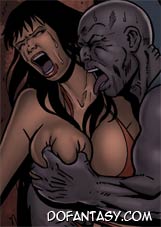 The islands are known for their resorts, catering to rich jet-setters who want to get away from the world for awhile. There is also another type of visitor, those who wish to conduct their business far away from prying eyes. For these businessmen, the remote islands offer the perfect cover for their sinister activities. The buying and selling of merchandise which isnít approved of on the mainland.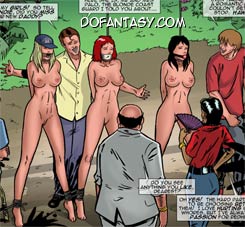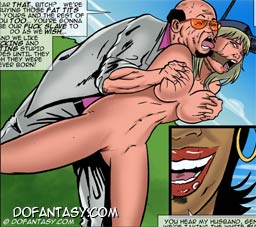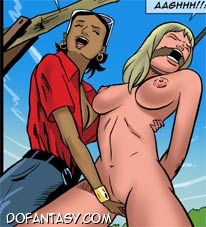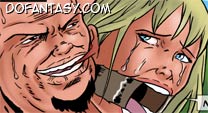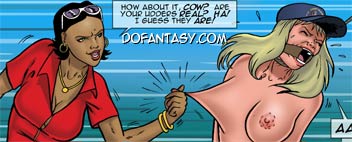 "How about it, cow? Are your udders real? HA! I guess they are!

"

When the rich go abroad, they always bring back a souvenir of their travels. For some, itís a case of exotic wine. For others, it might be an all-over tan. But for those who have more money than morals, they seek to bring back something even more exotic and amusing. And when youíve sampled all the world has to offer, it takes something VERY special to keep you amused!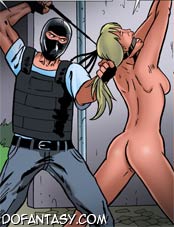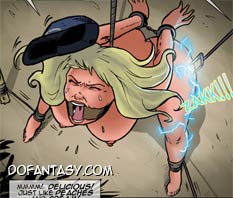 "Looks like Iíll have to get a few cattle prods to help with her lezzie training!"
Mia has tested herself against violent tropical storms and vicious rip currents that can tear a ship in half. But when she starts out on the trail of a sexy, missing woman, she will be tested to her utmost, in ways she couldnít possibly imagine!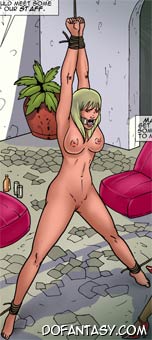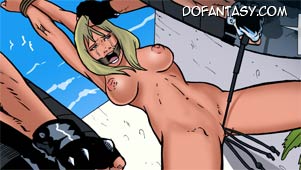 "Hello, baby... Kiss the whip with your
hot little pussy and say hello to it..."
IN THE HEART OF THE BERMUDA TRIANGLE IS A MYSTERY MORE SHOCKING
THAN ANYTHING EVER IMAGINED BEFORE. THE ACKNOWLEDGED MASTER OF EROTIC
ILLUSTRATION MONTAL SPINS A STORY THAT WILL BLOW YOU AWAY!
HOT GRAPHICS AND AN EXCITING STORY
COMBINED INTO ONE AMAZING COMIC!
ORDER THIS ONE NOW! DONíT MISS THE BOAT!