Use our On-Line 100% Secure Encrypted Shopping Cart Ordering System. Simply browse
our site and Click the ADD TO SHOPPING CART buttons to place items in your Shopping Cart
[ HOME ] [ COMICS ] [ MOVIES ] [ NOVELS ] [ CD-ROM ] [ Order info ] [ Help ] [ ARTIST SITES ] [ SEARCH ]
[ Disclaimer ] [ CATALOGUE ] [ Copyright ]
FANSADOX COLLECTION 269
THE MAD DOCTOR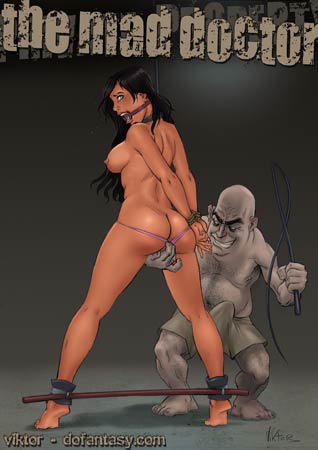 NEW IN PDF ELECTRONIC VERSION!
Adult Comic Album by VIKTOR.
HIGH RESOLUTION PDF deluxe edition
49 full color comic pages!!!
-COMPLETE, UNABRIDGED VERSION-
THE MEDICAL MADMAN IS BACK FOR HIS
MOST EXTREME ADVENTURE YET!
THE DEPRAVED DWARF IS OUT TO PROVE
THAT HEíS MAN ENOUGH TO GET THE WOMAN
OF HIS DREAMS. AND THE DOCTORíS
DREAMS ARE HIS PATIENTíS NIGHTMARES!
GINA POTTER GETS THE SHOCK OF HER
LIFE WHEN SHE BECOMES THE NEWEST
PATIENT IN THE HOSPITAL FROM HELL!
IMPORTANT NOTICE - DISCLAIMER
All characters are 18 years old or older.
This is an entirely fictional work based on
cartoon characters for adult entertainment.
It shows no real people or events.
The characters are shown participating in
CONSENSUAL role-play for their own
personal satisfaction, simulating activities
which involve sexual dominance and
submission. No actual toons were harmed
in the making of this comic.
ARGUABLY VIKTOR'S HEROINES ARE THE SEXIER EVER DRAWN...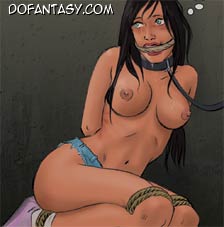 The smells of the medial ward have always put Gina on edge. The young woman wrinkles her pert nose as she waits for her routine physical exam. A metallic tang of antiseptic hangs in the air along with the cloying scent of cheap chlorine. She senses something elseÖ but canít put her finger on it. Ether? Or maybe chloroform? But that canít beÖ
The constricting leather cuffs on her wrists wake the beautiful brunette. Her senses reel and the harsh fluorescent lights are almost blinding. The glare is painful, and she tries to shade her eyes but something binds her hands firmly to the bed frame. Straps? She tries to focus on the heavy restraints but they swim before her. The only thing clear in the sterile examination room is the pounding of her heart, which grows louder every minute!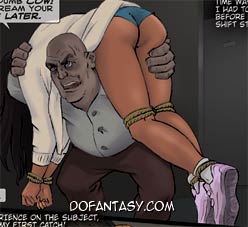 Dr. Nerd. The deformed doctor. The medical midget. Heís heard them all and hates every one. Every nickname is a sarcastic jab at his size. Some men may quietly take the taunts but not him. When youíve got a beautiful woman hanging on your arm, people look up to you. And the more sexy and voluptuous the woman, the more respect you get. All heís got to do is find the perfect woman. One who is completely under his thumb and terrified to leave his side!
Dr. Nerd runs his hands over Gina's body, feeling her smooth skin shiver beneath his touch.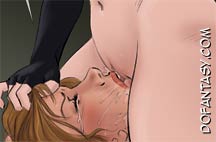 She stares at him, eyes wide with horror. This canít be happening to her, she thinks. Desperately trying to squirm away from him roving hands, the straps binding her to the exam table constrict further. She yanks at the harness with increasing panic when a low chuckle brings her back to the doctor.
The look of lust glittering in his cold eyes is startling, and she can only watch helplessly as he reaches for his bulging medical bagÖ
A dreadful journey to a world of humiliation and despair begins for beautiful Gina...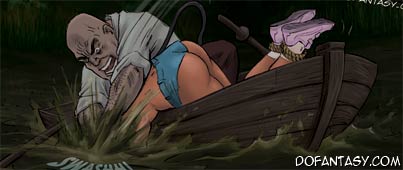 "The new Gina better get it through her thick head that sheís my property now.
Cuzí nothing is easier than making a cheap slut vanish in the swamp!"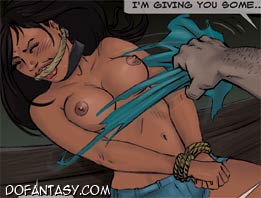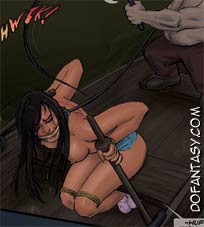 "Stuck-up bitch! You think that just because Iím a warped
freak of nature that I should kiss your ass? HA!"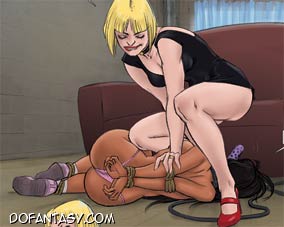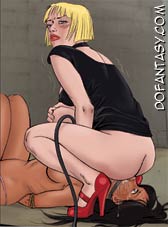 "If youíre good, Iíll open a can of dog food for a treat.
now get busy, fluffybuns!"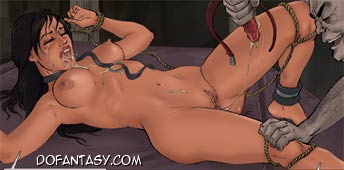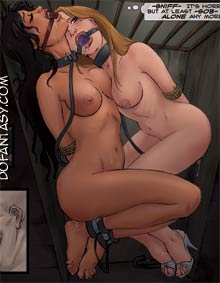 "Iíll be back tomorrow to play more funny games with you, bitches..."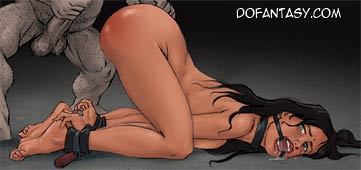 "You should have been selling this ass on the streets, slut.
You could have made a fortune!"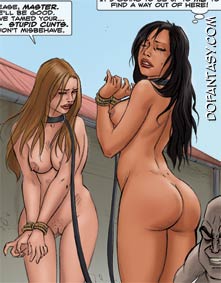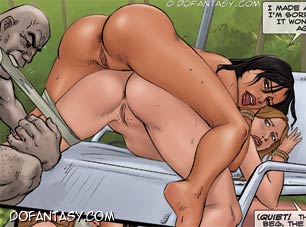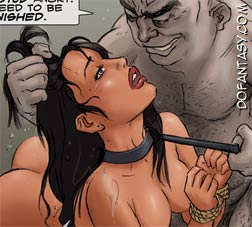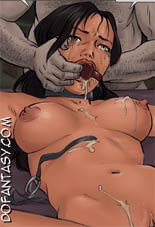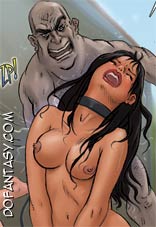 "Youíve made your dwarf stud angry. You need to be punished."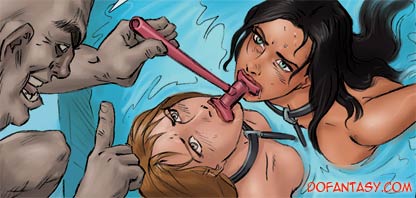 "Youíre going to have to breathe in rhythm. Otherwise youíll both drown and the
swamp alligators will have a double serving of Dumb-cunt soup tonight!"
VIKTOR TWISTS MEDICAL BONDAGE FANTASIES IN COMPLETELY NEW AND UNEXPECTED
WAYS THAT WILL SHOCK AND DELIGHT READERS. SO PACKED WITH HOT ACTION AND
EXCITING SCENES THAT A STANDARD SIZED COMIC COULDNíT HOLD THEM ALL!
THIS IS AN EXTENDED COMIC WITH EXTRA PAGES BRIMMING WITH INTENSE ARTWORK.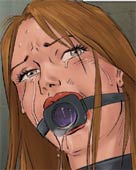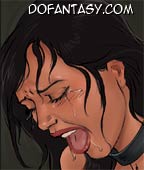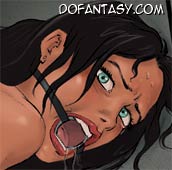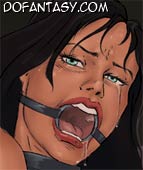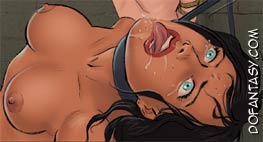 ACCLAIMED ARTIST VIKTOR GOES WHERE FEW OTHERS DARE. SIDE EFFECTS OF READING
THIS COMIC INCLUDE SHORTNESS OF BREATH AND EXTREMELY ELEVATED HEART RATE.
YOUíVE BEEN WARNED!
CLEVER, EXCITING DIALOGS BY SANDOW!
________________________________________________________
DON'T MISS THE PREVIOUS AND FOLLOWING COMICS OF THIS SERIES
**** BUY THE THREE COMICS OF THE SERIES AND GET 10% DISCOUNT! ****
VISIT VIKTOR'S SITE FOR A COMPLETE LIST OF VIKTOR COMICS AND OFFERS