Use our On-Line 100% Secure EncryptedShopping Cart Ordering System. Simply browse
our site and Click the ADD TO SHOPPING CART buttons to place items in your Shopping Cart
[ HOME ] [ COMICS ] [ MOVIES ] [ NOVELS ] [ CD-ROM ] [ Order info ] [ Help ] [ ARTIST SITES ] [ SEARCH ]
[ Disclaimer ] [ CATALOGUE ] [ Copyright ]
FANSADOX COLLECTION 298
SLAVE DEN by MOFFETT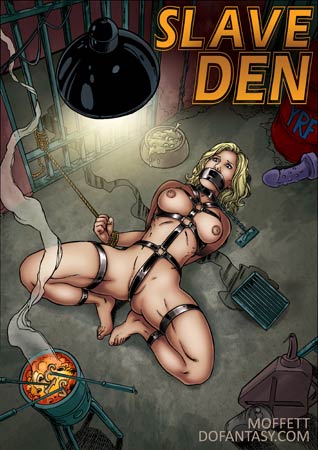 NEW IN PDF ELECTRONIC VERSION!
Adult Comic Album by MOFFETT.
Dialogs by SANDOW
HIGH RESOLUTION PDF deluxe edition
43 full color comic pages!!!
-COMPLETE, UNABRIDGED VERSION-
A CRAZY GAS STATION OWNER KEEPS A FINE
SELECTION OF SLAVEGIRLS IN THE BASEMENT
FOR HIS PERSONAL ENTERTAINMENT!
AN INNOCENT STOP AT A REMOTE GAS
STATION PUTS SEXY BLONDE MADELINE IN
THE SLOB'S CROSSHAIRS. IF SHE DOESN'T
MOVE QUICK, HER HEAD WILL BE MOUNTED
ON HIS WALL… OR HIS THICK,
PULSING SHOTGUN!
IMPORTANT NOTICE - DISCLAIMER
All characters are 18 years old or older.
This is an entirely fictional work based on
cartoon characters for adult entertainment.
It shows no real people or events.
The characters are shown participating in
CONSENSUAL role-play for their own
personal satisfaction, simulating activities
which involve sexual dominance and
submission. No actual toons were harmed
in the making of this comic.
THIS GOOD OL' BOY IS COLLECTING TROPHIES THE HARD WAY, ONE BOUND BEAUTY AT A TIME!
YOUNG, CURVACEOUS WOMEN ARE THE WILD GAME HE'S AFTER, AND HE'S NOT PUTTING DOWN
HIS GUNS TILL HE'S BAGGED ENOUGH HOT TAIL TO FILL HIS GAME ROOM!
I jumped when the rusty metal door that led to the hidden basement opened with a nerve rattling shriek. The monster was back. He looked like the type of ignorant swine which lived in the middle of the badlands, the kind always on the run from the law or civilization. He didn't fit in anywhere but here, at a dumpy little filling station in desert. Despite the sweat which poured down my face from trying to breathe in the stuffy cell I'd been locked in, a jolt of cold fear shot through my naked body. My breasts heaved with panic and I clutched my knees together, trying to protect my shaved puss. He only came to the hidden room when he had a craving. He needed to see women suffer, hear them beg for mercy and pity as he forced them to lick his sweating balls or spread open their swollen lips for his massive tool. It was ghastly and he'd told me today was my turn. My turn to suffer…
TTTH-WAKKKK!!!
"AAAAAIEEEEEE! Stop it, you bastard! Oh god please, no more… I'm begging you…."
Layla broke down in heartbreaking sobs as she hung from the chains. Her red hair was drenched with sweat and a thin trickle of drool ran down her chin and dribbled onto her lush breasts. The first time I saw her was when I'd been dragged into this sweltering hellhole. It was suffocating in the dark cellar and after a long while my eyes became adjusted to the gloom. That's when I saw the stunningly beautiful young woman bound in the cell opposite mine. Her silky skin was marked with welts where she'd been beaten, but her eyes glittered with defiance and fury. She was struggling to remain strong now as the pig ran his meaty hands possessively over her curves down to her pink slit. He cupped it tightly and gave a squeeze until she screamed in pain. I could only watch with horror and pray it would be over with quickly. It wasn't.
_________________________________

"You're listening to KYOT, the desert Coyote! Hot hits for your desert trips! police are still
investigating a rash of disappearances in the south. So far, 7 young women have vanished
without a trace. Police have no leads, and urge caution for women traveling alone."
A madman and his demented, old mother run a gas station in the middle of nowhere. What looks like one of the quietest and most relaxing spots in the country is in reality a place of dark dread and intense danger. A group of lovely, young woman, all naked, chained, and gagged, are crammed in tiny cells in the basement of the gas station.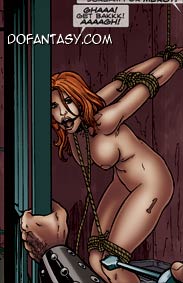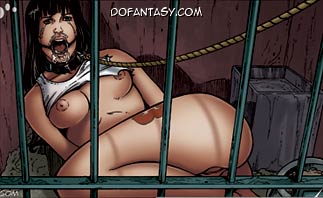 "Let's play a game, layla. We're a loving couple. We should have fun together!"
One woman, Layla, has been there for over a year and is the madman's favorite. She's a hot and stubborn redhead, willful and impossible to break. She's a fighter, and Joss, the madman, delights in wearing her down...
And then there's Brooke. She's a brand-new prisoner; she's just been here a week. Unlike Layla, she's almost completely broken...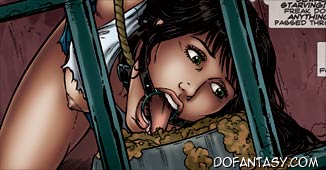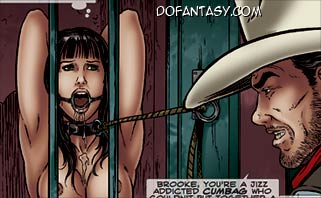 "Good answer, cunt! I knew there was something inside
your empty head besides spent jizz!
...not surprising given how Joss treats them...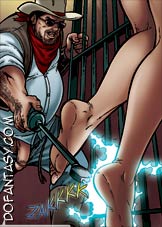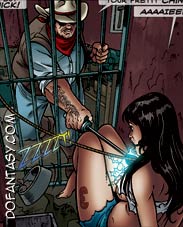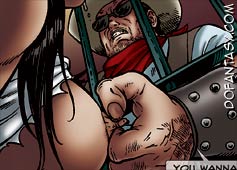 "Lemmie hear you bark like a dog, bitch! Ain't gonna stop till I've fried your little paws!"
Madeleine, the spoiled daughter of a rich tycoon stops by the gas station to refuel. It's the worse mistake of her young life...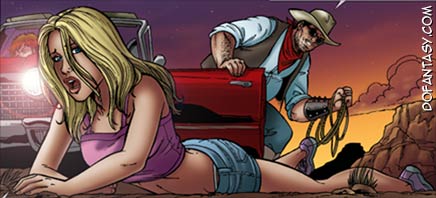 "You'r boy-toy ain't in any shape to stuff your wet crack, whore.
Looks like I'm gonna have to take over as your man!"
The man is specially harsh to her. The girl is everything he isn't. She's a drop-dead beauty, she has class, she's bright, and her father is immensely rich and gives his dear daughter everything she asks for: the best college education, a limitless credit card and a red Cadillac...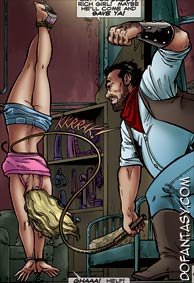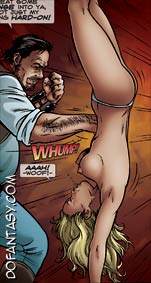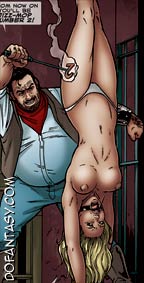 "You're gonna be hanging around my house for a long time, white trash!"
But young Madeleine is not the heroine of this story, and there will be no heroics here. Every one of the imprisoned girls is a damsel in distress in this excellently narrated story of utter, female humiliation and despair.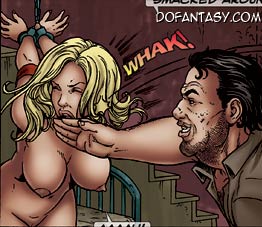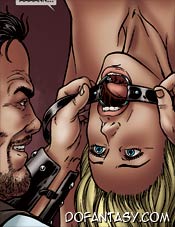 "I likes a woman who knows how to obey."
A group of lively beauties have lost their freedom and are forced to endure the worse nightmare a young woman can go through...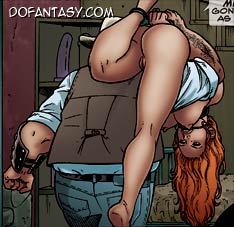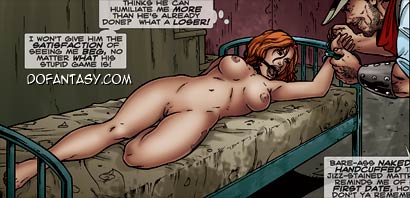 "Bare-ass Naked and handcuffed to a jizz-stained mattress.
Reminds me of our first date, honey. Don't ya remember?"
_________________________________
THE SLAVE DEN: AN AWFUL HELL FOR WOMAN FULL OF DESPAIR AND HUMILIATION!
A TWISTED COMIC DRIPPING WITH ALL THE ACTION AND EXPLICIT GRAPHICS YOU'VE
COME TO EXPECT FROM THE VISIONARY DOFANTASY ARTIST MOFFETT!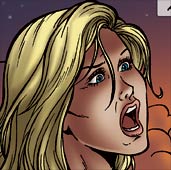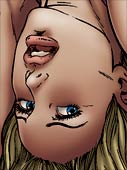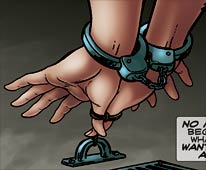 YOU'LL FALL IN LOVE WITH MOFFETT'S YOUNG BOMBSHELLS,
ARGUABLY THE MOST BEAUTIFUL GIRLS EVER DRAWN IN A COMIC!
DON'T MISS THE FIRST PART OF THIS EXCEPTIONAL COMIC!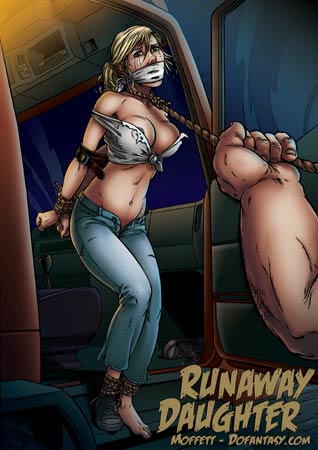 VISIT MOFFETT SITE FOR A COMPLETE LIST OF MOFFETT COMICS AND OFFERS
PDF by DOWNLOAD. The PDF electronic version contains the same images and text as the paperback edition (if a paperback exists). Please be aware that most of the ENGLISH VERSIONS are in PDF version exclusively. You'll have instant access to your files just after the credit card transaction is approved. You'll receive a confirmation e-mail with directions to download if you prefer to download at a later time. To open PDF files you need Adobe Acrobat Reader. Download it for free by clicking here!
PDF in a CD. If you prefer, we'll burn a CD-ROM especially for you with the PDF files that you choose. Postage (14.99 Euro) will be added to the total cost of the books. If you want to order on a CD-ROM please check the corresponding check-box in the shopping cart.
Copyright © 1998-2011 Dofantasy - ETHAN ltd