Use our On-Line 100% Secure EncryptedShopping Cart Ordering System. Simply browse
our site and Click the ADD TO SHOPPING CART buttons to place items in your Shopping Cart
[ HOME ] [ COMICS ] [ MOVIES ] [ NOVELS ] [ CD-ROM ] [ Order info ] [ Help ] [ ARTIST SITES ] [ SEARCH ]
[ Disclaimer ] [ CATALOGUE ] [ Copyright ]
FANSADOX COLLECTION 302
THE HOTEL - ERENISCH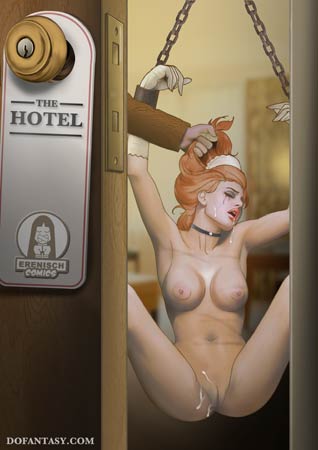 NEW IN PDF ELECTRONIC VERSION!
Adult Comic Album by ERENISCH.
HIGH RESOLUTION PDF deluxe edition
50 full color comic pages!!!
-COMPLETE, UNABRIDGED VERSION-
JOURNEY TO THE ICONIC FUTURE WHERE WOMEN HAVE BEEN STRIPPED OF ALL RIGHTS AND TURNED INTO OBEDIENT SEXTOYS!
SPRUNG FROM THE LEGENDARY IMAGINATION
OF ERENISCH, SEE A FANTASY UNIVERSE OF
UNPARALLELED DETAIL, WHERE TWISTED SEXUAL CRUELTY HAS BECOME A PART OF
EVERYDAY LIFE...
IMPORTANT NOTICE - DISCLAIMER
All characters are 18 years old or older.
This is an entirely fictional work based on
cartoon characters for adult entertainment.
It shows no real people or events.
The characters are shown participating in
CONSENSUAL role-play for their own
personal satisfaction, simulating activities
which involve sexual dominance and
submission. No actual toons were harmed
in the making of this comic.
WOMEN ARE USED ON THE SMALLEST WHIM AND THEY ARE TAUGHT TO BEG FOR MORE…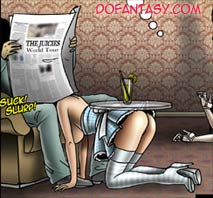 The year 2022... Many countries have passed the 'Compulsory Female Slavery Law' and legalized the sexual-use and trade of nubile women over 18 years of age. When a girl reaches slavery age, she can be bought and sold, hired and whored, and used in every imaginable way...
She becomes her owner's personal property.
There is no escape for the young women of the future, nowhere they can hide from their fate as toys in the hands of men.
The best a girl can hope for, is to find a master who is less cruel than the alternatives.
__________________
THE STORY SO FAR…
Sherry Potts' life has taken a turn for the worse. Only a year ago she was a rebellious schoolgirl, the most popular girl in school, but thanks to her father's outstanding debts, she was enslaved and given to a dorky classmate who turned her into his sex toy.
Sherry endured an entire year of abuse and degradation, but she always clung to the hope that she might somehow be free again.
Then, just as her freedom was in sight… her master's father, Paul, surprised everyone by marrying the 19-year-old and making her his new slave-wife!
Now, without any more delusions about freedom, Sherry embarks on a new journey as a young wife....
__________________
IN THIS COMIC…
Paul begins their honeymoon by locking his new wife in the trunk of a car and taking her to a luxury Hotel.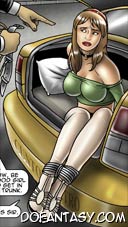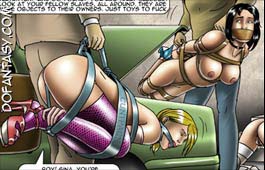 The hotel is staffed by slavegirls who exist solely to please the customers. Girls in the hotel are not only maids and servants….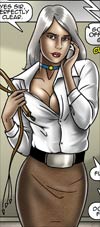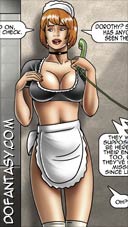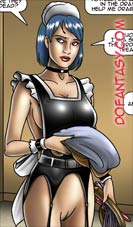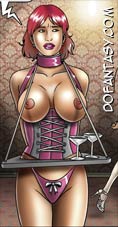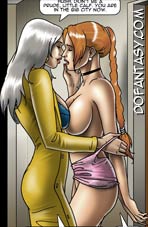 They are also used as objects for the hotel guests. Their bodies are turned into mattresses, decoration and used for any disgusting task by the rich men who can afford luxury slaves.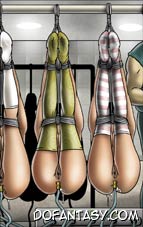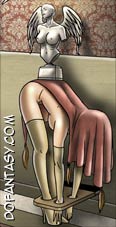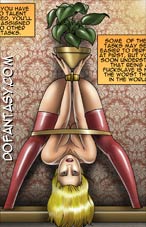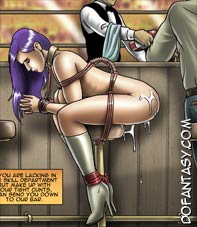 These girls have had all their humanity stripped away and they long for the "good" life of a higher-ranking fuckslave...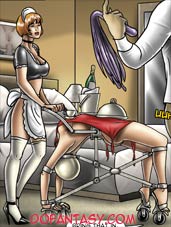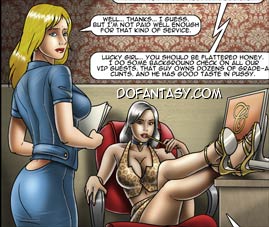 In a world of constant abuse, where female life has no value, a woman becomes grateful for even the smallest kindness her master gives her…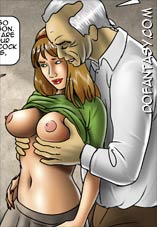 Sherry is a defiant girl and is determined to never lose her brave spirit. But Paul is an experienced slave trainer; he knows just how to wear down a girl's resistance.
Paul thinks he can make any girl submit to him completely and he enjoys trying to break Sherry and forcing her to accept her new role as his slave-wife.
There is no way out for Sherry, Paul has complete control over her entire life.
Sherry's honeymoon in the hotel is a vivid journey of intimate cruelty.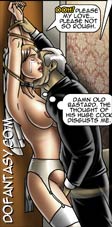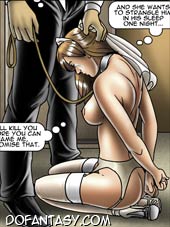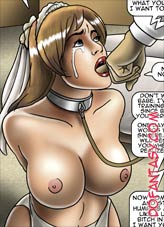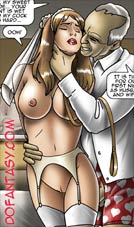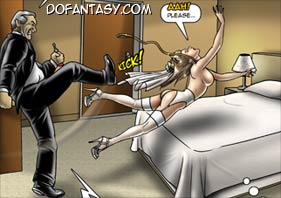 She is confused and frightened. Her new husband insists she call him "my love" even while he forces her to crawl like a dog.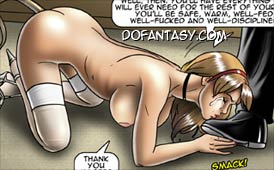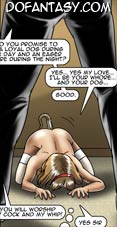 After a year of constant abuse, Sherry is exhausted and terrified. What if she can't resist forever? What if she breaks and becomes his complete slave...?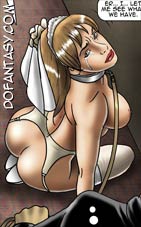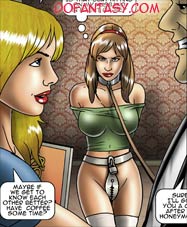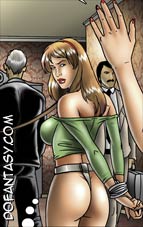 ERENISCH BRINGS THIS AMAZING VISION OF THE FUTURE TO LIFE,
FULL OF VIVID DETAIL AND CREATIVE CRUELTY.
WHAT WOULD A MAN DO IN A WORLD WHERE WOMEN HAD NO RIGHTS?
IF A MAN COULD ENSLAVE AND USE AND PUNISH WHOEVER HE WANTED?
"THE HOTEL" SIZZLES WITH TENSION AND HOT ARTWORK,
AND PACKS A STORY THAT DEMANDS TO BE READ AGAIN AND AGAIN!
UNLIKE ANY COMIC YOU HAVE EVER SEEN! PREPARE TO BE AMAZED!
_________________________________
DON'T MISS THE PREVIOUS COMICS ON ERENISCH SLAVE WORLD:
**** BUY THE 8 COMICS AND GET 15% DISCOUNT! ****
BIRTHDAY GIFT PART 1
BIRTHDAY GIFT PART 2
BIRTHDAY GIFT PART 3 - DETENTION
BIRTHDAY GIFT PART 4 - HOMEWORK
BIRTHDAY GIFT PART 5 - TEACHER'S PET
BIRTHDAY GIFT PART 6 - FAMILY REUNION
BIRTHDAY GIFT PART 7 - THE EXCHANGE
BIRTHDAY GIFT PART8 - THE FAVORITE
VISIT ERENISCH SITE FOR A COMPLETE LIST OF ERENISCH COMICS AND OFFERS
PDF by DOWNLOAD. The PDF electronic version contains the same images and text as the paperback edition (if a paperback exists). Please be aware that most of the ENGLISH VERSIONS are in PDF version exclusively. You'll have instant access to your files just after the credit card transaction is approved. You'll receive a confirmation e-mail with directions to download if you prefer to download at a later time. To open PDF files you need Adobe Acrobat Reader. Download it for free by clicking here!
PDF in a CD. If you prefer, we'll burn a CD-ROM especially for you with the PDF files that you choose. Postage (14.99 Euro) will be added to the total cost of the books. If you want to order on a CD-ROM please check the corresponding check-box in the shopping cart.
Copyright © 1998-2011 Dofantasy - ETHAN ltd