Use our On-Line 100% Secure EncryptedShopping Cart Ordering System. Simply browse
our site and Click the ADD TO SHOPPING CART buttons to place items in your Shopping Cart
[ HOME ] [ COMICS ] [ MOVIES ] [ NOVELS ] [ CD-ROM ] [ Order info ] [ Help ] [ ARTIST SITES ] [ SEARCH ]
[ Disclaimer ] [ CATALOGUE ] [ Copyright ]
FANSADOX COLLECTION 345
VICTORIA'S SACRED - PREDONDO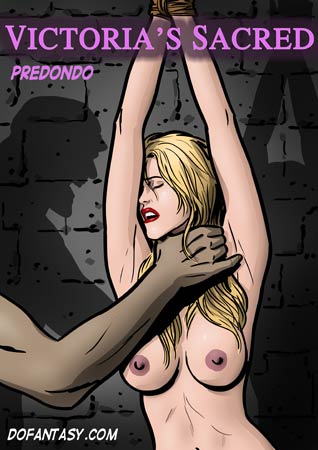 NEW IN PDF ELECTRONIC VERSION!
Adult Comic Album by PREDONDO.
HIGH RESOLUTION PDF deluxe edition
40 full color comic pages!
-COMPLETE, UNABRIDGED VERSION-
FIVE GIRLS ARE CHOSEN AS VICTORIA'S SACRED ANGELS – UNFORTUNATELY FOR THEM, THEIR "HEAVEN" IS FULL OF HORNY DEVILS!
FIVE YOUNG, VOLUPTUOUS LINGERIE MODELS BECOME THE NEWEST PRODUCT FOR SALE IN THE SECRET SEX SLAVE MARKETS OF ASIA!
IMPORTANT NOTICE - DISCLAIMER
All characters are 18 years old or older.
This is an entirely fictional work based on
cartoon characters for adult entertainment.
It shows no real people or events.
The characters are shown participating in
CONSENSUAL role-play for their own
personal satisfaction, simulating activities
which involve sexual dominance and
submission. No actual toons were harmed
in the making of this comic.
______________________________________
Jenny McCarney has just turned 18, and she's eager to leave the mansion of her wicked and lusty step-father. The sick and fat old man has always been eyeing her ever since she went to live in his house, after her mother married the pervert, and Jenny has been sick of his clumsy advances and his lewd, disgusting eyes. She quickly leaves his mansion, but "daddy" tries to give Jenny a going away present. Jenny is not happy, and she quickly rebuffs him with a swift knee to the nuts!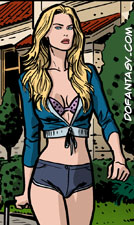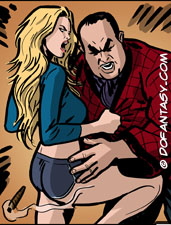 When Jenny reaches New York City, she's quickly snatched up by the prestigious lingerie company Victoria's Sacred. There, she along with five other drop dead gorgeous models put on their first show at the luxurious Halton Hotel! Jenny and the other innocent girls, also recently turned 18, are so excited.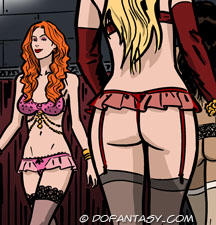 They've been told by their employer, a Madame Sabine, that there are big movie producers and directors in the audience. This might be their big break – their chance to get not only into the fashion industry but into Hollywood as well!
The girls are so excited, they fail to notice that something isn't quite right about the members in the audience. Some of them are the typical fashion reporters – shy and pathetic losers who hide behind their cameras whenever anyone with a pretty face walks by, but there are some who are looking at the girls with a different kind of look – a predatory look that makes them feel uncomfortable.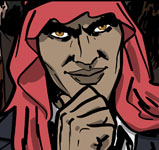 Jenny notices a familiar face in the audience... an unwelcome face in the audience. Her sense of violation and disgust is overwhelming! What's HE doing here?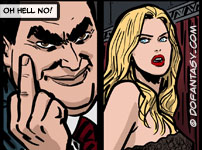 The show is quickly concluded, and the girls are ushered into the bar of the Halton to give their potential Hollywood employers a more... personalized tour of their assets.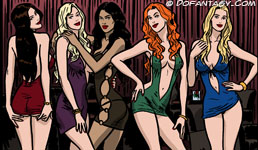 Most of the girls are tittering simpletons, completely unaware of the dark and sinister nature of their questions: "are these measurements correct?" "Tell me, have you ever had sex before?" "Do you like kissing girls?" For these young, naïve new models, fresh from their pampered and privileged lives, these questions are almost forgettable... though they do seem rather odd...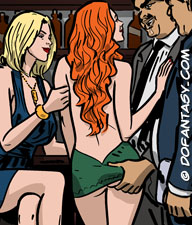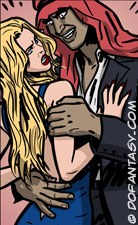 Jenny however gets some unwanted attention. She stands up for herself and slaps the rude and disrespectful man in the face! However, if she was expecting support from her employer, Madame Sabine, she is sorely disappointed when the enraged old dyke screams at her in the bathroom!
Things only get worse for Jenny and her fellow fresh faced models. They all pile into the van and head to the airport, excited at their future prospects! They don't even notice the glass standing between their compartment and the driver. They don't even notice the wicked black man driving their van with a look of vicious lust in his eyes. Before they even know what's happening, it's too late for any of them to stop it.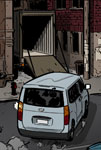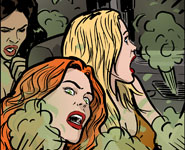 A vicious hell awaits the poor girls when they wake up! They're paraded and humiliated on stage, but this is a different kind of stage than any of them was expecting!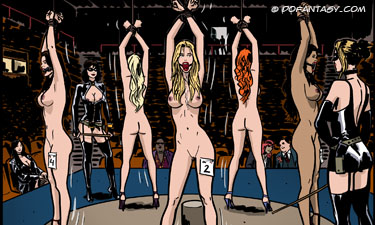 Rather than getting catcalls on the catwalk, they're being groped and molested by the smelliest, foulest, and nastiest fat men and disgustingly unnatural lesbian women while chained up and completely helpless! These Angels of Victoria's Sacred have fallen from grace, and now they find themselves in the worst kind of place – sold as sex slaves to rich and powerful men and women who have no problems abusing and fucking the girls until they die!
THESE HAUGHTY MODELS THOUGHT THEY WERE RISING STARS ON THEIR WAY TO THE TOP! UNFORTUATELY FOR THEM, THE ONLY THING RISING IS THE SADISTIC LUST OF THEIR NEW MASTERS!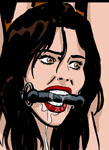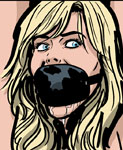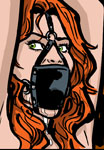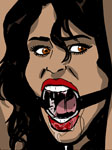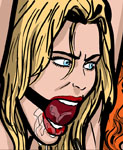 THIS EXCITING NEW TALE FROM THE TWISTED MIND OF PREDONDO IS HIS HARDEST AND MOST EXTREME ONE YET! YOU'LL BE ABSOLUTELY SHOCKED AS YOU WATCH THESE POOR, HELPLESS GIRLS ENDURE THE CRUELEST AND HARDEST TORMENT AND ABUSE! WATCH AND THRILL AS THESE YOUNG, ARROGANT MODELS ARE BROUGHT LOW AND FORCED TO SERVE THEIR WICKED AND BRUTISH MASTERS AND MISTRESSES! NO SLAVE IS SAFE, AND NOTHING IS OFF LIMITS! WILL THESE POOR GIRLS SURVIVE THEIR FIRST ENCOUNTER WITH THE HIDEOUS, CRIMINAL SEX SLAVE INDUSTRY OR WILL THIS BE THEIR LAST SHOW EVER?
YOU'LL ONLY FIND OUT IN THIS AMAZING NEW STORY BROUGHT TO YOU ONLY BY THE DEDICATED TEAM AT DOFANTASY.COM!