Use our On-Line 100% Secure EncryptedShopping Cart Ordering System. Simply browse
our site and Click the ADD TO SHOPPING CART buttons to place items in your Shopping Cart
[ HOME ] [ COMICS ] [ MOVIES ] [ NOVELS ] [ CD-ROM ] [ Order info ] [ Help ] [ ARTIST SITES ] [ SEARCH ]
[ Disclaimer ] [ CATALOGUE ] [ Copyright ]
FANSADOX COLLECTION 350
PUNISHED IN PARADISE -part 2 - PREDONDO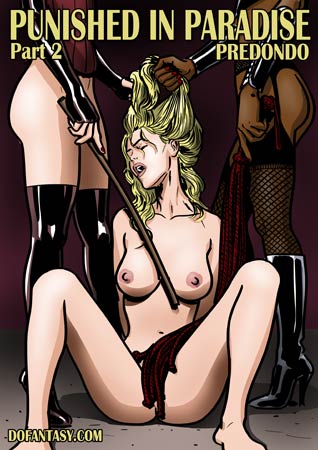 NEW IN PDF ELECTRONIC VERSION!
Adult Comic Album by PREDONDO.
HIGH RESOLUTION PDF deluxe edition
42 full color comic pages!
-COMPLETE, UNABRIDGED VERSION-
THREE COLLEGE COEDS ON AN AFRICAN VACATION GET AN EXCLUSIVE, PERSONAL TOUR OF HELLISH SEXUAL SLAVERY!
THESE AMERICAN HOTTIES WILL FACE THE HORRORS OF THE DARK CONTINENT NAKED, BOUND, AND EXPOSED
IMPORTANT NOTICE - DISCLAIMER
All characters are 18 years old or older.
This is an entirely fictional work based on
cartoon characters for adult entertainment.
It shows no real people or events.
The characters are shown participating in
CONSENSUAL role-play for their own
personal satisfaction, simulating activities
which involve sexual dominance and
submission. No actual toons were harmed
in the making of this comic.
Brooke, Tisha, and Carly went on a fantastic African vacation over 8,000 miles away from their home, the safe suburbs of America. These girls were spoiled rich kids with stunning good looks and sugar daddies willing to bow and scrape to their every whim and desire. They took a trip through the poor, impoverished African slums looking for a good time and a party that was off the rails. If these backward natives had a problem with that, they could go to hell! Brooke was here to have a good time, and nothing was going to stop her!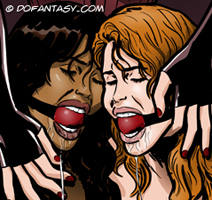 But one sad mistake landed the girls in the darkest depths of sexual hell! Tisha and Carly were caught in the vicious grips of the backwards natives and sentenced to lives of sexual slavery! Blonde, buxom Brooke managed to escape, but it's hard to say that her fate was much better: Brooke finds herself the prisoner of a vicious, black African "massa" who forces the beautiful, blonde American girl to serve his every depraved and sadistic desire under pain of a vicious pussy flogging!
A strange act of kindness finds Brooke freed, but rather than finding safety and rescue, Brooke's world only gets grimmer! The shabby bus driver finds Brooke and decides that he wants his own personal party, and Brooke will be the main attraction! The dark skinned weed smoker has his own sinister agenda for Brooke, and it does not include her freedom...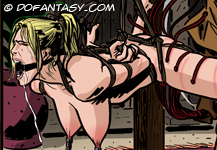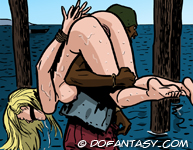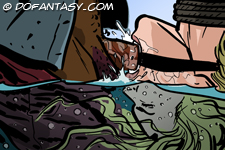 Meanwhile, Tisha and Carly are having their own problems. Sold into sexual slavery at the hands of an Arab sheik, their new robed master takes the poor, American girls out for a pleasure cruise on his ancient, Turkish galley. There, he hosts a very special party for some foreign dignitaries far out to sea into international waters, where the backwards, religious laws of the land do not apply. These latex clad lesbian beauties have their own sinister plan for poor Tisha and Carly, and it involves the most humiliating and depraved sexual activities that a straight girl can be forced to endure!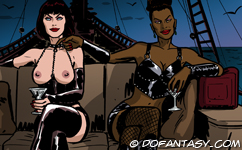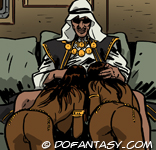 These rich
mistresses have only one thing on their mind, the pain and suffering of their female slaves!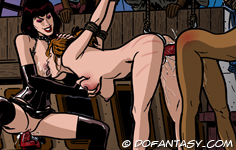 Tisha and Carly are forced to submit to their lesbian mistresses whether they want to or not! The screams of these helplessly bound girls only serve to excite and thrill their cruel mistresses! The Arab sheik watches, grinning and drooling lasciviously, his own rock hard cock visible beneath his white robes!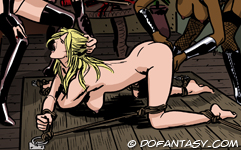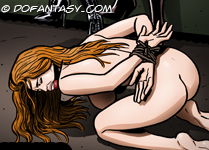 If these three American girls thought that their worst nightmares had come true, they hadn't seen anything yet! The worst is about to come, and these girls are completely helpless to stop it! Perhaps it would've been better for them if they had learned how to be submissive, feminine sex dolls in college. These backwards, African natives have only one thing on their mind: break these girls, no matter what it takes!

______________________________________

A TROPICAL VACATION TAKES A TURN FOR THE WORST AS THREE AMERICAN BEAUTIES FIND OUT THE HORRIFYING REALITY OF MODERN DAY, SEXUAL SLAVERY! GASP AND WATCH IN HORROR AS THEY SUFFER THE HARDEST AND MOST GRAPHIC CRUELTIES YET!

PREDONDO KNOCKS IT OUT OF THE PARK WITH THIS SHOCKING AND THRILLING NEWEST CHAPTER!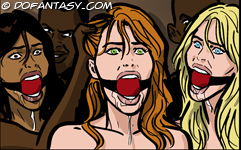 YOU DON'T WANT TO MISS THIS LATEST EDITION FROM OUR AMAZING ARTIST PREDONDO AND THE DEDICATED TEAM AT DOFANTASY.COM