Use our On-Line 100% Secure EncryptedShopping Cart Ordering System. Simply browse
our site and Click the ADD TO SHOPPING CART buttons to place items in your Shopping Cart
[ HOME ] [ COMICS ] [ MOVIES ] [ NOVELS ] [ CD-ROM ] [ Order info ] [ Help ] [ ARTIST SITES ] [ SEARCH ]
[ Disclaimer ] [ CATALOGUE ] [ Copyright ]
FANSADOX COLLECTION 356
THE SLAVE FACTORY - FEATHER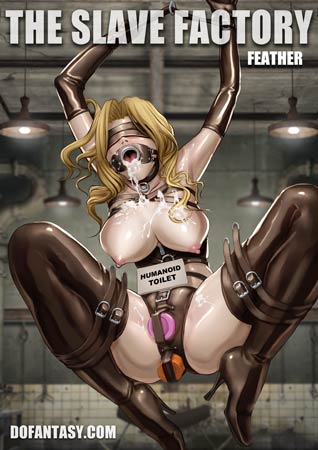 NEW IN PDF ELECTRONIC VERSION!
Adult Comic Album by FEATHER
HIGH RESOLUTION PDF deluxe edition
52 full color comic pages!!!
-COMPLETE, UNABRIDGED VERSION-
YOU WON'T HEAR THE GRINDING OF MACHINERY OR THE GROAN OF METAL IN THIS FACTORY. WHAT YOU WILL HEAR ARE THE SCREAMS AND PLEAS FOR MERCY COMING FROM THE WOMEN INSIDE.
WELCOME TO THE SLAVE FACTORY!
IMPORTANT NOTICE - DISCLAIMER
All characters are 18 years old or older.
This is an entirely fictional work based on
cartoon characters for adult entertainment.
It shows no real people or events.
The characters are shown participating in
CONSENSUAL role-play for their own
personal satisfaction, simulating activities
which involve sexual dominance and
submission. No actual toons were harmed
in the making of this comic.
Thomas Newman runs a very special kind of business, and while he may appear to be a simple, ordinary trucker that's merely the camouflage he wears. As Helen is about to discover, after her car breaks down on a lonely mountain road, Tom is a slaver and in the back of his truck she'll be hauled off to become one of his expensive top-quality fuck sluts.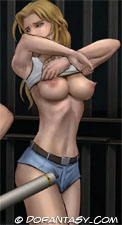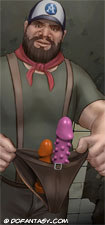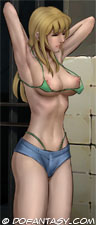 In a dark, abandoned factory Helen and the other girls that have been taken will learn what it takes to become the best pleasure slaves in the world. Their pussies will be undergo severe stretching and fucking sessions on hard plastic dildos until they start begging for the pleasure of a real human cock. Repeated whipping and clamping of their big tits will make their nipples especially tender for their new masters. Yet these are only the first steps.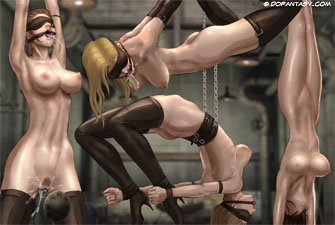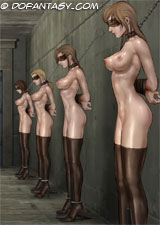 Helen and her fellow sluts-in-training will have to learn to fuck, suck, and suffer like true whores before they're allowed to leave the factory and begin their new lives as fuck meat. They'll learn to mount dildos no matter how many sharp ridges they might be covered in, and they'll learn to obediently worship the warm, pulsing cock of any man who wants them. Cum will taste as sweet as wine to these girls by the time they're fully trained.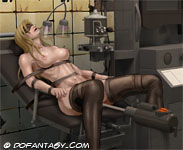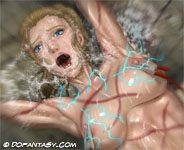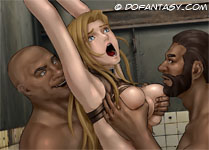 But maybe there is hope…Helen's sister Lindy is in the CIA and she's come looking for her sister, but will she save Helen in time? Or is Helen doomed to become yet another product of…the Slave Factory.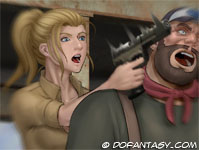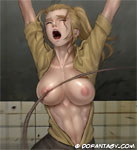 A TALE OF HUMILIATING PUNISHMENTS AND CAPTURED WOMEN FEATURING FEATHER'S AMAZING ART.
IF YOU ENJOY WATCHING INNOCENT GIRLS BEING TURNED INTO MOANING, DROOLING SLUTS BY POUNDING THEIR HOT, TIGHT HOLES THAN THIS IS THE COMIC FOR YOU!!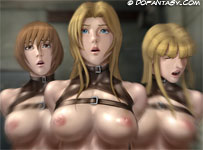 THIS ONE IS NOT TO BE MISSED!