Use our On-Line 100% Secure EncryptedShopping Cart Ordering System. Simply browse
our site and Click the ADD TO SHOPPING CART buttons to place items in your Shopping Cart
[ HOME ] [ COMICS ] [ MOVIES ] [ NOVELS ] [ CD-ROM ] [ Order info ] [ Help ] [ ARTIST SITES ] [ SEARCH ]
[ Disclaimer ] [ CATALOGUE ] [ Copyright ]
FANSADOX COLLECTION 360
THE COUP: VICTIMS - MOFFETT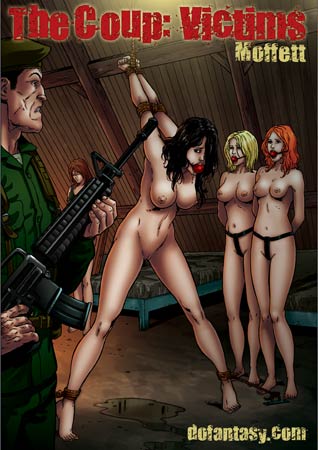 NEW IN PDF ELECTRONIC VERSION!
Adult Comic Album by MOFFETT.
HIGH RESOLUTION PDF deluxe edition
40 full color comic pages!
-COMPLETE, UNABRIDGED VERSION-
TWO BEAUTIFUL YOUNG TOURIST FIND THEMSELVES VICTIMS OF A COUP. SLAVERY AND PUNISHMENT IN A BANANA REPUBLIC WITH TRULY SHOCKING IMAGES OF DEGRADATION AND HUMILIATION!
IMPORTANT NOTICE - DISCLAIMER
All characters are 18 years old or older.
This is an entirely fictional work based on
cartoon characters for adult entertainment.
It shows no real people or events.
The characters are shown participating in
CONSENSUAL role-play for their own
personal satisfaction, simulating activities
which involve sexual dominance and
submission. No actual toons were harmed
in the making of this comic.
The Republic of Cardocia was once a peaceful South American nation and a popular vacation destination for U.S. and E.U. citizens. But that was before The Coup began. In a matter of hours General Luciano Garvo and the Republican Army of Cardocia had turned the tropical paradise into a brutal police state, and thousands of foreign tourists went missing. Most assumed they had been killed in the chaos, but the truth was far worse.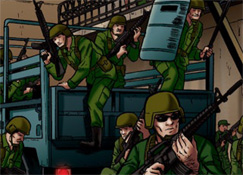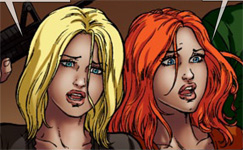 Rebecca and Bailey, sisters who were touring the country when the coup struck, are about to "disappear" into the jungles of Cardocia and experience firsthand the horrors the new regime has in store for the beautiful girls they capture.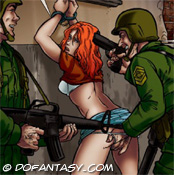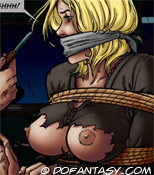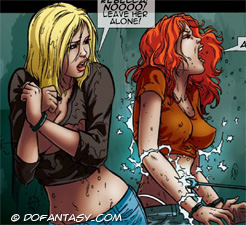 Dragged off the streets, their bodies fondled and probed by soldier's groping hands, Bailey and Rebecca are escorted personally to the former convent that has become the army's new brothel. Hundreds of unwitting tourists have already become the fuckslaves inside, their pleas and screaming echoing through the jungles surrounding the convent. Bailey and Rebecca are not to become slave sluts for common soldiers though, they're too beautiful and young to waste on the rank and file. General Garvo will use these ones personally…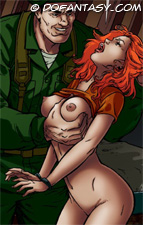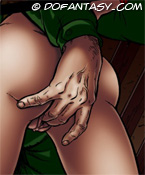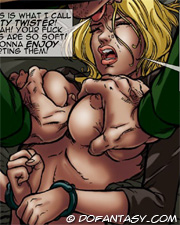 Yet before Rebecca's and Bailey's holes become the General's new cum receptacles, they'll have to bear witness to the awful savaging of another beautiful woman. The two girls can't do anything but watch as the General pounds the helpless woman's pussy and asshole, spewing his load in her already cum filled holes. Later the General has the helpless woman punished in front of the rest of the slaves just before making them available for a massive fuck party held for the troops.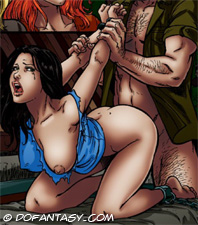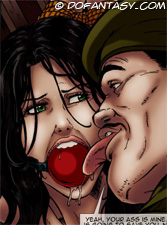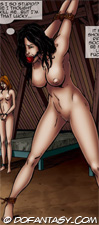 Bailey and Rebecca are spared from having their small, tender holes forced open by the soldier's raging cocks however. Instead their fitted with metal chastity belts and sent deep into the jungle…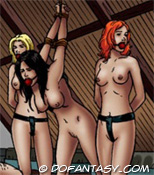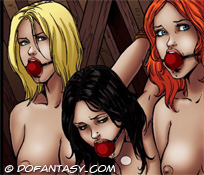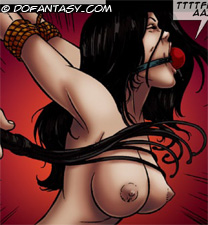 Are they to be rescued? Or does an even worse fate await them in the twisting jungles of Cardocia?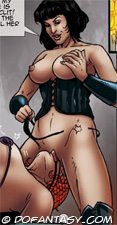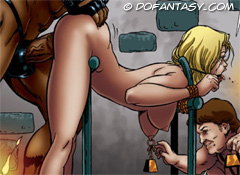 ANOTHER AMAZING TALE FROM MOFFETT, FEATURING HIS TRADEMARK STYLES AND DEPICTING THE AWFUL FATE OF POLITICAL PRISONERS AND INNOCENT VICTIMS IN A FICTIONAL BANANA REPUBLIC.
THIS AROUSING COMIC OF HUMILIATION, PAIN AND SLAVERY IS ONLY AVAILABLE HERE AT DOFANTASY!