Use our On-Line 100% Secure EncryptedShopping Cart Ordering System. Simply browse
our site and Click the ADD TO SHOPPING CART buttons to place items in your Shopping Cart
[ HOME ] [ COMICS ] [ MOVIES ] [ NOVELS ] [ CD-ROM ] [ Order info ] [ Help ] [ ARTIST SITES ] [ SEARCH ]
[ Disclaimer ] [ CATALOGUE ] [ Copyright ]
FANSADOX COLLECTION 371
KINGSLEY'S REVENGE - FEATHER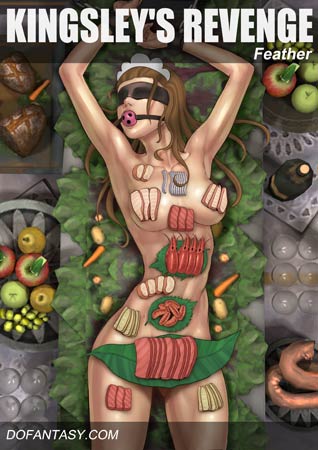 NEW IN PDF ELECTRONIC VERSION!
Adult Comic Album by FEATHER
HIGH RESOLUTION PDF deluxe edition
47 full color comic pages!!!
-COMPLETE, UNABRIDGED VERSION-
IN THE AGE OF ENLIGHTENMENT, A BARBARIC AND SADISTIC MAN WORMS HIS WAY INTO THE ARISTOCRACY BY SELLING NOBLE YOUNG LADIES INTO SEXUAL SLAVERY!
LADY ANNE KINGSLEY IS THE LATEST GIRL TO BE OWNED BY LORD GRAFF MARTEL. HE WILL TEST HER AND MAKE SURE THIS PAMPERED, DELICATE NOBLE GIRL IS READY TO PUT TO MARKET!
IMPORTANT NOTICE - DISCLAIMER
All characters are 18 years old or older.
This is an entirely fictional work based on
cartoon characters for adult entertainment.
It shows no real people or events.
The characters are shown participating in
CONSENSUAL role-play for their own
personal satisfaction, simulating activities
which involve sexual dominance and
submission. No actual toons were harmed
in the making of this comic.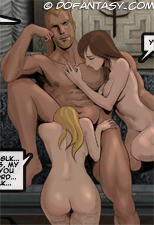 In the Age of Enlightenment, a time when civilization was expanding with science and democracy, there is a citadel deep in the heart of Europe that houses a sinister purpose and design. Called the Citadel of Desrochers, it is the domain of Duke Graff Martel, a strong willed man who earned his title not through lineage or pedigree but through strong armed political cunning. The king, a weak man, granted this man virtual autonomy within the kingdom to administer his lands and his estates as he saw fit. Unfortunately for the people of the land, Duke Graff Martel has only one goal on his mind: making money through the sale of tight, gorgeous noble women to the open slave market!
To do this, he has organized a secretive club known only as the BLACK RAVEN CLUB where the most perverted and sadistic of the European aristocracy gather in order to buy tight, white slave girls to use as they see fit! Lord Martel has many people interested in his wares, all the way from noble England to as far off as distant India, and he has no shortage of girls to sell.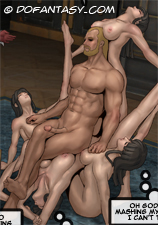 Because of this, Lord Graff Martel likes to keep the choicest slave girls for his own, personal use. He has so many pampered and simpering girls at his disposal, that he has come up with some... interesting uses for them...

Why use a feather bed when a bed of slaves works just as well? Torment beautiful, pampered young women while having a good nightís sleep?

Sit upon a throne of girls, bought from impoverished lesser houses or won in open (and not so open) battle?

Or even better... use these girls as silverware...

There is no shortage of ideas that the despicable Lord Graff Martel has for his excess stock. But still, none of them compare to the newest arrival... the lady Anne Kingsley...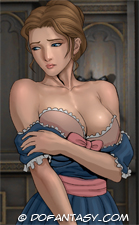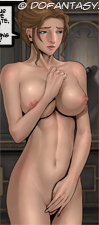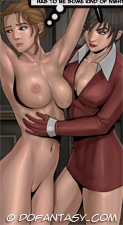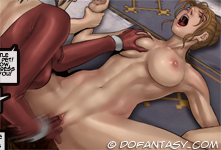 Purchased to help pay off her spendthrift husbandís gambling debts, the Lady Anne Kingsley is one of the choicest girls to come into the citadel of Desrochers in a long time. She is incredibly gorgeous, and her holes are incredibly tight. Lady Natalie, Lord Martelís sadistic, lesbian mistress, personally inspects Lady Anne to ensure that she is fit and healthy and worthy of gracing Lord Martelís firm, throbbing member. Lady Natalie inspects Lady Anne in ways that are both humiliating and invasive...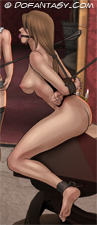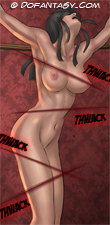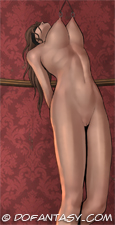 But thatís not all. Lord Martel knows that each girl that comes to his doorstep is always spirited and willful, used to being served and respected as members of court and stature. It is his job, no, his personal pleasure to disavow them of these illusions. They are, after all, useless cows only fit for one purpose: to please a man with every inch of their flesh!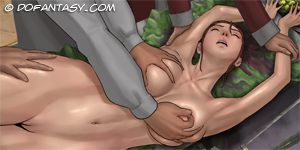 Lord Graff Martel will take his time with the Lady Anne Kingsley and make sure she is well aware of her place... whether she will survive her ďlessonsĒ... well, thatís another story...

SET IN A REFINED AND UTOPIAN, GENTRIFIED PAST WITH A ROTTING, PERVERTED CORE, THIS COMIC IS ONE OF THE BEST WE HAVE TO OFFER!

CREATED IN STUNNING COLOR AND LAVISHLY ILLUSTRATED, THIS STORY IS NOT FOR THE FAINT OF HEART! THERE ARE IMAGES TOO EXTREME FOR US TO SHOW HERE, AND THE TALE IS GHASTLY AND BRUTAL IN WAYS THAT WOULD MAKE THE SOFTEST OF WOMEN FAINT!

IF YOU LIKE HARD TALES OF SEXUAL SLAVERY, THIS ISSUE IS HOT, HOT, HOT! YOU WONíT WANT TO MISS THIS COMIC, BROUGHT TO YOU EXCLUSIVELY AT DOFANTASY.COM!