Use our On-Line 100% Secure EncryptedShopping Cart Ordering System. Simply browse
our site and Click the ADD TO SHOPPING CART buttons to place items in your Shopping Cart
[ HOME ] [ COMICS ] [ MOVIES ] [ NOVELS ] [ CD-ROM ] [ Order info ] [ Help ] [ ARTIST SITES ] [ SEARCH ]
[ Disclaimer ] [ CATALOGUE ] [ Copyright ]
FANSADOX COLLECTION 374
THE BREEDERS by SLASHER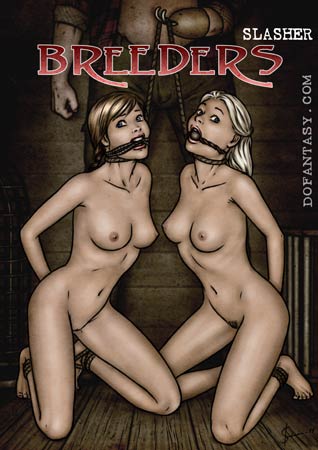 NEW IN PDF ELECTRONIC VERSION!
Adult Comic Album by SLASHER.
HIGH RESOLUTION PDF deluxe edition
48 full color comic pages!!!
-COMPLETE, UNABRIDGED VERSION-
DIALOGS BY NAJ
TWO PRETTY, CITY GIRLS ON AN OUTDOOR BIKE RIDE FIND A HORNY, HILLBILLY NIGHTMARE LURKING IN THE WOODS!
OUT IN THE WILD, DEEP HILL COUNTRY ARE DARK AND LOATHESOME TERRORS. TWO LUSCIOUS LADIES VANISH, SERVED UP AS REDNECK PLAYTHINGS!
IMPORTANT NOTICE - DISCLAIMER
All characters are 18 years old or older.
This is an entirely fictional work based on
cartoon characters for adult entertainment.
It shows no real people or events.
The characters are shown participating in
CONSENSUAL role-play for their own
personal satisfaction, simulating activities
which involve sexual dominance and
submission. No actual toons were harmed
in the making of this comic.

Hello there, officer! Mighty strange seeing one of you city folks up here. Now don't you look fine and chipper in that nice uniformy get up and them fancy motorized wheels? Mind helping yourself to some of my fried fritters and powerful strong liquor? No? Well, suit yourself. Now what is it you got a mind for, coming all the way out here? Don't see much of your kind in these parts. Most of us hill folk, we keep to ourselves, never mind bothering with them latest fashions or high falooting trends. Ain't got much value out here where there ain't no "cell phone reception" or "wi-fi connection." Heck, I hear them satellites can't see too good through the thick tree cover. Is that why you're here?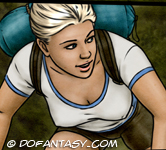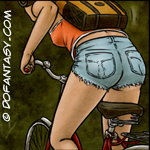 What's that? What'd you say? Two pretty girls gone missing? Why that's a powerful shame. What's their names? Megan and Madison? A blonde and a brunette gone biking in these here deep woods and ain't been seen? Why no, officer. I ain't seen nobody matching your description, though these old, hillbilly eyes might not mind a pretty sight like that, all juicy and precious and all. I hopes you catch my drift, but we got some queer folks that live in these places. Some powerful, unnatural types that never wandered out of old Appalachia since the war. No, not that war, earlier than that. Even earlier than that. Yessum. Abouts that old.

I tells you, I ain't seen nobody matching your description of this here "Megan" or that there "Madison." What kind of a female name is Madison, anyway? Sounds more like some uppity president than anything else! I tells you, we hill folk keep to ourselves. Even if anyone like that was to come, ain't no way anybody else would tell you anything different! Now, if I was to speculate what might happen if one of them prettified, city girls were to come into the clutches of some of the meaner, ornerier types around here, it done send chills up and down my spine...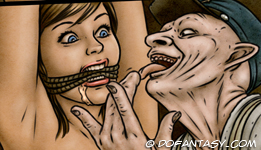 I imagine they'd be used over and over again. Some of them freaks out in the deep backcountry got some powerful growth in all the wrong places. Not sure those soft and pampered girlies would survive a hard fucking from some enormous giant with a big ole freaky, inbred willy!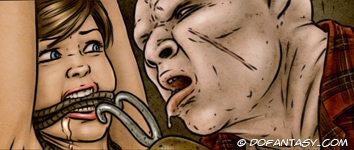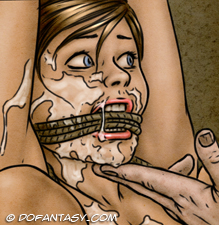 If one of them girlies of yours was stronger than the other, I figure she might try to rescue her friend. Big mistake. We hill folk know these parts like the back of our hand. She might try to sneak in at night, but we got hearing that'd make an owl jealous. She might get caught too, and lordy lordy only knows what those inbred freaks might do to her too...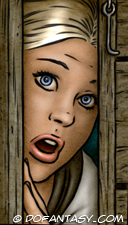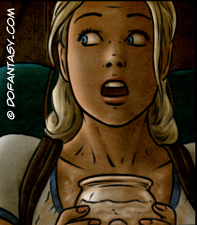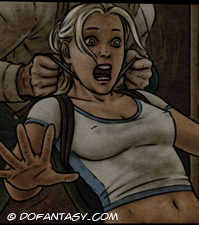 Don't let their looks fool you, officer. They're powerful strong and got a powerful hunger, especially for fresh girly meat... they're crafty and sneaky too, full of tricks and thoughts that a more civilized mind might think perverted and insane! I shudder and howl in my heart for those girls and the terrors they may have to endure, if what you're saying is true. If those girls done ride into our town, no way they'd get out alive...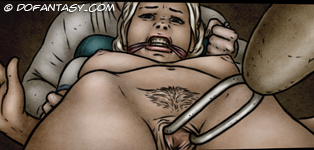 They'd be inspected like meat, and if found wanting, thrown to the dogs... or maybe their inbred, third cousin thrice removed, half brother'd son of their great, great, great grand uncle. Darker things have happened.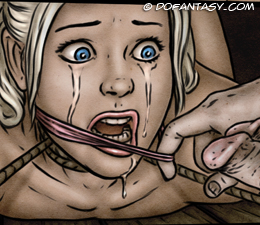 No telling what those deep hill folks might do to a pair of pretty girls like that. Might use them as breeding sows to ensure the family line, or they might get some queer notions in their head, see about fixing them a nice, hearty meal of bitch stew...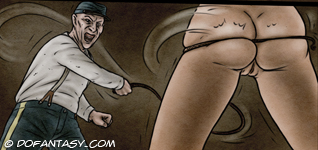 Of course, this is all speculation you understand there, officer. I don't know myself. I'm just a simple, redneck boy and all. I still ain't seen nobody like what you're implying. Oh I know you think your fancy satellites and search teams can find anybody who thinks of hiding, but the woods got a way of keeping its secrets. I wish you best of luck there, youngin' if you're thinking of trying. These hills are rough on a soul, and ain't no fancy, dandy machine of yours gonna make it over them hilly country.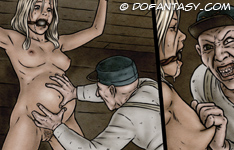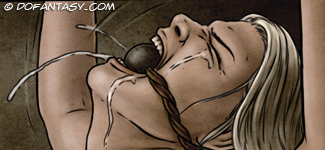 Yessir, you have a nice day too. I do hope you find those girls soon. No telling what might happen to them if you don't...

SLASHER PRODUCES YET ANOTHER AMAZING TALE CULLED FROM THE HORROR STORIES OF AMERICANA. TWO YOUNG, DELICATE FEMALES GO ON A COUNTRY BIKE RIDE THAT SENDS THEM STRAIGHT TO HELL! THIS IS AN AWFUL AND APPALLING STORY OF INBRED, HILLBILLY BRUTALITY THAT KNOWS NO BOUNDS OR LIMITS!

YOU WON'T WANT TO MISS THIS HOT, HOT, HOT ISSUE, BROUGHT TO YOU EXCLUSIVELY HERE AT DOFANTASY.COM!!!

!

YOU DON'T WANT TO MISS THIS!