Use our On-Line 100% Secure EncryptedShopping Cart Ordering System. Simply browse
our site and Click the ADD TO SHOPPING CART buttons to place items in your Shopping Cart
[ HOME ] [ COMICS ] [ MOVIES ] [ NOVELS ] [ CD-ROM ] [ Order info ] [ Help ] [ ARTIST SITES ] [ SEARCH ]
[ Disclaimer ] [ CATALOGUE ] [ Copyright ]
FANSADOX COLLECTION 382
SIEGE OF MESTA - COMIXCHEF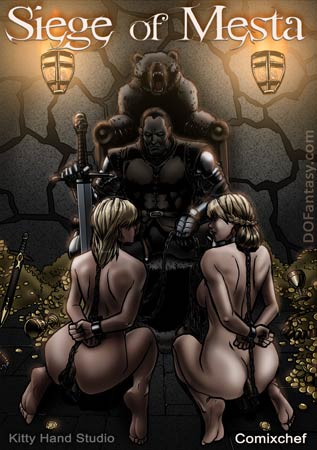 NEW IN PDF ELECTRONIC VERSION!
Adult Comic Album by COMISCHEF.
HIGH RESOLUTION PDF deluxe edition
44 full color comic pages!!!
-COMPLETE, UNABRIDGED VERSION-
FOR A CITY UNDER SIEGE, THEIR WORST NIGHTMARE IS GOING TO COME TRUE! THE NOBLE LADY AND HER DAUGHTER ARE TAKEN CAPTIVE AND ENSLAVED BY THE ENEMY ARMY!
LADY EVELYN AND HER WILLFUL DAUGHTER DELIA ARE THE PAMPERED NOBLE FAMILY OF A SOFT HEARTED LORD. WHEN THEY ARE TAKEN PRISONER, THEY WILL EXPERIENCE THE WORST AND MOST PERVERTED TORMENT AND DEGRADATION!
IMPORTANT NOTICE - DISCLAIMER
All characters are 18 years old or older.
This is an entirely fictional work based on
cartoon characters for adult entertainment.
It shows no real people or events.
The characters are shown participating in
CONSENSUAL role-play for their own
personal satisfaction, simulating activities
which involve sexual dominance and
submission. No actual toons were harmed
in the making of this comic.
In the Middle Ages, Mesta is one of the brightest beacons of light there is. In a world full of barbarism, warlords, and corrupt kings, Mesta is one of the few bastions of civilization and enlightenment. This has made it a prosperous and vibrant community as well as a target for those who would rather take than make. Mesta is ruled by the kind hearted and benevolent Lord Timothy Edgeworth, a man whose generosity is matched only by his fierce skill in battle. It is through his martial prowess that Mesta has survived as long as it has.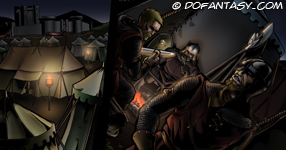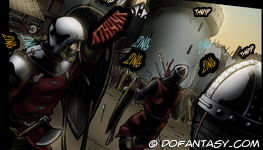 Unfortunately for the town and its inhabitants, Lord Fredrick II has laid his eye on their city. Lord Fredrick is a cruel and ruthless man with many a campaign season under his belt. He has laid waste to field and farmhouse, citadel and castle, and he is determined to bring Mesta under his control. The two great lords face off in a struggle of epic proportions. Many men, both good and evil, die above and below the wall, and the fighting is far from over.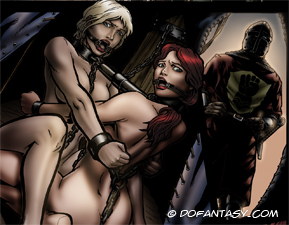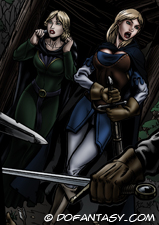 Lord Edgeworth knows that his family is not safe. His beloved wife Evelyn and her stunning beauty is well known throughout the land, and even though his daughter is a fierce fighter, grown more accustomed to the bruises and scrapes of the sparring yard than the pleasantries and diplomacy of court, she is but one pretty girl amidst an army of cruel and sadistic men. Lord Edgeworth knows that this test of wills can end badly, and if Mesta falls, his family will not be spared.
He sends them off in a secret passage underground. This is his first mistake. The soldiers of Lord Fredrick have not been idle while they lost men and material on the walls of Mesta. They discovered this secret passage and a team of knights and men at arms have lain in wait for this exact moment.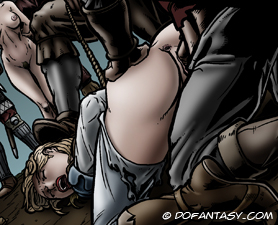 Lady Evelyn and Lady Delia are captured and taken prisoner. With any other lord, with any other nobleman, they might have expected reasonable accommodations accorded due to their status. With Lord Fredrick, they are treated worse than animals. If they had known what would happen to them in the army camp surrounding Mesta, the two might have slit their own throats rather than be taken prisoner! Lord Fredrick is not interested in ransom. Instead, he seeks revenge against Lord Edgeworth and his stubborn refusal to surrender. Lady Evelyn and Lady Delia will suffer the consequences of Lord Edgeworth's actions...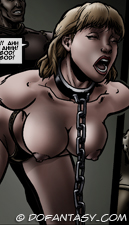 ...but whether they will survive those consequences is another matter.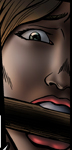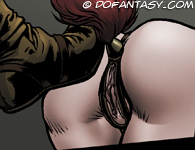 PREPARE YOURSELF FOR EXTREME CONTENT AS WE HEARKEN BACK TO THIS TALE OF MEDIEVAL CRUELTY AND SADISM! UNRESTRICTED BY OUR MODERN CONCEPTS OF CIVILIZED BEHAVIOR, THESE RUTHLESS SOLDIERS KNOW NO BOUNDS! WILL LADY EVELYN AND LADY DELIA SURVIVE OR WILL THEIR PRETTY HEADS ADORN BLOODY SPIKES? FIND OUT IN THIS SHOCKING LATEST ISSUE, BROUGHT TO YOU HERE AT DOFANTASY.COM! YOU WON'T WANT TO MISS THIS STORY; IT'S HOT, HOT, HOT!!!