Use our On-Line 100% Secure Encrypted Shopping Cart Ordering System. Simply browse
our site and Click the ADD TO SHOPPING CART buttons to place items in your Shopping Cart
[ HOME ] [ COMICS ] [ MOVIES ] [ NOVELS ] [ CD-ROM ] [ Order info ] [ Help ] [ ARTIST SITES ] [ SEARCH ]
[ Disclaimer ] [ CATALOGUE ] [ Copyright ]
FANSADOX COLLECTION 384
THE HOTTIES NEXT DOOR - Part 4 - PREDONDO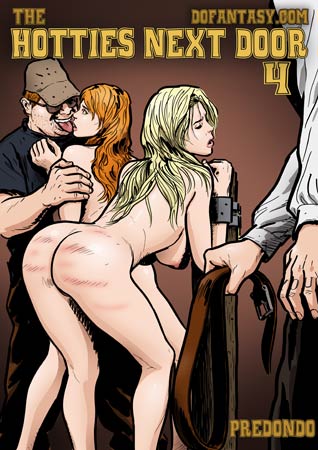 NEW IN PDF ELECTRONIC VERSION!
Adult Comic Album by PREDONDO.
HIGH RESOLUTION PDF deluxe edition
40 full color comic pages!
-COMPLETE, UNABRIDGED VERSION-
REDNECK PERVERTS TERRORIZE A SWEET SET OF SUCCULENT SLUTS! IF THOSE GIRLS THOUGHT THINGS WERE BAD, THEY HAVEN'T SEEN ANYTHING YET!
THINGS GET WORSE AND WORSE FOR THE TAYLOR FAMILY AND FRIENDS AS THEY FIND THE SEEDY UNDERBELLY OF THE BACKWATER BAYOU. WHERE CIVILIZATION ENDS, BONDAGE SEXUAL SLAVERY BEGINS!
IMPORTANT NOTICE - DISCLAIMER
All characters are 18 years old or older.
This is an entirely fictional work based on
cartoon characters for adult entertainment.
It shows no real people or events.
The characters are shown participating in
CONSENSUAL role-play for their own
personal satisfaction, simulating activities
which involve sexual dominance and
submission. No actual toons were harmed
in the making of this comic.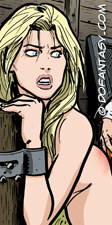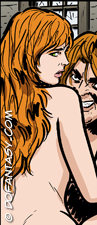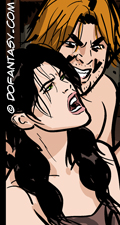 THE STORY SO FAR...

Dana and Holly were two young, innocent teenage girls starting a wild party while their parents were away. Things got off to a bad start when their dirty neighbor, Keith, got tired of watching the cockteasing sluts from the privacy of his second story window. He wanted to be part of the action, so Keith decided to crash the party early. He took the girls, dragging their unconscious, supple bodies to his basement. Another unfortunate "guest" joined the perverted party when Dana and Holly's brunette friend, Vera, was brought along. Vera should have arrived fashionably late… she might not have ended up part of Keith's disgusting, bondage nightmare!

Keith brought the girls and their stuck up, snooty mother Mrs. Taylor, to his family and friends in the heart of the swamp. The young girls managed to escape, only to be captured by a pair of alligator poachers, Wilbur and Bubba. Keith, family, and friends were furious by this turn of events, and poor Mrs. Taylor is still caught tightly in their clutches…

Meanwhile, Wilbur and Bubba have introduced Dana, Holly, and Vera to the pleasures of their island sanctuary. There, the girls met a reporter, Gloria, better known by her pet name of "Goldie," who advised the girls that submission was the best course of action. The boys have their own set of sick ideas and twisted delights, and the girls are going to join in the fun… whether they want to or not…

THIS COMIC...

Deep in the swamp, Wilbur and Bubba have broken in their newest pets and taught them how to behave like good girls. But that's not enough for these bondage obsessed brothers. They want to make their acquisition official, and that means bringing in a backwater preacher to make sure the girls and boys are wed together in holy matrimony…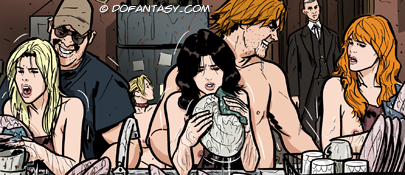 Unholy matrimony is more like it! What kind of preacher has prison tattoos and a missing finger? Even worse, he talks like a zealot and has the gaze of a crazed madman, a cruel psychopath. He wants to make sure the girls meet his sick standards of womanly virtue… whether they are submissive enough to the orders of their masters…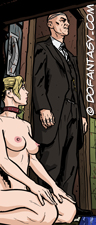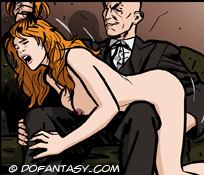 ...whether they love to take cock in all their holes…

...and whether they are secret, lesbian sluts! This "preacher" will put the girls through their paces. Whether the girls will survive his religious rituals is another matter…

Meanwhile, Mrs. Taylor is still caught in the vicelike grip of the Mugshot family and friends. Keith, Mrs. Mugshot, and retarded brother Chuck have their fun while the Mexican Lupe and black Willis watch with eager, horny eyes. Mrs. Taylor is still full of spirit and frantic to escape. She has to find her daughters! Thanks to a slip of the tongue, retarded brother Chuck let loose that the girls had escaped, and she intends to make good on her own attempt…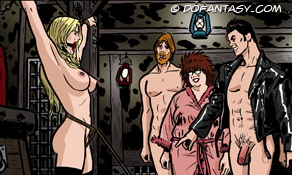 ...but there's no promise that she'll find help anywhere else in this redneck backwater world…

...out of the frying pan and into the fire… things may have been bad as a sex pet in the Mugshot's basement, but things might be even worse in the "town" she finds herself in…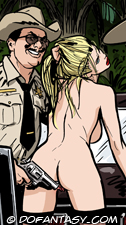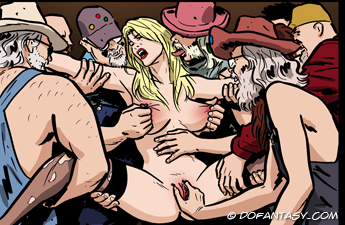 Things aren't looking good for the Taylors! What kind of horrible atrocities will they have to endure? What kind of sick, sexual lusts will they have to satisfy? Will they survive, and if they do, will they still be the same innocent, sweet girls who first entered this nightmarish world?

All that and more will be revealed in this exciting new issue. You don't want to miss this continuation of redneck roughhousing, the Hotties Next Door epic, brought to you here exclusively at Dofantasy.com!

PREDONDO IS A WORLD RENOWN MASTER OF BONDAGE COMICS OF THE MOST SHOCKING AND EXTREME VARIETY! HIS GIRLS ARE BEAUTIFUL WHILE HIS MONSTERS ARE TRULY HIDEOUS AND VIOLENT! PREDONDO CAPTURES THE SUFFERING AND DESPAIR OF HIS GIRLS IN BRILLIANT AND BEAUTIFULLY RENDERED DETAIL FOR YOUR VIEWING PLEASURE!

ACT NOW, DON'T DELAY! THIS COMIC IS HOT, HOT, HOT!!!

VISIT PREDONDO'S SITE
FOR A COMPLETE LIST OF PREDONDO COMICS AND OFFERS