Use our On-Line 100% Secure EncryptedShopping Cart Ordering System. Simply browse
our site and Click the ADD TO SHOPPING CART buttons to place items in your Shopping Cart
[ HOME ] [ COMICS ] [ MOVIES ] [ NOVELS ] [ CD-ROM ] [ Order info ] [ Help ] [ ARTIST SITES ] [ SEARCH ]
[ Disclaimer ] [ CATALOGUE ] [ Copyright ]
FANSADOX COLLECTION 391
BREEDERS: NEW BLOOD Part 1 by SLASHER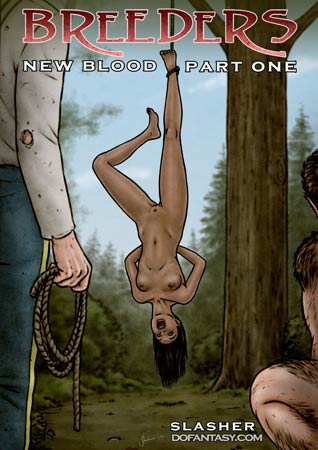 NEW IN PDF ELECTRONIC VERSION!
Adult Comic Album by SLASHER.
HIGH RESOLUTION PDF deluxe edition
40 full color comic pages!!!
-COMPLETE, UNABRIDGED VERSION-
DIALOGS BY NAJ
ITíS A HILLBILLY CHRISTMAS WHEN THREE INNOCENT, NUBILE GIRLS WANDER INTO THE WOODS, AMONG THEM AN EXOTIC, DARK SKINNED BEAUTY!
CLETUS, JIM BOY, AND ROSCOE HAVE THEIR HANDS FULL OF FEMALE FLESH WHEN THEY WRANGLE UP THEIR NEWEST SELECTION OF BREEDING SOWS!
IMPORTANT NOTICE - DISCLAIMER
All characters are 18 years old or older.
This is an entirely fictional work based on
cartoon characters for adult entertainment.
It shows no real people or events.
The characters are shown participating in
CONSENSUAL role-play for their own
personal satisfaction, simulating activities
which involve sexual dominance and
submission. No actual toons were harmed
in the making of this comic.

Back again, I see? What, your walkings and wanderings didnít find you your last pair? Oh donít you go thinking Iíve forgotten you, Mr. police man. You seemed awful suspicious when you came back the last time, thinking I had something to do with those two missing pretties that you couldnít find. Itís too bad you ainít got nothing on me. The law ainít good for much around these parts, but it kept a man like me out of jail when your awful ways was looking for a scapegoat to pin the blame on!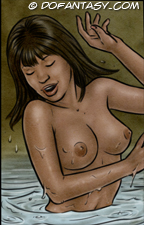 Itís like itís always been. You city folk always think youíre so smart and clever... but you ainít got nothing more in your head than my years of hard living and hard learning have taught me! You probably got less wisdom than I got in my pinky finger. You think you can just come up here and traipse about, doing whatever you like with another manís property! Do you think of stomping around another manís yard, kicking over his mailbox, and thinking itís your right? Iíll bet these new girlies of yours that gone done missing thought the same!
Thereís a nice cool lake around here, and Iíll bet they thought they could just skinny dip in there without permission! If thereís one thing I canít stand, itís arrogant, stuck up bitches thinking they can do whatever they please with anything they want!
Maybe your missing girlies got what was coming to them!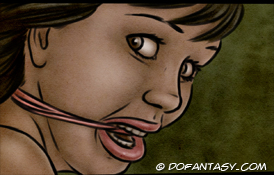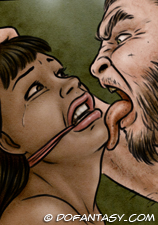 Maybe itís about time someone taught them a lesson about what happens when you wander around another manís property without any help or advice... or permission! These hills are hard on a soul, and for young girls like the kind youíre describing, they wouldnít last long in the real wilderness, beyond your city roads and your bright lights.
Thereís all kinds of queer things here, all kinds of shifty dealings and darky ways... there are folks out there that give me the kinds of shuddering and trembling, just thinking of what they might do.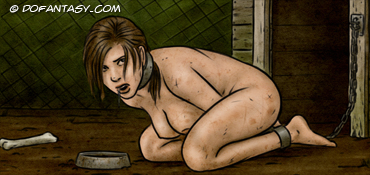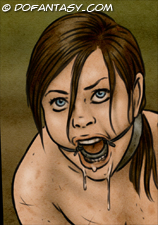 Perhaps you ought to post a sign telling people to mind their own business and stay to their concrete jungle. This ainít no place for the likes of them pretty, young females of yours.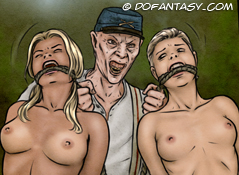 No, I ainít seen those three girls youíre talking about. What was their names? Vivian, Holly, and Kim? Why yes, officer, Iíll keep an eye out, but after the mean way you treated me last, donít expect to get much help from me. You have a good day too officer...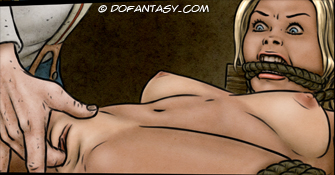 Heís gone, Jim Boy. Now we can get back to the business... of continuing THE FAMILY LINE!!

SLASHER RETURNS WITH YET ANOTHER INSTALLMENT OF HIS INFAMOUS ďBREEDERSĒ SERIES. THESE REDNECK INBREDS KNOW NO SHAME OR DECENCY, AND WOE BE TO THESE FRESH, YOUNG GIRLS THAT HAVE FALLEN INTO THEIR TRAP! THINGS WILL GET HARD, HARD, HARD FOR THESE GIRLS AND THEIR FRESH, VIRGIN PUSSIES! THEREíS ONLY ONE WAY TO CONTINUE THE FAMILY LINE... BY FUCKING THESE GIRLS SENSELESS! YOU WONíT WANT TO MISS THIS COMIC, BROUGHT TO YOU EXCLUSIVELY BY THE TEAM AT DOFANTASY.COM!!
YOU DON'T WANT TO MISS THIS ISSUE! IT'S HOT, HOT, HOT!!!
DON'T MISS THE FIRST COMIC OF THIS SERIES