Use our On-Line 100% Secure EncryptedShopping Cart Ordering System. Simply browse
our site and Click the ADD TO SHOPPING CART buttons to place items in your Shopping Cart
[ HOME ] [ COMICS ] [ MOVIES ] [ NOVELS ] [ CD-ROM ] [ Order info ] [ Help ] [ ARTIST SITES ] [ SEARCH ]
[ Disclaimer ] [ CATALOGUE ] [ Copyright ]
FANSADOX COLLECTION 394
ART SLAVES - DEJAN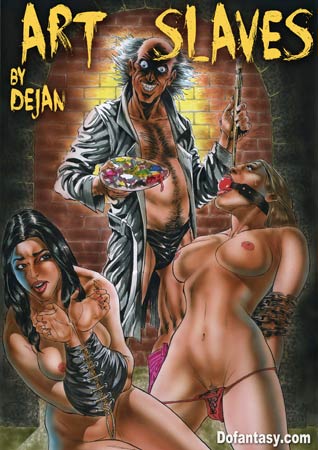 NEW IN PDF ELECTRONIC VERSION!
Adult Comic Album by DEJAN.
HIGH RESOLUTION PDF deluxe edition
41 full color comic pages!!!
-COMPLETE, UNABRIDGED VERSION-
THESE HOT AND HAUGHTY SOCIALITES GOT MORE THAN THEY BARGAINED FOR WHEN THEY TRIED TO GOLD DIG FROM AN INSANE… AND SADISTIC, ARTIST!
HIS WORK FEATURES THE TORMENTED FORMS OF FEMALES HELPLESSLY BOUND… IF ONLY THE PUBLIC KNEW WHERE HE GOT HIS "MODELS" FROM…
IMPORTANT NOTICE - DISCLAIMER
All characters are 18 years old or older.
This is an entirely fictional work based on
cartoon characters for adult entertainment.
It shows no real people or events.
The characters are shown participating in
CONSENSUAL role-play for their own
personal satisfaction, simulating activities
which involve sexual dominance and
submission. No actual toons were harmed
in the making of this comic.
Lindsey and Angelina were two stuck up, snobby socialites who liked to rub elbows… and other things… among the richest of the rich. Their latest prey was an eccentric old artist who looked more like a desperate "has been" than the wealthy and famed Renaissance man that the entire art world was raving about. Neither of them knew much about him, nor did they care… surely with bodies as stunning as they had, that old coot would fall madly in love with them… then he would be ripe for the taking.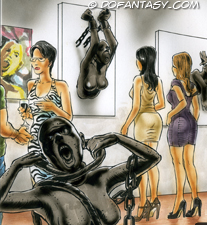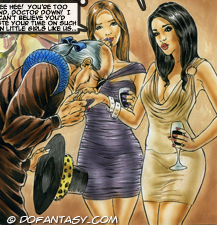 "After all, he's so old and ugly, the only thing he can fuck are his 'boy assistants'! What a joke! He'd sell his soul for a night with THIS hot ass!"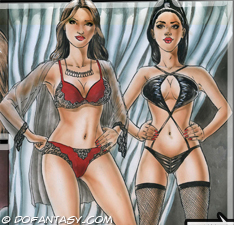 Unfortunately for the girls, they should have known better than to mess with the likes of the tormented artist. Only someone as crazed and unhinged as the infamous Doctor Down could come up with something as frightening and horrifying as sculptures and paintings of helplessly bound women, trussed up and on display for all the world to see… and use! If the girls had a single brain cell in their body, they should have known that a mind like that doesn't create its insanity from nowhere…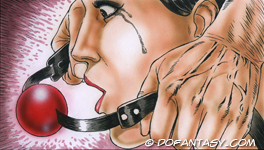 It needs to have an outlet…
And unfortunately for the girls, they will be the Doctor's "inspiration" for his next, great "masterpiece!" Helplessly bound, used, and abused females!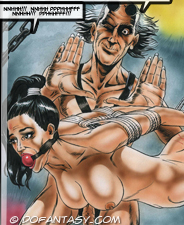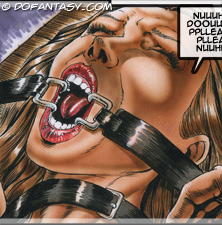 The girls got themselves in over their heads… can they get out?
Or will they find themselves in deeper shit than they could possibly dream of?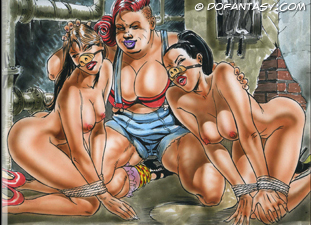 _______________________________
DEJAN IS BACK AND BETTER THAN EVER WITH ANOTHER, BEAUTIFULLY ILLUSTRATED MASTERPIECE! THIS DELICATELY PAINTED COMIC IS FULL OF THE MOST INTENSE AND EXTREME STUFF IMAGINABLE! WILL LINDSEY AND ANGELINA GET OUT ALIVE… OR WILL THEY FIND THEMSELVES IMMORTALIZED AS THE CREATOR'S NEXT ART SLAVES?
FIND OUT HERE EXCLUSIVELY AT DOFANTASY.COM!!
YOU DON'T WANT TO MISS THIS COMIC… IT'S HOT, HOT, HOT!!!!!