Use our On-Line 100% Secure EncryptedShopping Cart Ordering System. Simply browse
our site and Click the ADD TO SHOPPING CART buttons to place items in your Shopping Cart
[ HOME ] [ COMICS ] [ MOVIES ] [ NOVELS ] [ CD-ROM ] [ Order info ] [ Help ] [ ARTIST SITES ] [ SEARCH ]
[ Disclaimer ] [ CATALOGUE ] [ Copyright ]
FANSADOX COLLECTION 395
BAD LIEUTENANT 2: DADDY'S GIRL - ARIETA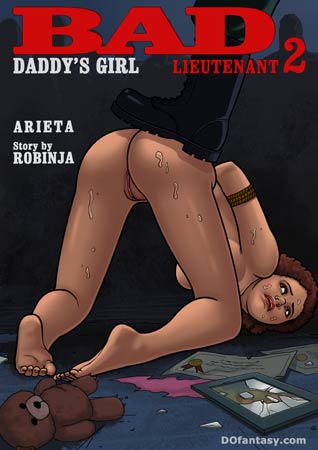 NEW IN PDF ELECTRONIC VERSION!
Adult Comic Album by ARIETA. Story by ROBINJA.
HIGH RESOLUTION PDF deluxe edition
53 full color comic pages!!!
-COMPLETE, UNABRIDGED VERSION-
HIDDEN IN EVERY CITY, JUST OUTSIDE OF VIEW, IS A WORLD OF CORRUPTION AND CRIME. MOBSTERS AND DIRTY COPS CAN ABUSE AND ABDUCT ANYONE WHO CROSSES THEM. AND ONE PRETTY, YOUNG JEWEL THIEF HAS JUST CROSSED A VERY POWERFUL MAN...
BROUGHT TO YOU BY WRITER ROBINJA AND ARTIST ARIETA. COME VISIT A THE SEEDY CRIMINAL UNDERGROUND, WHERE CORRUPT COPS WORK FOR THE MOB, AND NO ONE IS SAFE, NOT EVEN THE POLICE CHIEF'S DAUGHTER....
IMPORTANT NOTICE - DISCLAIMER
All characters are 18 years old or older.
This is an entirely fictional work based on cartoon characters for adult entertainment. It shows no real people or events. The characters are shown participating in CONSENSUAL role-play for their own personal satisfaction, simulating activities which involve sexual dominance and submission. No actual toons were harmed in the making of this comic.
A RICH GIRL THOUGHT SHE COULD DO WHATEVER SHE WANTED... SHE WAS WRONG.
Natasha Collins is the young, pretty daughter of Police Chief Collins. She lives a life of privilege; her beautiful mother Helena is the sole heiress to the Tunt family fortune, and Natasha has grown up in a world of luxury. Despite her wealthy background, Natasha is not an airheaded party girl; she is a keen student, top of her class, enrolled in an elite university and spends her spare time helping out at a soup kitchen for the homeless. But Natasha has a secret. She is a jewel thief known as "the sex burglar" who steals from the rich while they are distracted by having sex. She steals to help fund her favorite charities, but also just because she can.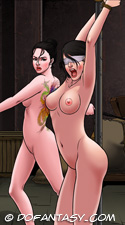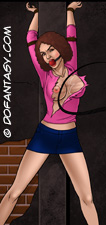 NOW SHE HAS MADE AN ENEMY OF THE SERBIAN MOB
Unfortunately for Natasha, she chose the wrong target when she stole from the beloved daughter of an associate of the brutal crime boss, Vuk Draganovic. Vuk is the head of the Serbian Mob, and is feared throughout the city. Many innocent girls have come to rue the day their paths crossed with this Mobster.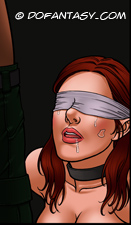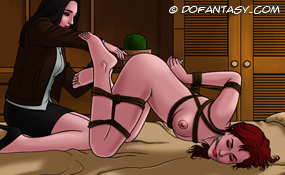 THE MOB KNOWS HOW TO TEACH GIRLS TO BEHAVE
But what people don't realize is that Vuk Draganovic has a mole inside the police force. Detective Darinka O'Malley is a decorated cop and one of Chief Collins' closest confidantes, but unbeknownst to the chief she belongs to Vuk. Literally.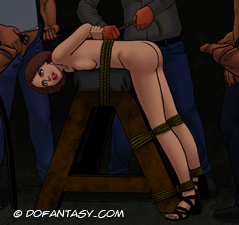 THE MOB ALREADY OWNS A POLICE WOMAN WHO SERVES THEM AS A SLAVE, BREAKING ANOTHER GIRL'S SPIRIT WILL BE EASY
When she is not out at work for either of her bosses, Chief Collins or Vuk Draganovic, Detective O'Malley must be naked and chained in Draganovic's warehouse.

Her body is used and abused by the mobster and his men. It is O'Malley who uncovered the Sex Burglar's identity and it is O'Malley who will bring her to Draganovic. Natasha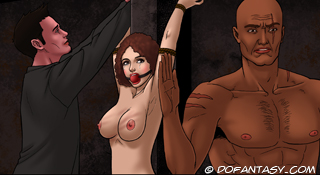 Inspired by film noir detective stories, "Bad Lieutenant" is a rich world of character and story. Brought to live by first-time author Robinja and veteran artist Arieta, prepare for an erotic story like no other.

A servitude hidden just beyond the view or the ordinary people.

EXPLORE AN EXCITING NEW WORLD IN THIS COLLABORATION FROM ARIETA AND ROBINJA


BROUGHT TO YOU ONLY BY THE DEDICATED TEAM AT DOFANTASY.COM!

A MUST BUY!