Use our On-Line 100% Secure EncryptedShopping Cart Ordering System. Simply browse
our site and Click the ADD TO SHOPPING CART buttons to place items in your Shopping Cart
[ HOME ] [ COMICS ] [ MOVIES ] [ NOVELS ] [ CD-ROM ] [ Order info ] [ Help ] [ ARTIST SITES ] [ SEARCH ]
[ Disclaimer ] [ CATALOGUE ] [ Copyright ]
FANSADOX COLLECTION 39
1850. WHITE SLAVES - TEMPLETON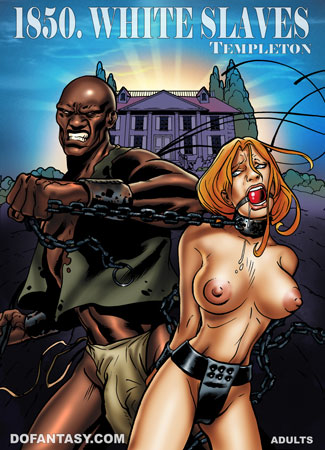 NEW IN PDF ELECTRONIC VERSION!
Adult Comic Album by TEMPLETON
HIGH RESOLUTION PDF deluxe edition
46 full comic pages by TEMPLETON
-COMPLETE, UNABRIDGED VERSION-
A LONG, LUXURY COMIC BY
DOFANTASY,
SUPERBLY ILLUSTRATED BY
TEMPLETON.
46 FULL-COLOR,
ACTION-PACKED PAGES!
IMPORTANT NOTICE:
All characters are 18 years old or older.
All action is simulated and involves
no real people.
The authors/publishers do not condone
violence of any kind.
These are completely fictional comics
for adult entertainment.
The year is 1850. The place, a cotton plantation in the deep south. Mrs Scarlet O'Hanna is a rich estate owner whose husband died recently. She has two daughters, both beautiful and both sought after by young men of marriageable age. But the O'Hannas are a proud family, too good for the other families in the district...
Mrs O'Hanna runs her estate with stern hand, punishing the black slaves with great cruelty and a certain degree of sadism.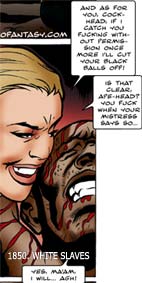 Until one day when the sheriff comes news that will change her life. Her husband left a lot of debts and the estate will be confiscated. The estate, according to the sheriff, includes Scarlet and her young daughters Jennifer and Melissa...
"You're confiscated, that's what! you'll be sold to work in the cotton fields. my guess is the buyer will put you to work on a cotton sheet! ha ha ha!"
Mother and daughters are trapped in an increasing spiral of violence, revenge and sexual abuse.
They are humilliated in prison by the scorned sheriff...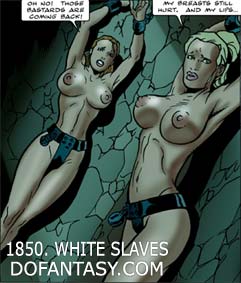 ...then put up naked on the auction block and forced to show themselves to prospective buyers –their former neighbors and friends...
Beautiful Mrs O'Hanna is bought by a wealthy and jealous neighbor, Mrs Stern. It is Mrs Stern's moment for revenge. Scarlet had had her eyes on her husband... now she would pay for it!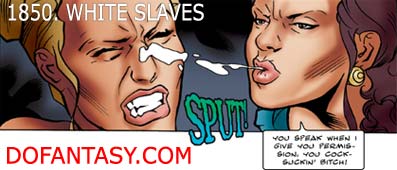 Melissa and Jennifer are sold to the Olsens, two brothers that were rejected in public by the haughty sisters.

Mother and daughters are kept in their owners' slave quarters with the blacks. But they're slaves for personal use…
The poor girls and the woman are forced to live out the perverse fantasies of the Sterns...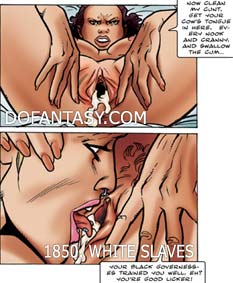 ...and of the two young sons of the Olsens...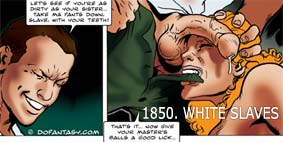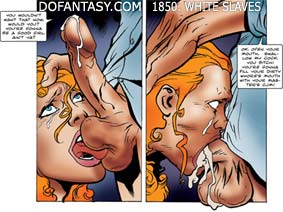 ...forced to meet their former friends...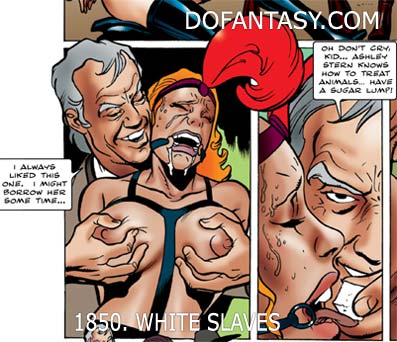 ...and rivals to live an endless nightmare of humiliation and shame...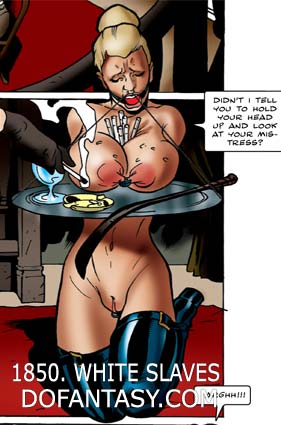 1850. WHITE SLAVES! You'll love it. Full stop.
VISIT TEMPLETON SITE FOR A COMPLETE LIST
OF TEMPLETON COMICS AND OFFERS