Use our On-Line 100% Secure EncryptedShopping Cart Ordering System. Simply browse
our site and Click the ADD TO SHOPPING CART buttons to place items in your Shopping Cart
[ HOME ] [ COMICS ] [ MOVIES ] [ NOVELS ] [ CD-ROM ] [ Order info ] [ Help ] [ ARTIST SITES ] [ SEARCH ]
[ Disclaimer ] [ CATALOGUE ] [ Copyright ]
FANSADOX COLLECTION 401
DARK FURY - CAGRI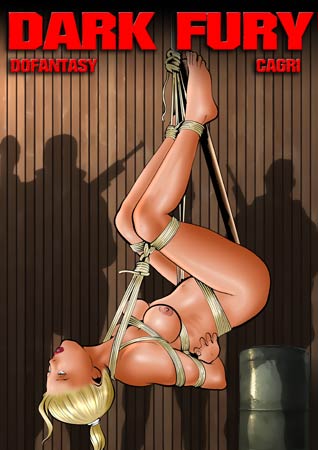 NEW IN PDF ELECTRONIC VERSION!
Adult Comic Album by CAGRI.
HIGH RESOLUTION PDF deluxe edition
40 full color comic pages!!!
-COMPLETE, UNABRIDGED VERSION-
WHEN RACIAL VIOLENCE ROCKS THE GOOD OLD USA, PRETTY WHITE FEMALE COPS GET THE WORST END OF MOB JUSTICE!
LIEUTENANT SARAH MCCLOUD WAS IN THE WRONG PLACE AT THE WRONG TIME... NOW SHE'S MEAT FOR THICK, BLACK COCK!
IMPORTANT NOTICE - DISCLAIMER
All characters are 18 years old or older.
This is an entirely fictional work based on
cartoon characters for adult entertainment.
It shows no real people or events.
The characters are shown participating in
CONSENSUAL role-play for their own
personal satisfaction, simulating activities
which involve sexual dominance and
submission. No actual toons were harmed
in the making of this comic.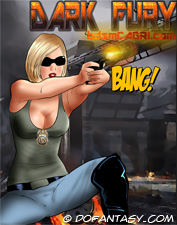 The year is 2054. Lieutenant Sarah McCloud is a crackshot police officer working for the Los Angeles police department, one of the most dangerous jobs in one of the most dangerous cities now that racial civil war has torn the nation apart. The only thing she's better at than shooting rioters is shooting off her mouth with wisecrack remarks about all the losers she's getting to kill. It's like shooting fish in a barrel, and Lieutenant Sarah isn't afraid to let the entire world know it!

Big mistake! This city's underserved and underprivileged underclass hate their brutal, white police oppressors, and the only thing they hate worse are smart ass women who think they're better than everyone else. Mob leader Rocco goes out of his way to make sure he gets a nice, firm hold of Lieutenant Sarah McCloud's soft, meaty curves...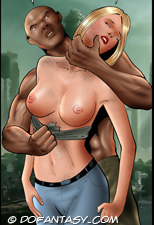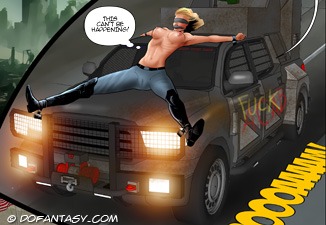 Gang leader Rocco makes sure that Lieutenant Sarah suffers for her actions... if black men are going to get shot at and made into jokes, they might as well make it worth their while...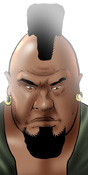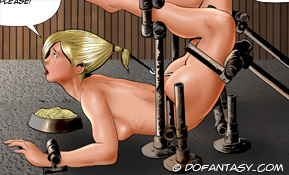 ...and Sarah will have to earn her place and learn what it's like to be underheel... or underneath a man, taking it all in every hole she's got!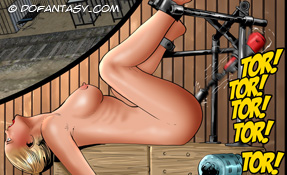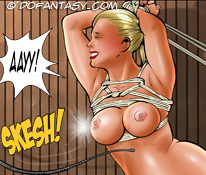 Rocco says he's going to train her and sell her... but maybe he has darker plans for the pretty, white, former police officer...

CAGRI IS ONE OF THE BEST BDSM ARTISTS OUT THERE, AND THIS IS ANOTHER MASTERPIECE OF THE SICK, DEMENTED, AND PERVERTED! WHEN THOSE WITHOUT POWER OR RECOURSE ARE PUSHED TOO FAR, THEY TAKE OUT THEIR RAGE ON WHATEVER THEY CAN GET! UNFORTUNATELY FOR PRETTY SARAH MCCLOUD, HER TIGHT, YOUNG BODY IS ON THE MENU! SARAH WILL SEE HOW LOW A WOMAN CAN GO IN THIS CRAZY COMIC OF EXTREME, BONDAGE TERROR!

YOU DON'T WANT TO MISS THIS ISSUE, BROUGHT TO YOU EXCLUSIVELY AT DOFANTASY.COM!