Use our On-Line 100% Secure EncryptedShopping Cart Ordering System. Simply browse
our site and Click the ADD TO SHOPPING CART buttons to place items in your Shopping Cart
[ HOME ] [ COMICS ] [ MOVIES ] [ NOVELS ] [ CD-ROM ] [ Order info ] [ Help ] [ ARTIST SITES ] [ SEARCH ]
[ Disclaimer ] [ CATALOGUE ] [ Copyright ]
FANSADOX COLLECTION 402
FEMALE GENERAL Part 1 - FEATHER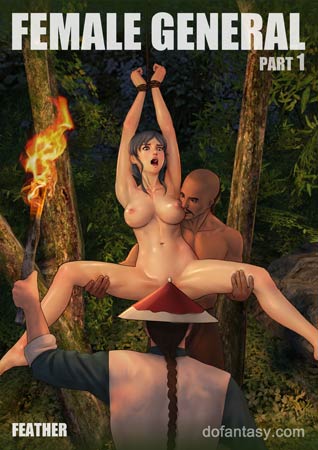 NEW IN PDF ELECTRONIC VERSION!

Adult Comic Album by FEATHER.
HIGH RESOLUTION PDF deluxe edition
40 full color comic pages!!!
-COMPLETE, UNABRIDGED VERSION-

GENERAL SHEN XUE OF THE HEAVENLY KINGDOM ARMY KNEW THAT THINGS WERE GOING WRONG WHEN THREE SOLDIERS OF THE IMPERIAL ARMY TOOK HER OFF INTO THE WOODS AND HUNG HER BY THE ARMS FROM THE BRANCH OF A TREE... SHE FEARED THE WORST WHEN THEY BEGAN STRIPPING HER NAKED...

IMPORTANT NOTICE - DISCLAIMER
All characters are 18 years old or older.
This is an entirely fictional work based on
cartoon characters for adult entertainment.
It shows no real people or events.
The characters are shown participating in
CONSENSUAL role-play for their own
personal satisfaction, simulating activities
which involve sexual dominance and
submission. No actual toons were harmed
in the making of this comic.


One of the most bloody wars in history took place towards the end of the 19th Century, the Taiping Rebellion. The rebellion was led by a visionary who had been told in a vision that he was the younger brother of Christ. He set up the Taiping Heavenly Kingdom and controlled large areas of Southern China. At least 20 million people died in the fourteen years of fighting between the Heavenly Kingdom and the Qing dynasty. There are no statistics about the rape and pillage that accompanied the war…

The Heavenly Kingdom believed in the equality of men and women, so there were female soldiers and female Generals in their army…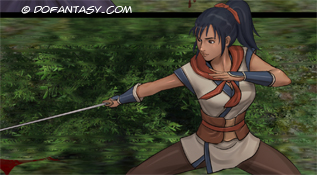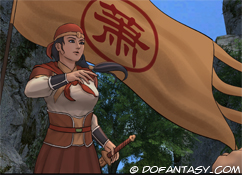 One day General Shen Sue was leading a group of soldiers when they met troops of the Qing Dynasty Imperial Army. The General and four of her female soldiers survived the battle. The Imperial General gave orders to take them off into the woods. Groups of three soldiers carried them off and stripped them naked.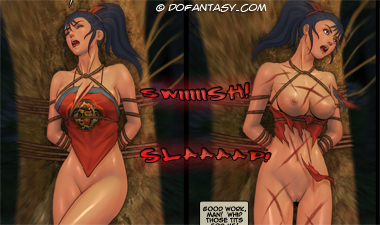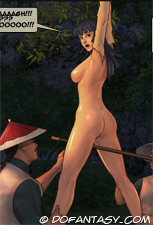 The men had not had contact with women for several months. They were hungry for sex. When they saw the Generals' lovely naked breasts they could not believe their luck.

In different parts of the wood, the four soldiers and stripped and abused…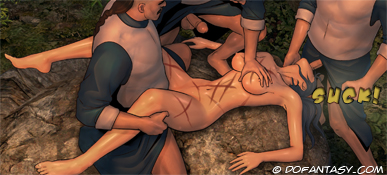 Things get very complicated for General Shen Sue when the girls return. The enemy has discovered that one of them is her sister…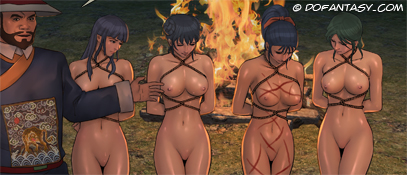 The General has little choice. To save her sister, she swears allegiance to the Imperial forces, and is obliged to take part in the Imperial General's very public Initiation Ceremony…
A GRIPPING STORY OF A WAR IN WHICH THE MOST PRIZED BOOTY WAS A NAKED WOMAN AT THE MERCY OF THE ENEMY SOLDIERS!!! ANOTHER HOT COMIC FROM THE POPULAR ARTIST FEATHER!!! A STIMULATING COMIC THAT WILL GET INTO YOUR MOST PRIVATE THOUGHTS!!!
MORE HOT STUFF FROM GREAT ARTIST FEATHER!!!