Use our On-Line 100% Secure EncryptedShopping Cart Ordering System. Simply browse
our site and Click the ADD TO SHOPPING CART buttons to place items in your Shopping Cart
[ HOME ] [ COMICS ] [ MOVIES ] [ NOVELS ] [ CD-ROM ] [ Order info ] [ Help ] [ ARTIST SITES ] [ SEARCH ]
[ Disclaimer ] [ CATALOGUE ] [ Copyright ]
FANSADOX COLLECTION 404
GHOSTHOUSE Part two by SLASHER
NEW IN PDF ELECTRONIC VERSION!
Adult Comic Album by SLASHER.
HIGH RESOLUTION PDF deluxe edition
25 full color comic pages!!!
-COMPLETE, UNABRIDGED VERSION-
DIALOGS BY NAJ
THREE GIRLS MAKE A DARE TO SPEND THE NIGHT IN THE HAUNTED BERGENSON MANSION. UNFORTUNATELY FOR THE GIRLS, THE MANSION'S PERVERTED GHOSTS STILL ROAM ITS HALLS AND ARE HUNGRY FOR FEMALE FLESH!
THESE GIRLS CHOSE THE WRONG PLACE TO SPEND THE NIGHT! THESE GHOSTS GROW STRONGER AS THEIR SPIRITS ARE FILLED WITH CARNAL LUST FOR YOUNG, FEMALE BODIES!
IMPORTANT NOTICE - DISCLAIMER
All characters are 18 years old or older.
This is an entirely fictional work based on
cartoon characters for adult entertainment.
It shows no real people or events.
The characters are shown participating in
CONSENSUAL role-play for their own
personal satisfaction, simulating activities
which involve sexual dominance and
submission. No actual toons were harmed
in the making of this comic.

When last we left the three girls, Danielle, Trixie, and Randy, they'd just trespassed into the old, abandoned mansion once owned by the infamous Bergenson family… ages ago, back in the 19th century, the Bergensons had been caught kidnapping, beating, and fucking poor, innocent girls before making them disappear. Although they'd been acquitted by a corrupt judge, the townsfolk decided to hang the lot of them… legend had it that their ghosts still haunted its decrepit walls.
These young girls decided to spend the night in the haunted Bergenson mansion… and they found out that the legends were true… much to their despair!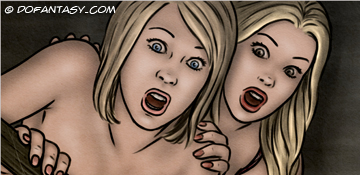 Cecil and Evans Bergenson, the sons of the family, continue their perverted spree of flesh fucking and cunt busting from beyond the grave, with poor Danni and Trixie on the receiving end! The ghosts sate their age old lusts on young, nubile, female flesh!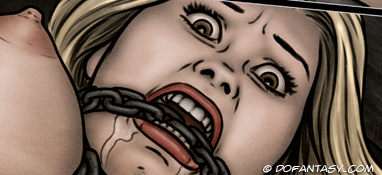 But things get worse for the girls… much, much worse… when the boys' cruel and vicious, old world father, finds the girls. Old Jaeger Bergenson has very outdated ideas about how "proper" women should behave, and he's not shy about using more primal, more barbaric methods to instill discipline in a lusty, wayward generation…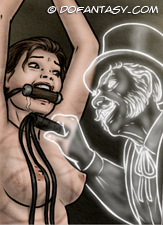 One thing is clear… the girls are to receive their due punishment for flashing their bits in public…

...whether they survive is another matter!

SLASHER DELIVERS YET ANOTHER AMAZING MASTERPIECE WITH HIS UNDENIABLY SHOCKING CONCLUSION TO THE GHOST HOUSE SERIES! EVERY ACT OF CRUEL BRUTALITY IS RENDERED IN STUNNINGLY INTIMATE DETAIL AS THESE VENGEFUL SPIRITS METE OUT THEIR LUSTS ON THESE YOUNG, HELPLESS, AND UNBELIEVABLY GORGEOUS YOUNG GIRLS! WILL THE GIRLS SURVIVE THEIR ENCOUNTER WITH THESE DARK SPIRITS, OR WILL THEY BECOME THE NEWEST RESIDENTS OF THE BERGENSON HOUSE? YOU CAN ONLY FIND OUT BY BUYING THIS ISSUE, EXCLUSIVELY AT DOFANTASY.COM!!!

YOU DON'T WANT TO MISS THIS!! THIS ISSUE IS HOT, HOT, HOT!!!!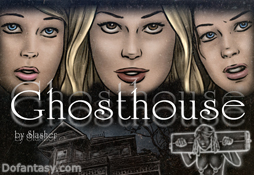 DON'T MISS GHOSTHOUSE PART ONE!!