Use our On-Line 100% Secure EncryptedShopping Cart Ordering System. Simply browse
our site and Click the ADD TO SHOPPING CART buttons to place items in your Shopping Cart
[ HOME ] [ COMICS ] [ MOVIES ] [ NOVELS ] [ CD-ROM ] [ Order info ] [ Help ] [ ARTIST SITES ] [ SEARCH ]
[ Disclaimer ] [ CATALOGUE ] [ Copyright ]
FANSADOX COLLECTION 410
BREEDERS: NEW BLOOD Part 2 by SLASHER
N
EW IN PDF ELECTRONIC VERSION!
Adult Comic Album by SLASHER.

HIGH RESOLUTION PDF deluxe edition
42 full color comic pages!!!
-COMPLETE, UNABRIDGED VERSION-
DIALOGS BY NAJ

CLETUS AND JIM BOY GET THEIR HOUSE IN ORDER AND THEIR HUSSIES IN LINE… READY TO BIRTH A NEW GENERATION OF REDNECK MUTANTS!

CLETUS WILL STOP AT NOTHING TO CONTINUE THE LINE. THE GIRLS WILL CARRY HIS DARLING NEPHEWS IN THEIR BELLIES… WHETHER THEY WANT TO OR NOT!

IMPORTANT NOTICE - DISCLAIMER
All characters are 18 years old or older.
This is an entirely fictional work based on
cartoon characters for adult entertainment.
It shows no real people or events.
The characters are shown participating in
CONSENSUAL role-play for their own
personal satisfaction, simulating activities
which involve sexual dominance and
submission. No actual toons were harmed
in the making of this comic.


Police Report. Case Number 54552. Investigated by Officer Colin Sullivan. Prepared by Sheriff Bullard.

Several months ago, a police report had been filed regarding the disappearance of two young girls, a Madison and Megan, who were last seen on a bike ride through a remote wilderness in old Appalachia. Nothing had been found of the girls, and they were presumed to have been runaways who did not wish to be caught. Officer Sullivan attempted to interview the locals who lived in the area. None of them had seen anyone matching the description of Megan or Madison, and they seemed quite hostile to Officer Sullivan's questions. Some even insinuated that terrible things would be done to any "outsiders" who were caught in the "hills."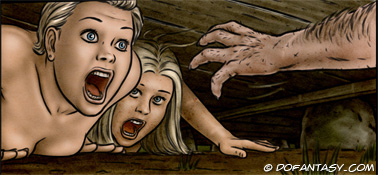 Some wild stories were mentioned about pretty young girls being caught, used, and abused physically and sexually by some distant, mutant, inbred hillbillies deep in the Appalachian wilderness. It was stated that these mutant inbreeds would take the girls and fuck them over and over and over again in an attempt to "continue the line." It was insinuated that these mutant inbreeds would attempt to impregnate the girls and fill them with their foul, mutant seed. The girls would take the blame for anything that went wrong and would be punished severely.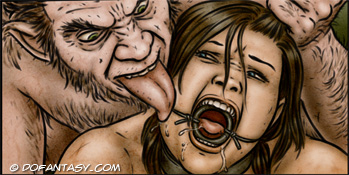 Even escape attempts were stated to be futile, as these mutant inbreeds would know the local area quite well.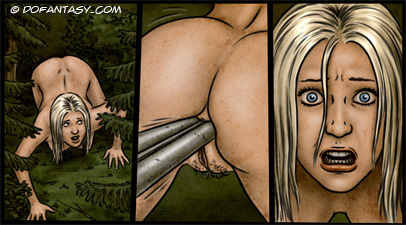 Officer Sullivan was again dispatched to the local area in response to another missing persons report regarding a Vivian, Kim, and Holly. The locals whom the officer had interviewed before were just as unfriendly as before, if not more so. One particular interviewee seemed particularly suspicious, stating that the "clean" girls would be used to "continue the line" whereas the other ones, the unfit ones, would be either cast aside to some kind of disgusting, doglike creature barely a man at all, to be used sexually over and over and over again…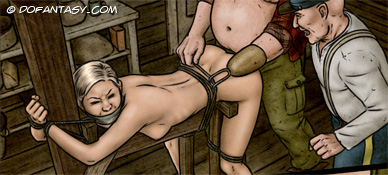 And worse was implied still, that the girls who continued to disappoint might meet an even crueler fate...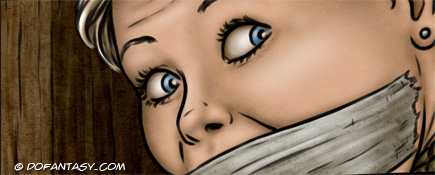 None of the missing persons who were reported have been found. As the supervising officer, I strongly recommended that we close the case. There is no reason to suspect that any of the persons reported (Megan, Madison, Vivian, Kim, or Holly) are in the area, and police resources would be better used in other methods.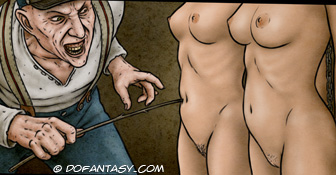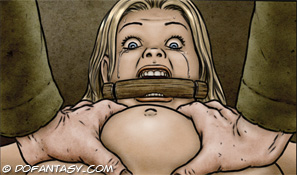 Though I would shudder to think what might happen to those girls if they were in the clutches of some kind of mutant, inbred, abomination…

THE "BREEDERS" SERIES IS ALIVE AND WELL IN THIS PERVERSE AND DISGUSTING ISSUE, FILLED WITH DIRTY GIRLS AND FILTHY REDNECKS WITH NO SENSE OF DECENCY OR SHAME! THINGS GET WORSE FOR THE GIRLS, MUCH WORSE, AS CLETUS LOSES HIS TEMPER IN HIS EFFORTS TO "CONTINUE THE LINE!" THESE PRETTY PRINCESSES WILL BECOME MOMMIES TO MONSTERS WHETHER THEY WANT TO BE OR NOT… WHETHER THEY'LL SURVIVE IS ANOTHER QUESTION…
DON'T MISS THIS EXCITING AND THRILLING ISSUE, BROUGHT TO YOU HERE EXCLUSIVELY AT DOFANTASY.COM! DON'T MISS IT, THIS IS OUR HOTTEST ISSUE YET!
DON'T MISS THE FIRST TWO COMICS OF THIS SERIES