Use our On-Line 100% Secure EncryptedShopping Cart Ordering System. Simply browse
our site and Click the ADD TO SHOPPING CART buttons to place items in your Shopping Cart
[ HOME ] [ COMICS ] [ MOVIES ] [ NOVELS ] [ CD-ROM ] [ Order info ] [ Help ] [ ARTIST SITES ] [ SEARCH ]
[ Disclaimer ] [ CATALOGUE ] [ Copyright ]
FANSADOX COLLECTION 414
BAD LIEUTENANT 3: UNLAWFUL DECEPTION - ARIETA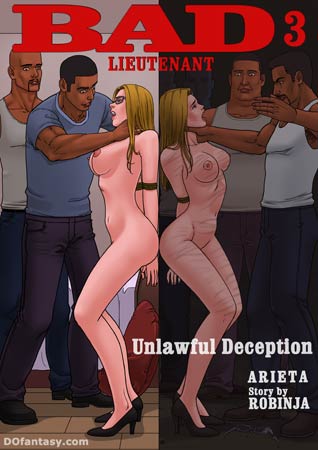 NEW IN PDF ELECTRONIC VERSION!
Adult Comic Album by ARIETA. Story by ROBINJA.
HIGH RESOLUTION PDF deluxe edition
53 full color comic pages!!!
-COMPLETE, UNABRIDGED VERSION-
HIDDEN IN EVERY CITY, JUST OUTSIDE OF VIEW, IS A WORLD OF CORRUPTION AND CRIME. WOMEN ARE POWERLESS TO RESIST THE MOBSTERS AND DIRTY COPS WHO SECRETLY RULE THEIR NEIGHBORHOODS. A BEAUTIFUL ASSISTANT DISTRICT ATTORNEY THINKS SHE CAN BRING DOWN THE MOB, BUT SHE IS ABOUT TO BE TAUGHT A VERY HARSH LESSON ABOUT THE WAY THE REAL WORLD WORKS...
COME VISIT A THE SEEDY CRIMINAL UNDERGROUND, WHERE CORRUPT COPS WORK FOR THE MOB, AND NO ONE IS SAFE, NOT EVEN YOU.
IMPORTANT NOTICE - DISCLAIMER
All characters are 18 years old or older.
This is an entirely fictional work based on cartoon characters for adult entertainment. It shows no real people or events. The characters are shown participating in CONSENSUAL role-play for their own personal satisfaction, simulating activities which involve sexual dominance and submission. No actual toons were harmed in the making of this comic.
NO ONE CAN STAND IN THE WAY OF A DIRTY COP
Part 3 of our story continues to follow the adventures of Detective Lieutenant Darinka O'Malley. O'Malley is a dirty cop, who secretly serves the Serbian mob, from inside of her city's police force. But even more than that, O'Malley is a sex slave!

The beautiful, young Darinka serves her cruel mobster boss with all her body and soul. O'Malley is a completely devoted servant to her boss, Vuk Draganovic. She is a willing and enthusiastic slave. O'Malley is happy to be a slave, and wants only to earn the approval of her owner. For years, she has used her position as a police detective to take out her boss's enemies for him.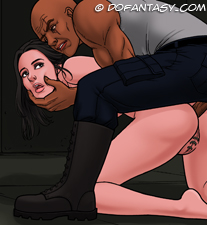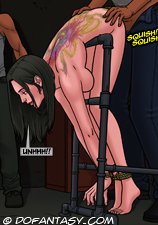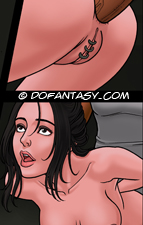 A TRUE SLAVE'S DEVOTION KNOWS NO LIMIT
Now, a new enemy has appeared. And this time, the enemy is one of O'Malley's oldest and closest friends. In order to serve her boss, O'Maley will have to betray a friend whom she has known for years! But O'Malley doesn't hesitate for even a moment. She would do anything for her boss; even betray the women closest to her.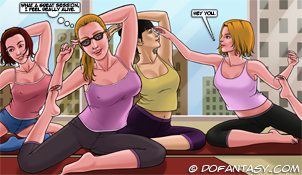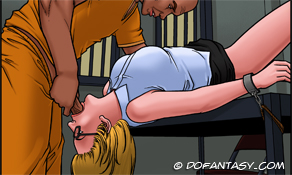 THE MOB KNOWS HOW TO TEACH LITTLE GIRLS TO BEHAVE
O'Malley's friend is the ambitious, young assistant District Attorney, Alison Palmer. A potential career-making case has somehow landed in Alison's lap. The investigation of feared Serbian mobster Vuk Dragnovic became hers when the District Attorney mysteriously quit the case. Alison thinks she has a key witness, but as the old saying goes "if you come at the King, you'd best not miss." Draganovic is the sort of man who takes slights personally, and Alison may come to regret putting herself in his crosshairs...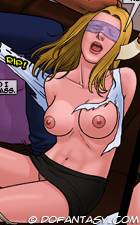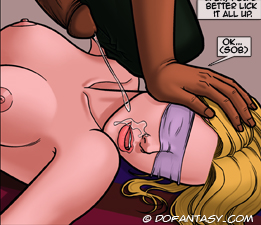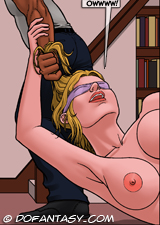 ANY WOMAN CAN BE BROKEN AND CONTROLLED, IN THE RIGHT CIRCUMSTANCES
O'Malley has made it her duty to abduct the key witnesses against Vuk Draganovic, destroying Alison's case. The woman who was planning to testify will now endure a lifetime of brutal punishment. But Vuk is not willing to stop there. He will also unleash his fury on Assistant DA Alison Palmer. He will bend his former enemy to his will and take over her life, just as he has done to so many other women before her. And his loyal slave Darinka O'Malley will be there to help him, every step of the way...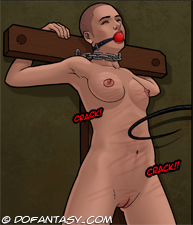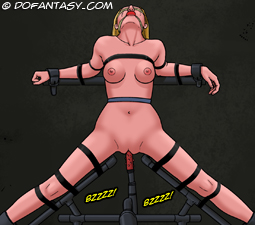 INSPIRED BY FILM NOIR DETECTIVE STORIES, THE BAD LIEUTENANT SAGA IS A RICH WORLD OF CHARACTER AND STORY. BROUGHT TO LIFE BY AUTHOR ROBINJA AND ARTIST ARIETA. PREPARE FOR A COMPLEX EROTIC STORY LIKE NO OTHER!
A STORY OF SEXUAL SERVITUDE HIDDEN JUST BEYOND THE VIEW OF ORDINARY PEOPLE.

BROUGHT TO YOU ONLY BY THE DEDICATED TEAM AT DOFANTASY.COM!
PREVIOUS CHAPTERS:
**** BUY THE PREVIOUS COMICS AND GET 10% DISCOUNT! ****
**** BUY THE THREE COMICS AND GET 10% DISCOUNT! ****