Use our On-Line 100% Secure Encrypted Shopping Cart Ordering System. Simply browse
our site and Click the ADD TO SHOPPING CART buttons to place items in your Shopping Cart
[ HOME ] [ COMICS ] [ MOVIES ] [ NOVELS ] [ CD-ROM ] [ Order info ] [ Help ] [ ARTIST SITES ] [ SEARCH ]
[ Disclaimer ] [ CATALOGUE ] [ Copyright ]
FANSADOX COLLECTION 416
HAREM HORROR HELL - IRRESISTIBLE - PREDONDO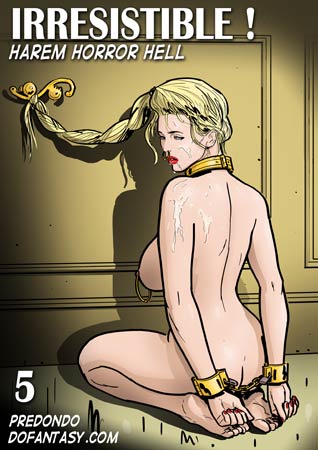 NEW IN PDF ELECTRONIC VERSION!
Adult Comic Album by PREDONDO.
HIGH RESOLUTION PDF deluxe edition
40 full color comic pages!
-COMPLETE, UNABRIDGED VERSION-
PRINCE AHMED IS KING OF THE CASTLE, AND HE MAKES SURE EVERYONE KNOW IT... ESPECIALLY THE POOR, HELPLESS GIRLS UNDER HIS CONTROL!
WHEN AHMED FINDS THE "DUTIES" OF HIS POSITION A LITTLE TOO TAXING, HE LOOKS FOR SOME HELP... AND MAY GET MORE THAN HE BARGAINED FOR!
IMPORTANT NOTICE - DISCLAIMER
All characters are 18 years old or older.
This is an entirely fictional work based on
cartoon characters for adult entertainment.
It shows no real people or events.
The characters are shown participating in
CONSENSUAL role-play for their own
personal satisfaction, simulating activities
which involve sexual dominance and
submission. No actual toons were harmed
in the making of this comic.
Prince Ahmed is finally on top. After all the humiliation he's suffered... first from Olivia, then from her snotty mother, and then from his lovely "wife" Jasmine... every single bitch who's ever done him wrong has been firmly put in her place! Ahmed is finally living the life he's deserved! He is, after all, a royal prince of the Emir of Baranfain... why shouldn't he get what he wants?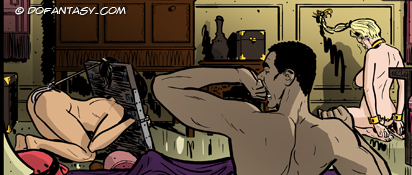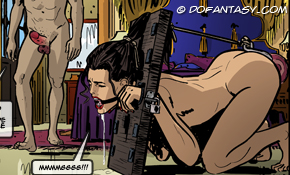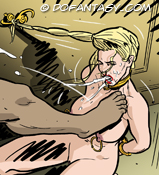 But it doesn't take long for his humiliations to return... after having so much pussy at his beck and call, it seems he can't "perform" as well as he used to... his own father and mother are quick to notice during the devilish debauchery of their perverted breakfast!

It becomes a family squabble of the most sadistic and savage kind! The family soon starts to compete to see who has the best trained slaves... and their white, female fuckpets are the ones who really get the short end of the stick!

The girls are forced to perform for their masters and mistress... they have to suck cock...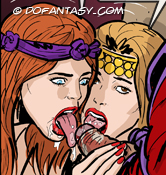 ...suck pussy...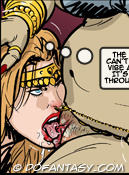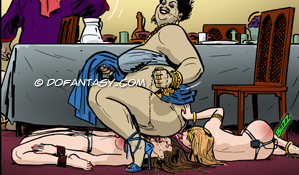 ...and hold back their orgasms under threat of extreme pain!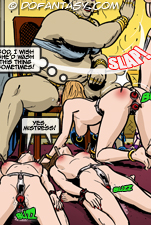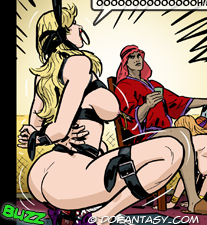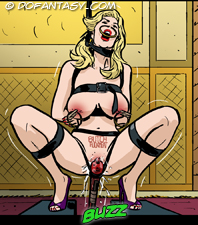 Prince Ahmed's own harem comes up short, and his rage is explosive! His poor slavegirls won't know what hit them when he finally lashes out!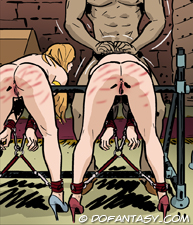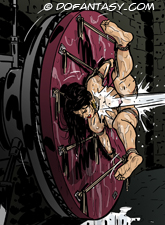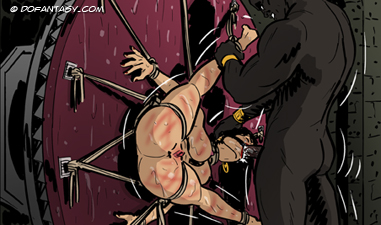 But still, even in these depths of cruelty, Ahmed needs a little "help." Princess Jasmine hired a brainy little nerd to work the labs, and he's been cooking up something special for the Prince...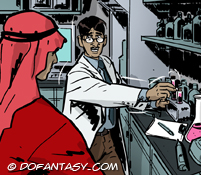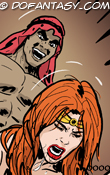 It helps Prince Ahmed get the job done...

...but something isn't quite right in this perverted wonderland...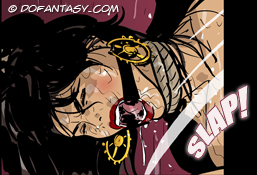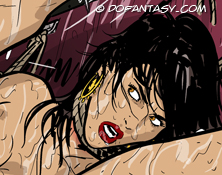 PREDONDO HAS CREATED YET ANOTHER EXCITING AND AMAZING ISSUE IN HIS EVER EVOLVING STORY OF HAREM HORROR HELL! WE'VE ONLY SCRATCHED THE SURFACE OF THIS SINISTER SULTANATE! THESE SEXY SCENES OF SADISTIC SAVAGERY ARE THE BEST YET TO COME OUT OF PREDONDO'S PEN! THINGS GET WORSE AND WORSE FOR THE POOR, HELPLESS GIRLS TRAPPED IN THIS ARABIAN NIGHTMARE! YOU DON'T WANT TO MISS THIS THRILLING TALE, BROUGHT TO YOU HERE EXCLUSIVELY AT DOFANTASY.COM!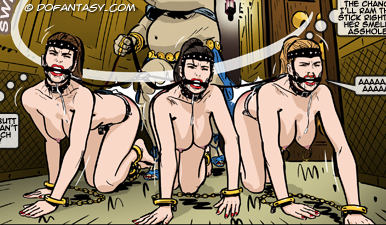 VISIT PREDONDO'S SITE
FOR A COMPLETE LIST OF PREDONDO COMICS AND OFFERS