Use our On-Line 100% Secure EncryptedShopping Cart Ordering System. Simply browse
our site and Click the ADD TO SHOPPING CART buttons to place items in your Shopping Cart
[ HOME ] [ COMICS ] [ MOVIES ] [ NOVELS ] [ CD-ROM ] [ Order info ] [ Help ] [ ARTIST SITES ] [ SEARCH ]
[ Disclaimer ] [ CATALOGUE ] [ Copyright ]
FANSADOX COLLECTION 426
HONEYMOON HORROR - MOFFETT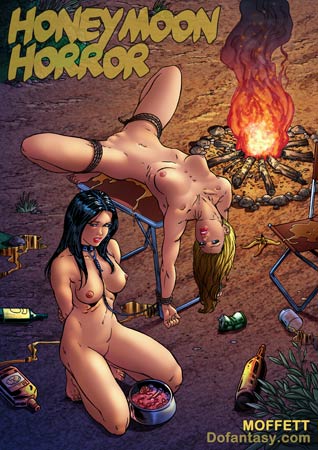 NEW IN PDF ELECTRONIC VERSION!
Adult Comic Album by MOFFETT.
HIGH RESOLUTION PDF deluxe edition
45 full color comic pages!
-COMPLETE, UNABRIDGED VERSION-
IN THE WOODS ON A ROMANTIC DOUBLE HONEYMOON, TWO PAIRS OF NEWLYWEDS WILL FIND ONLY HORROR, PAIN AND HUMILIATION WAITING FOR THEM! A TWISTED TALE OF FORCED INCEST AND TRAGIC SUFFERING BROUGHT TO LIFE BY MOFFETT'S INCREDIBLE ARTWORK!
IMPORTANT NOTICE - DISCLAIMER
All characters are 18 years old or older. This is an entirely fictional work based on cartoon characters for adult entertainment. It shows no real people or events.
The characters are shown participating in CONSENSUAL role-play for their own personal satisfaction, simulating activities which involve sexual dominance and submission. No actual toons were harmed in the making of this comic.
______________________________________
Jessica and Carla were the best of friends, growing up across the street from each other, and over the course of twenty years they became like sisters. So it seemed like fate when they fell in love with each other's brothers. Carla fell in love with Jessica's brother, Brian, the star quarterback of the college football team. And Jessica fell in love with Carla's brother, Peter, the quiet philosophy major with the sensitive brown eyes. They had a joint marriage ceremony, with Peter and Jessica, Carla and Brian, sharing in their joy.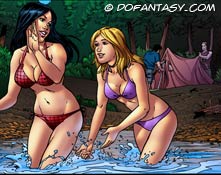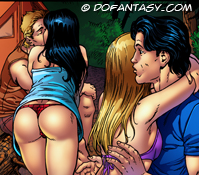 Of course being poor college students, they had to do their honeymoon on the cheap, but what better way to celebrate their new romances then by visiting the Laurentian Mountains of Quebec, Canada? Nothing but a pair of tents, some food, the wilderness, and their love for each other…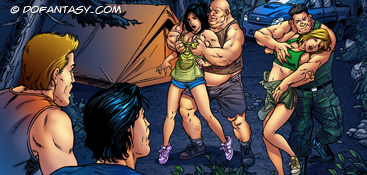 And the meth smuggling poachers that use the woods as their hideaway…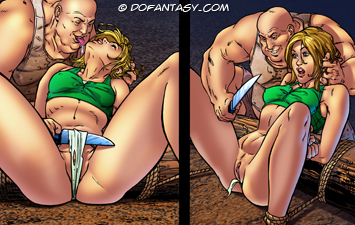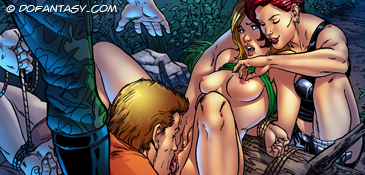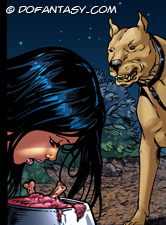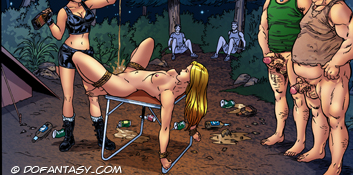 The poachers quickly decide to have some fun with the fresh meat that has stumbled into their hunting grounds, forcing the siblings to pair off and fuck each other in a humiliating display of incest while the poachers laugh at their shame. Then the poachers have their fun, their hard cocks spearing Jessica until their cum is dribbling from every hole and her voice is hoarse from screaming…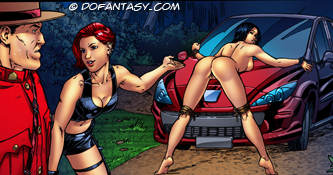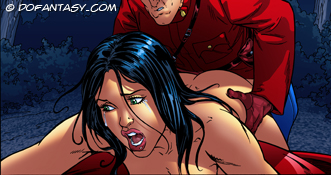 When a local Mounty stumbles across the camp, the poachers use Carla's tight, quivering asshole to bribe him into silence… but after he's done, she escapes into the woods!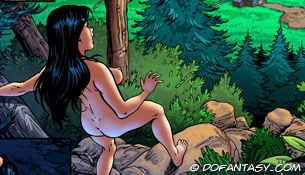 Will Jessica's screams echoing in her ears, Carla runs for help… but will she find it?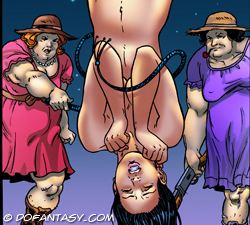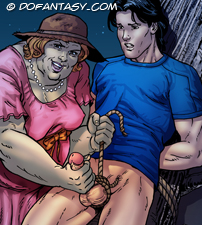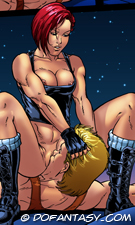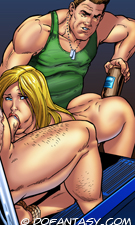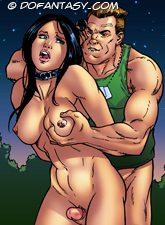 A DREAMY TALE OF LOVE QUICKLY TURNS INTO A NIGHTMARE OF SHOCKING SEXUAL VIOLENCE, SUFFERING AND HUMILIATION. FROM THE MIND OF MOFFETT, HIS ARTWORK BRINGS TO LIFE THE SUFFERING OF TWO WOMEN AS THEIR DREAMS OF A HAPPY LIFE ARE TURNED INTO A REALITY AS SEX SLAVES!