Use our On-Line 100% Secure Encrypted Shopping Cart Ordering System. Simply browse
our site and Click the ADD TO SHOPPING CART buttons to place items in your Shopping Cart
[ HOME ] [ COMICS ] [ MOVIES ] [ NOVELS ] [ CD-ROM ] [ Order info ] [ Help ] [ ARTIST SITES ] [ SEARCH ]
[ Disclaimer ] [ CATALOGUE ] [ Copyright ]
FANSADOX COLLECTION 431
THE HOTTIES NEXT DOOR - Part 7 - PREDONDO
NEW IN PDF ELECTRONIC VERSION!
Adult Comic Album by PREDONDO.
HIGH RESOLUTION PDF deluxe edition
40 full color comic pages!
-COMPLETE, UNABRIDGED VERSION-

GIRL MEAT HAS A BAD HABIT OF DISAPPEARING IN THIS BACKWATER BAYOU! THESE SASSY CITY SLICKERS FIND THEMSELVES STRUNG UP ON THE LATEST "MOST WANTED" LISTS!

THE TAYLOR GIRLS AND CUTIE COMPANY ARE TREATED LIKE CATTLE WHEN JUDGE DIKSON RENDERS HIS VERDICT!

IMPORTANT NOTICE - DISCLAIMER
All characters are 18 years old or older. This is an entirely fictional work based on cartoon characters for adult entertainment. It shows no real people or events. The characters are shown participating in CONSENSUAL role-play for their own personal satisfaction, simulating activities which involve sexual dominance and submission. No actual toons were harmed in the making of this comic.

THE STORY SO FAR...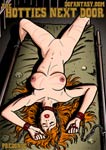 Dana and Holly Taylor were two young, innocent, teenage girls starting a wild party while their parents were away. Things got off to a bad start when their dirty neighbor, Keith, got tired of watching the cockteasing sluts dance dirty nextdoor. He wanted to be part of the action, so Keith decided to crash the party early! He took the girls, dragging their unconscious, young bodies to his basement. Another unfortunate "guest" joined the perverted party when Dana and Holly's brunette friend, Vera, was brought along. The girls found themselves in the starring roles of Keith's disgusting, bondage nightmare!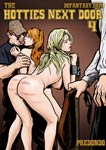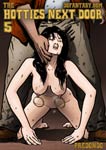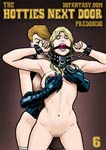 The girls and their shapely MILF mother, Mrs. Taylor, are led on a conga line of humiliation, suffering, and sexual slavery as they're used and abused by Keith's family, the Mugshots and friends, then by a pair of alligator poachers, Bubba and Wilbur. The girls meet the gorgeous Gloria who is of no help; she's a brainwashed girl doggie, after all! Things get even worse when they're caught by the corrupt, lezzie dykes Police Chief Kallahan and her right hand woman Laverne. One mysterious preacher and a stern, shadowy judge are all that stand between these sluts and freedom... let's hope the court rules in favor of these fine floozies…

THIS COMIC...

It's the trial of the century in this dismal backwater, but that doesn't mean a whole lot when "justice" is meted out by one cruel and merciless man. It's a show trial with a foregone conclusion as each of the wronged parties presents their case. The Mugshots shout. Bubba and Wilbur bellow. Kallahan and Laverne call in the witnesses, but the gagged girls don't say much... In the end, it doesn't take an awful lot to convince the honorable Judge Clarence Dikson who is most fit to own these shapely sluts… HIMSELF!

If the girls thought their time with those rowdy rednecks was really rough, they haven't seen anything yet when Judge Clarence Dikson brings the fresh lot of slaves to his personal manor… to his private dungeon… to be judged by a harsher eye… his aged and decrepit wife Cecilia!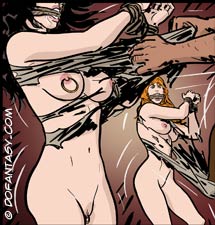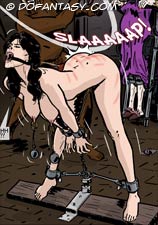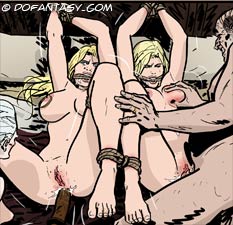 The girls get a taste of "law and order" as Judge Dikson and his personal police force begin the girls' long and brutal training. The girls start to lose their humanity and their dignity as they're stripped of everything that makes them unique, of everything that makes them human. Their wills are broken, their decency denied, and even their heads are shaved bare, making them all lower than cattle in the eyes of the court! But the judge has even darker designs for the girls: he wants an heir, and he'll do whatever it takes to get one!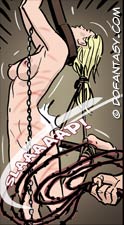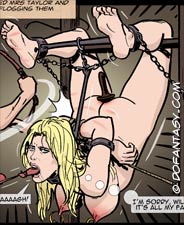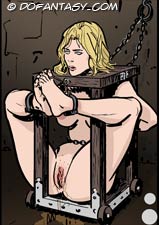 But first, the girls must be BROKEN!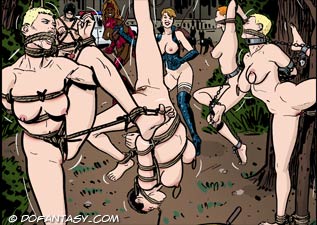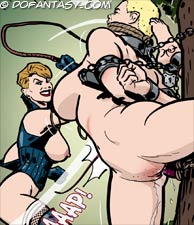 PREDONDO KNOCKS IT OUT OF THE PARK AGAIN WITH THIS ELECTRIFYING TALE OF FEMALE HUMILIATION AND PERVERSE PAIN! THINGS GET DARKER AND WEIRDER THAN EVER BEFORE IN THIS SENSATIONAL CONTINUATION OF THE "HOTTIES NEXT DOOR" SERIES! THE GIRLS FIGHT FOR EVERY SHRED OF DIGNITY THEY HAVE LEFT, BUT WILL IT BE ENOUGH, OR WILL THEY FINALLY LOSE EVERYTHING??!!!
YOU DON'T WANT TO MISS THIS RIVETING ISSUE, BROUGHT TO YOU HERE EXCLUSIVELY AT DOFANTASY.COM!!
VISIT PREDONDO'S SITE
FOR A COMPLETE LIST OF PREDONDO COMICS AND OFFERS