Use our On-Line 100% Secure EncryptedShopping Cart Ordering System. Simply browse
our site and Click the ADD TO SHOPPING CART buttons to place items in your Shopping Cart
[ HOME ] [ COMICS ] [ MOVIES ] [ NOVELS ] [ CD-ROM ] [ Order info ] [ Help ] [ ARTIST SITES ] [ SEARCH ]
[ Disclaimer ] [ CATALOGUE ] [ Copyright ]
FANSADOX COLLECTION 435
RETURN TO HORROR HOLE by SLASHER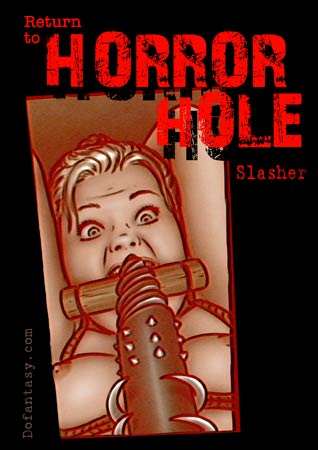 NEW IN PDF ELECTRONIC VERSION!
Adult Comic Album by SLASHER.
HIGH RESOLUTION PDF deluxe edition
27 full color comic pages!!!
-COMPLETE, UNABRIDGED VERSION-
DIALOGS BY MENTA
A HOT YOUNG CHEERLEADER HAS FALLEN INTO THE HANDS OF A HORRIFYING MADMAN!
SLASHER RETURNS TO THE EXCITING FANTASY WORLD OF HIS VERY FIRST COMIC.
IMPORTANT NOTICE - DISCLAIMER
All characters are 18 years old or older.
This is an entirely fictional work based on
cartoon characters for adult entertainment.
It shows no real people or events.
The characters are shown participating in
CONSENSUAL role-play for their own
personal satisfaction, simulating activities
which involve sexual dominance and
submission. No actual toons were harmed
in the making of this comic.
13 Years ago, the Horror Hole was filled with cheerleaders..

13 years ago, Slasher debuted on dofantasy with "the Horror Hole", a tale of a mysterious man who kidnapped cheerleaders and mercilessly fucked and "punish" them. The
mysterious villain is utterly without mercy, he likes to have his way with girls until they completely lose their sanity. he believes that eventually, if a girl is "punished" enough, her mind will snap and she will begin to enjoy it.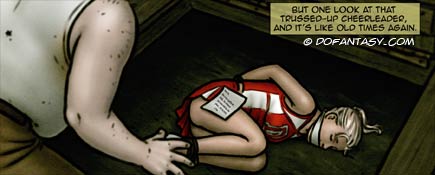 Now the past is coming back to life

The man's secret layer is called the "Horror Hole". It has lain dormant for many years. But an anonymous note from "a fan" drew him back. It seems that some one admires the work that used to go on in the Horror Hole, and they want it to start up again.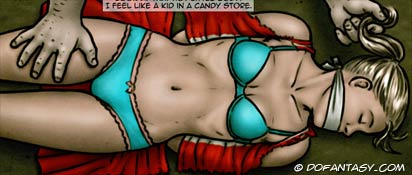 Let the horror begin!
This "fan" has kidnapped his ex-girlfriend, a young cheerleader named Emily, and sent her to the Horror Hole as a gift. Her ex has one simple request "no blood". But even without blood, her captor is a devious and creative man, and there is no limit to the ways he can hurt her.


Emily's mind will be totally broken, and along the way to her inevitable fucking, she will be abused with a barbed wire whip, a staple gun and a power sander...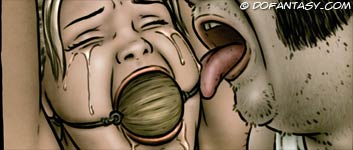 This comic features brutal punishment and sex, use of power tools as punishment implements and extreme physical and psychological abuse. Not for the faint of heart!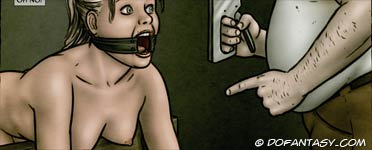 THERE IS NO ESCAPE FROM THE HORROR HOLE! NO ONE CAN HEAR HER SCREAM.
AND NO ONE IS COMING TO SAVE HER.
ANOTHER GREAT COMIC BY SLASHER!
YOU DON'T WANT TO MISS THIS!