Use our On-Line 100% Secure EncryptedShopping Cart Ordering System. Simply browse
our site and Click the ADD TO SHOPPING CART buttons to place items in your Shopping Cart
[ HOME ] [ COMICS ] [ MOVIES ] [ NOVELS ] [ CD-ROM ] [ Order info ] [ Help ] [ ARTIST SITES ] [ SEARCH ]
[ Disclaimer ] [ CATALOGUE ] [ Copyright ]
FANSADOX COLLECTION 442
CREEPY by SLASHER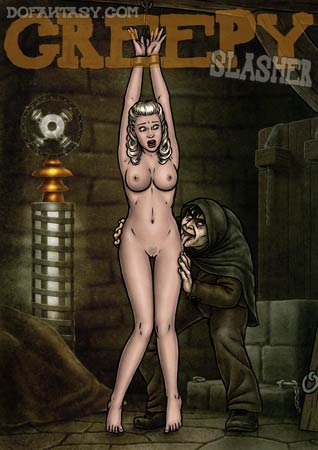 NEW IN PDF ELECTRONIC VERSION!
Adult Comic Album by SLASHER.
HIGH RESOLUTION PDF deluxe edition
43 full color comic pages!!!
-COMPLETE, UNABRIDGED VERSION-
A MAD SCIENTIST IN A SECLUDED CASTLE IS COOKING UP EXPERIMENTS MOST FOUL AND PERVERSE! WHO KNOWS WHAT'S HAPPENING BEHIND CLOSED DOORS AND STONE WALLS?


THE SCIENTIST'S EQUALLY PERVERSE ASSISTANT, IGOR, ROUNDS UP HELPLESS, YOUNG MAIDENS TO EXPERIMENT ON! WHAT WILL HAPPEN TO THESE DISTRESSED DAMSELS AFTER THESE INSANE MONSTERS ARE DONE WITH THEM??
IMPORTANT NOTICE - DISCLAIMER
All characters are 18 years old or older.
This is an entirely fictional work based on
cartoon characters for adult entertainment.
It shows no real people or events.
The characters are shown participating in
CONSENSUAL role-play for their own
personal satisfaction, simulating activities
which involve sexual dominance and
submission. No actual toons were harmed
in the making of this comic.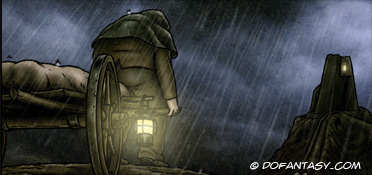 It was a dark and stormy night, and a strange, misshapen, hunchbacked creature was dragging a burlap sack behind him. The sack was heavy and large enough to contain a human being within… or in this case an unconscious, female form! The monster was an experienced hand in acquiring fresh girls to serve to his master in the tower. He knew the way these stupid, simpering girls would struggle and try to resist their fate.

The hunchback knew how quickly the whip would force the girls to submit! He had a practiced hand, and he knew all the most sensitive and vulnerable places a woman had. The hunchback exploited those weaknesses by cracking the tip of the whip only on the most delicate and helpless of places that a woman had to offer!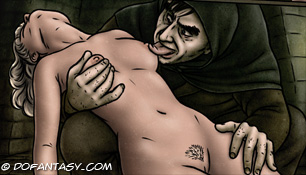 The creature was mean and cruel and had an imagination most foul. Once he'd broken the girl, then he'd perform his own perverse experiments, tormenting and hurting the girl over and over again… just to hear her scream!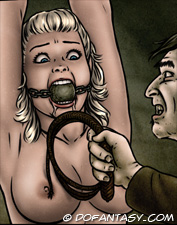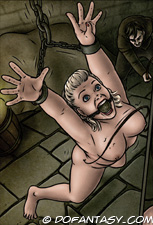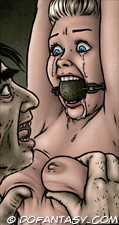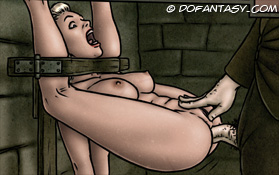 But that wasn't the worst of it, for when the good doctor arrived, only then would the most wicked and insane experimentation begin!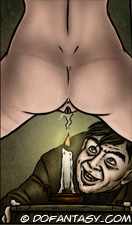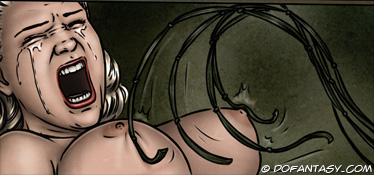 For after all, this man was a master of the craft of carving human flesh. He knew how to "install" a woman and make her an obedient slave! It just took a little imagination is all, and unfortunately for the girls in his care, the good doctor had plenty! What did he do to the girls after he'd "initiated" and "inspected" them? I'm afraid that's far too gruesome a tale to tell here, so you'll have to find out for yourself…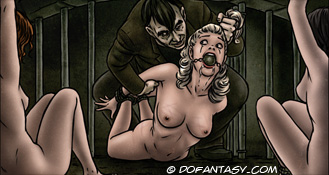 SLASHER HAS DONE IT AGAIN WITH ANOTHER AMAZING MASTERPIECE SET RIGHT IN THE MIDST OF GOTHIC HORROR AND FRIGHTENING MONSTROSITIES! THESE PRETTY DAMSELS WON'T KNOW WHAT HIT THEM UNTIL IT'S FAR, FAR TOO LATE! THEY'LL BE USED AND ABUSED IN WAYS MOST FOUL, FAR FROM THE PRYING EYES OF HELP OR HOPE! YOU WON'T WANT TO MISS THIS EXCITING CHAPTER, BROUGHT TO YOU HERE EXCLUSIVELY AT DOFANTASY.COM!
YOU WON'T WANT TO MISS THIS EXTREME ISSUE! IT'S HOT, HOT, HOT!
YOU DON'T WANT TO MISS THIS!