Use our On-Line 100% Secure Encrypted Shopping Cart Ordering System. Simply browse
our site and Click the ADD TO SHOPPING CART buttons to place items in your Shopping Cart
[ HOME ] [ COMICS ] [ MOVIES ] [ NOVELS ] [ CD-ROM ] [ Order info ] [ Help ] [ ARTIST SITES ] [ SEARCH ]
[ Disclaimer ] [ CATALOGUE ] [ Copyright ]
FANSADOX COLLECTION 443
PRISON HORROR STORY - Part 7 - PREDONDO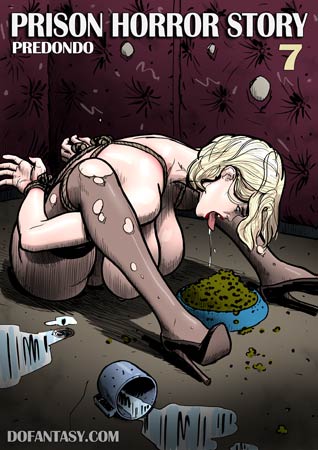 NEW IN PDF ELECTRONIC VERSION!
Adult Comic Album by PREDONDO.
HIGH RESOLUTION PDF deluxe edition
40 full color comic pages!
-COMPLETE, UNABRIDGED VERSION-

A YOUNG REPORTER IN THE RECENT PAST TAKES A WRONG TURN AND CROSSES THE WRONG PEOPLE! SHE WILL PAY FOR HER MISTAKES WITH HER MIND AND HER BODY!

THINGS START TO REALLY HEAT UP AS A MYSTERIOUS ORGANIZATION TAKES CENTER STAGE IN THIS EXCITING NEXT CHAPTER TO THE PERVERSE WORLD OF PREDONDO!

IMPORTANT NOTICE - DISCLAIMER
All characters are 18 years old or older.
This is an entirely fictional work based on
cartoon characters for adult entertainment.
It shows no real people or events.
The characters are shown participating in
CONSENSUAL role-play for their own
personal satisfaction, simulating activities
which involve sexual dominance and
submission. No actual toons were harmed
in the making of this comic.

THE STORY SO FAR…

It all started so simply. CLAIRE REDFERN was an aid worker in this corrupt and rotten banana republic, trying her best to help the local people who lived under the despotic rule of the cruel and wicked COLONEL CHAVEZ. Claire had brought her daughter Vicki with her, and that's where the trouble started. When Vicki was unceremoniously "proposed" to by her fat lout of a neighbor, GUSTAVITO, she quickly rejected his fat ass and kicked him to the curb!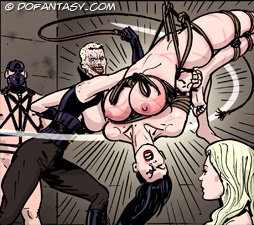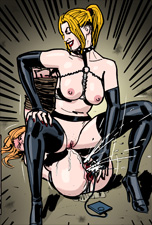 Unfortunately for Redfern mother and daughter, Gustavito's mother was none other than MISTRESS MELANIE, wardess of Santa Rita Prison… colloquially known as the Foreign Sluts Correctional Center! Vicki is quickly jailed under trumped up charges, and when her mother Claire comes to save her, she finds herself imprisoned as well.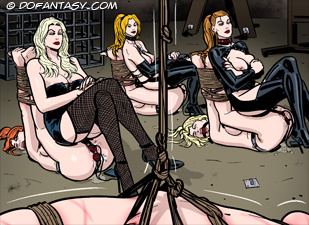 Claire and Vicki Redfern aren't the only inmates at this thinly disguised white slavery ring. They also meet Mary Ann Stevenson, "late" wife to a refugee loving reverend who crossed Colonel Chavez one too many times. A trio of American tourists also finds themselves on the wrong side of "the law" and wound up alongside the mother daughter duo. Mistress Melanie is queen of her own little kingdom until the true power behind the scenes, MARQUESA DE NUEVA VALLADO, comes to steal the spotlight… and Melanie's thunder as well!

IN THIS COMIC…

Things aren't always what they seem in this strange and thrilling new chapter in the Prison Horror Story saga. It turns out that Mistress Marquesa wasn't always the sadistic she bitch she appears to be. Back in another era, long before the present day, she was a cub reporter in pre-War New York City, trying to make a name for herself and earn the coveted Pulitzer Prize! And she has a big scoop on her hands.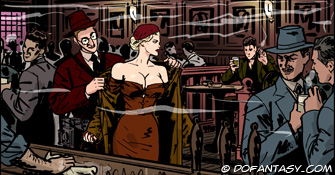 A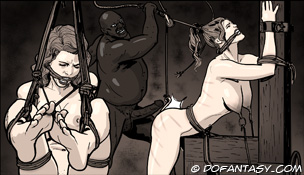 young man has stepped forward and revealed himself to be an agent of a mysterious group known only as "THE ORGANIZATION," run by an even more mysterious individual. Slowly the pieces start to come together as the young cub reporter follows the trail, even after her key witness gets killed in a violent car crash!
Even though the silly girl should've gotten the hint, she still barrels forward, convinced that she should publish the story. But things quickly converge around her, as it turns out THE ORGANIZATION has its tendrils buried deeper than anyone, especially her, could even guess…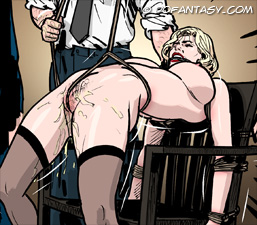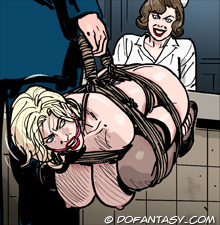 This girl's fate was sealed the moment she tried to nose in on other peoples' business. The question isn't what will happen to her, but how far will she fall…?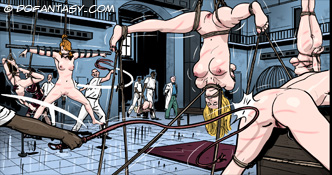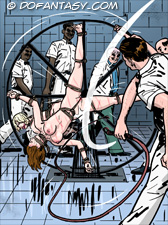 TAKE A JOURNEY BACK IN TIME TO ANOTHER TIME AND AN OTHER ERA IN THIS EXCITING NEW CHAPTER TO PREDONDO'S PRISON HORROR STORY SAGA! PRENDONDO IS AT HIS ABSOLUTE BEST HERE WITH HOT AND SMOULDERING IMAGES OF FEMALE SUBMISSION AND ENSLAVEMENT! A DARK PALL IS ABOUT TO FALL UPON ONE YOUNG AND NAIVE REPORTER AS SHE REALIZES SHE'S IN OVER HER HEAD! YOU WON'T WANT TO MISS THIS AMAZING ISSUE, BROUGHT TO YOU HERE EXCLUSIVELY AT DOFANTASY.COM!!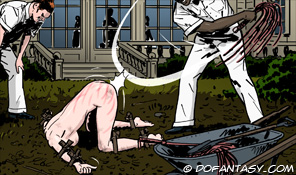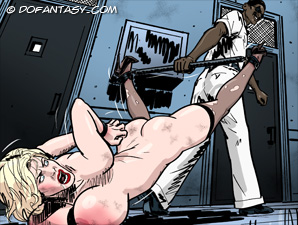 VISIT PREDONDO'S SITE
FOR A COMPLETE LIST OF PREDONDO COMICS AND OFFERS