Use our On-Line 100% Secure EncryptedShopping Cart Ordering System. Simply browse
our site and Click the ADD TO SHOPPING CART buttons to place items in your Shopping Cart
[ HOME ] [ COMICS ] [ MOVIES ] [ NOVELS ] [ CD-ROM ] [ Order info ] [ Help ] [ ARTIST SITES ] [ SEARCH ]
[ Disclaimer ] [ CATALOGUE ] [ Copyright ]
FANSADOX COLLECTION 451
OBJECTION OVERRULED - COMIXCHEF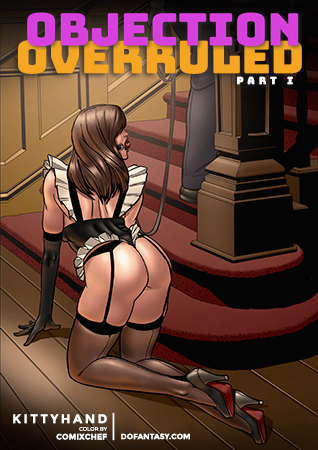 NEW IN PDF ELECTRONIC VERSION!
Adult Comic Album by COMISCHEF.
HIGH RESOLUTION PDF deluxe edition
49 full color comic pages!!!
-COMPLETE, UNABRIDGED VERSION-
A SNOTTY, LESBIAN, FEMINIST LAWYER GETS HER UNJUST DESSERTS WHEN SHE SCREWS OVER THE WRONG MAN!
THIS ARROGANT ATTORNEY WILL LEARN A LESSON IN HUMILITY WHEN SHE GOES FROM STAR PROSECUTOR TO FILTHY SEX SLAVE!

IMPORTANT NOTICE - DISCLAIMER
All characters are 18 years old or older.
This is an entirely fictional work based on
cartoon characters for adult entertainment.
It shows no real people or events.
The characters are shown participating in
CONSENSUAL role-play for their own
personal satisfaction, simulating activities
which involve sexual dominance and
submission. No actual toons were harmed
in the making of this comic.
COMIC OF THE MONTH IN MAY AT BDSMartwork.com
click here for more info
Julia Rochon was an ace attorney and a well known lawyer for feminist causes. She was honored by the city for her efforts at advancing women's rights, but she harbored a dark secret: she didn't really care about her clients. She just found pretty girls that she wanted to play with then convinced them to drop their douchebag husbands for a hot, one night stand… billed as a miscellaneous legal fee, of course!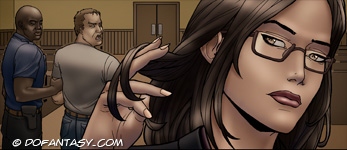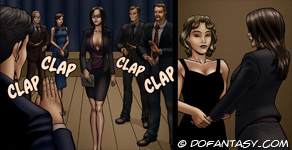 That all changed when her past came back to haunt her. It turns out she screwed over a wealthy and powerful businessman who held a deep and powerful grudge against this muff diving minx. He was just waiting, biding his time, until he found a nice, reckless, and drunk patsy to pin the blame on. It wouldn't take long… Julia's flings were short lived, after all…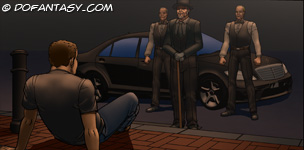 Soon, Julia and her latest, lesbian lover were taken on the thrill ride of a lifetime to a lavish and mountainous retreat, far away from prying eyes. This man had quite the menagerie of females at his disposal, but Julia… Julia would be the crown jewel of his conquests…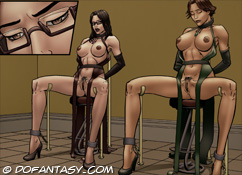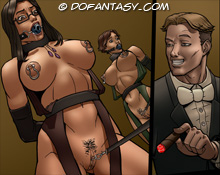 ...on

ce she was properly broken!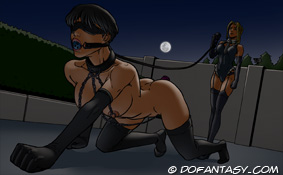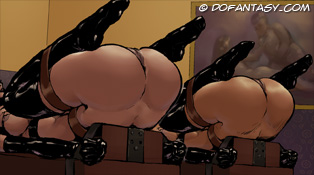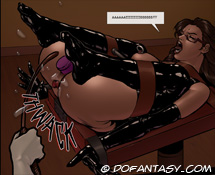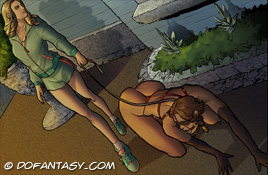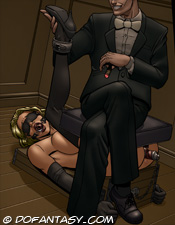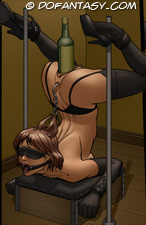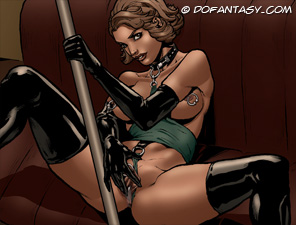 THIS HOT, HOT, HOT MASTERPIECE IS A REAL STEAL! WATCH A HAUGHTY HOTTIE GET THE SNOTTINESS CROPPED OUT OF HER AS SHE GOES FROM HOT STUFF TO HOE HOLE! IT'S A REAL SHAME WHAT HAPPENS IN THE REAL WORLD, ISN'T IT "MISS FEMINISM?" MAYBE YOU SHOULD'VE THOUGHT WITH YOUR BRAIN INSTEAD OF YOUR BABY BOX WHEN YOU MESSED WITH A RICH AND POWERFUL BUSINESSMAN! THIS PIECE OF LAWYER, LESBIAN TAIL WILL GET HER UNJUST DESSERTS IN THIS EXCITING ISSUE! YOU DON'T WANT TO MISS THIS AMAZING, FANTASY ADVENTURE BROUGHT TO YOU EXCLUSIVELY AT DOFANTASY.COM!