Use our On-Line 100% Secure EncryptedShopping Cart Ordering System. Simply browse
our site and Click the ADD TO SHOPPING CART buttons to place items in your Shopping Cart
[ HOME ] [ COMICS ] [ MOVIES ] [ NOVELS ] [ CD-ROM ] [ Order info ] [ Help ] [ ARTIST SITES ] [ SEARCH ]
[ Disclaimer ] [ CATALOGUE ] [ Copyright ]
FANSADOX COLLECTION 463
THE QUEEN OF DEADWOOD - CAGRI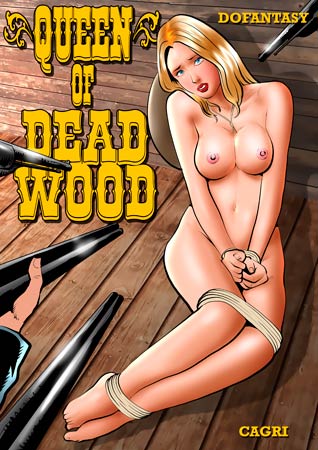 NEW IN PDF ELECTRONIC VERSION!
Adult Comic Album by CAGRI.
HIGH RESOLUTION PDF deluxe edition
40 color comic pages!!!
-COMPLETE, UNABRIDGED VERSION-
SNOTTY NAUGHTY HOTTIE SHERIFF LLOYD GETS IN OVER HER HEAD WHEN SHE ARRESTS A LOWLIFE HENCHMAN OF THE FOULEST AND SICKEST CRIMINAL MASTERMIND IN THE WEST, "HAMMER" JOHNSON!
SHERIFF LLOYD WILL PAY FOR IGNORING THE "LAW" OF THE LAND AND ASSUMING THE RULES WILL SAVE HER! WHEN THE CRIMINAL KINGPIN OF THIS WICKED WASTELAND COMES TO PAY A VISIT, HE'LL REMIND HER OF HER TRUE PLACE IN THIS WILD, WESTERN WORLD!
IMPORTANT NOTICE - DISCLAIMER
All characters are 18 years old or older.
This is an entirely fictional work based on
cartoon characters for adult entertainment.
It shows no real people or events.
The characters are shown participating in
CONSENSUAL role-play for their own
personal satisfaction, simulating activities
which involve sexual dominance and
submission. No actual toons were harmed
in the making of this comic.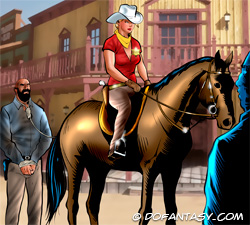 She was blonde, pretty, and spirited, like an unbroken filly flowered on the fields. Sheriff Lloyd was one of the better lawmen… or law women… of this land. She knew her town, she knew her people, and she knew her stuff. She could shoot as straight as the best of them, and when she laid down the rules, she meant it. Hot stuff with a hotter temper, Sheriff Lloyd would make this land a just and right place in her own little neck of the woods.
But things turn south in ways Sheriff Lloyd couldn't possibly imagine when she arrests "Two-Beers" Jack, one of the lowlife thugs that trespass upon this lawful ground. A sucker and scum and certainly not worth much, Two Beers Jack has one thing going for him: his boss is the infamous "Hammer" Jackson, and Hammer does NOT appreciate his men being locked away for life!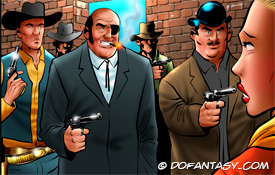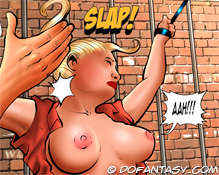 The townspeople try to warn Sheriff Lloyd. Some fish are just too big to catch. Some critters are better left alone, wild and untamed in this wild, wild west. Sheriff Lloyd ignored their advice, to her peril. Now she will pay with her body and her holes and maybe… maybe even her life!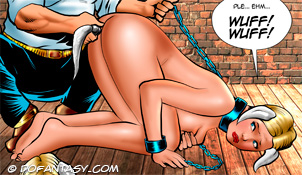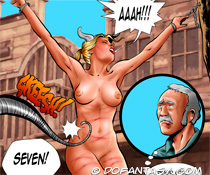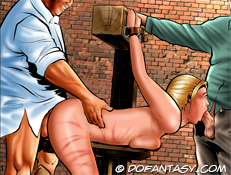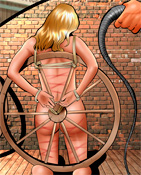 CAGRI IS ONE OF THE SICKEST CREATORS AROUND, AND WHEN CAGRI CREATES A COMIC, YOU KNOW YOU'RE IN FOR ONE WILD RIDE!
THERE'S NO "TO BE CONTINUED" OR "WAIT FOR THE NEXT EPISODE" WITH THIS ONE. THIS HOT AND HEAVY HORROR SHOW IS NOT TO BE MISSED OR SKIPPED OVER! WHAT WILL HAPPEN TO SHERIFF LLOYD? WHAT WILL HAPPEN WHEN HAMMER JACKSON COMES KNOCKING AT THE DOOR OF THE HAUGHTY WHORE? HOW FAR WILL SHE FALL? HOW DARK WILL IT GET?

YOU DON'T WANT TO MISS THIS AMAZING ISSUE, BROUGHT TO YOU HERE EXCLUSIVELY AT DOFANTASY.COM!