Use our On-Line 100% Secure EncryptedShopping Cart Ordering System. Simply browse
our site and Click the ADD TO SHOPPING CART buttons to place items in your Shopping Cart
[ HOME ] [ COMICS ] [ MOVIES ] [ NOVELS ] [ CD-ROM ] [ Order info ] [ Help ] [ ARTIST SITES ] [ SEARCH ]
[ Disclaimer ] [ CATALOGUE ] [ Copyright ]
FANSADOX COLLECTION 465
KARMA part 2 - ERENISCH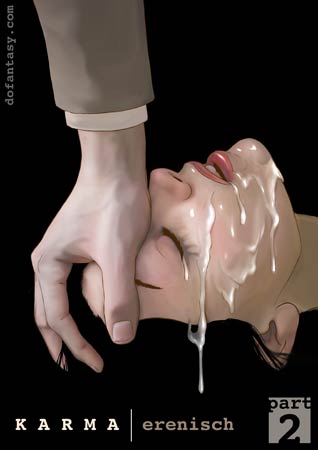 NEW IN PDF ELECTRONIC VERSION!
Adult Comic Album by ERENISCH.
HIGH RESOLUTION PDF deluxe edition
45 full color comic pages!!!
-COMPLETE, UNABRIDGED VERSION-

­JOURNEY TO THE ICONIC FUTURE WHERE WOMEN HAVE BEEN STRIPPED OF ALL RIGHTS AND TURNED INTO OBEDIENT SEXTOYS!

IF YOU HAVE NOT VISITED THE ERENISHVERSE YET, YOU ARE MISSING OUT! COME EXPERIENCE THIS UNIQUE PHENOMENON IN EROTIC STORY-TELLING!!!!­





IMPORTANT NOTICE - DISCLAIMER
All characters are 18 years old or older.
This is an entirely fictional work based on
cartoon characters for adult entertainment.
It shows no real people or events.
The characters are shown participating in
CONSENSUAL role-play for their own
personal satisfaction, simulating activities
which involve sexual dominance and
submission. No actual toons were harmed
in the making of this comic.

IMAGINE A FUTURE WHERE WOMEN HAVE NO LEGAL RIGHTS

In the near future, many countries have passed the 'Compulsory Female Slavery Law' and legalized the sexual use and trade of nubile women over 18 years of age. When a girl reaches the age of legal enslavement, she can be bought and sold, hired and whored, and used in every imaginable way…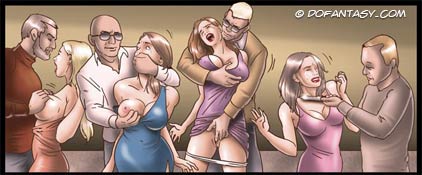 But in a world where slavegirls are legal, what does crime look like? Who exactly are the criminals in this world, and how much worse can life get for a poor girl who is captured and sold into the illegal, un-regulated black market for slaves?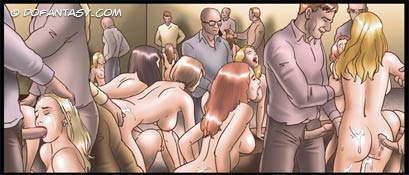 WHAT IF YOU WERE A SLAVE AND YOU DIDN'T KNOW IT?
In this issue, Erenisch continues the adventures of Anna, Cathy, and their new owner, Mafia-Boss Zalupatsin. Not long ago, Anna was a tough dominatrix and Cathy was a frightened slavegirl, but Zalupatsin has reverse their roles, making Cathy is favorite and Anna nothing more than a dog-girl who is constantly gang-raped. Zalupatsin doesn't technically own the girls, because he operates outside the law. In fact, much of his business is in countries where slavery is illegal. But he still fucks and uses women in any way he pleases. To him, all girls are slaves, some just don't know it.

Being a criminal and an outsider in an immoral society has given Zalupatsin a unique insight into his world. "To understand the world efficiently, you shouldn't take sides, it will make you blind to half the information," he tells Cathy. "If you want to efficiently oppress the vast majority of your population, it is necessary to brainwash them at an early age."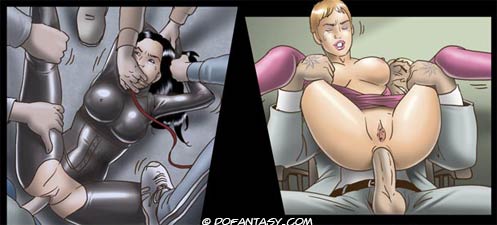 EROTIC STORY-TELLING HAS REACHED A NEW LEVEL
Erenisch comics are a grand experiment in erotic story telling. Again and again Writer/Artist Erenisch proves that erotic stories can be red-hot porn, while at the same time, interesting and even thought-provoking. Erenisch keeps taking risks and trying things no other artist has ever tried, and those risks keep paying off.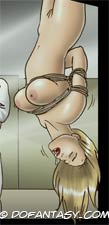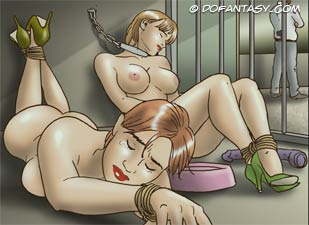 Each Erenisch comic takes place inside of a shared universe, with recurring characters, each with a distinct personality. Whether you are a first-timer reader, or a devoted follower who writes fan-fiction on the Erenisch forum, you will love this comic! Special focus in this issue is on action and chase scenes, puppy-girl humiliation, and slavegirls learning to enjoy oppressing other women. This comic is not to be missed!
ERENISCH COMICS CONTINUE TO EXPERIMENT AND LEAD THE WAY, TAKING EROTIC STORY-TELLING IN BOLD NEW PLACES, AND IT'S SEXY AS HELL!!!!
IMAGINE A FUTURE WHERE EVERY GIRL YOU SEE IS YOURS FOR THE TAKING…