Use our On-Line 100% Secure EncryptedShopping Cart Ordering System. Simply browse
our site and Click the ADD TO SHOPPING CART buttons to place items in your Shopping Cart
[ HOME ] [ COMICS ] [ MOVIES ] [ NOVELS ] [ CD-ROM ] [ Order info ] [ Help ] [ ARTIST SITES ] [ SEARCH ]
[ Disclaimer ] [ CATALOGUE ] [ Copyright ]
FANSADOX COLLECTION 469
MY SON'S DEBT - DEJAN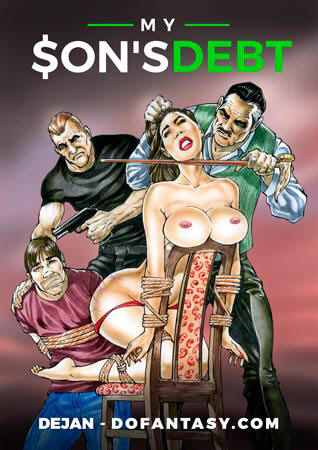 NEW IN PDF ELECTRONIC VERSION!
Adult Comic Album by DEJAN.
HIGH RESOLUTION PDF deluxe edition
57 full color comic pages!!!
-COMPLETE, UNABRIDGED VERSION-
WHEN A SON GETS DEEP INTO DEBT TO A DANGEROUS, MAFIA DON, HIS MOTHER WILL PAY WITH HER BODY AND HER HOLES!
MOTHER DEAREST DOESN'T DARE DISAPPOINT THE DON FOR FEAR OF WHAT WOULD HAPPEN TO HER PRECIOUS, BABY BOY. BEAUTIFUL ELENA WILL BE SOILED AND DESPOILED AS SHE TRIES TO SAVE HER DARLING SON!
IMPORTANT NOTICE - DISCLAIMER
All characters are 18 years old or older.
This is an entirely fictional work based on
cartoon characters for adult entertainment.
It shows no real people or events.
The characters are shown participating in
CONSENSUAL role-play for their own
personal satisfaction, simulating activities
which involve sexual dominance and
submission. No actual toons were harmed
in the making of this comic.
Matthew Kenny was just a quiet kid living in the suburbs, starting small but dreaming big. But he gets in over his head when he owes money to the dangerous mafia don, Tony Scaletta. Tony arrives in the dead of night in a shining limousine, a gorgeous exterior hiding the twisted man inside. Tony and his men break down the door and threaten to cut down poor Matthew Kenny, as an example to all the debtors who might think of leaving Tony Scaletta holding the check…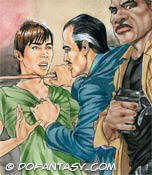 That is until Matthew's mother, the gorgeous Elena, hears the commotion. Straight out of the shower and into the frying pan and the fire! Mother and son wait in anxious fear, but it turns out Matthew's friends aren't as fast as he would've liked. Someone will have to pay that money back… and if nobody can pay the money, well, Elena could certainly serve as a "down payment"… to help her son pay for the interest, after all…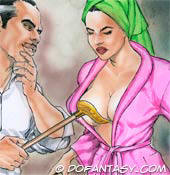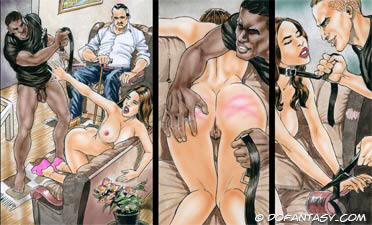 Even as Matthew struggles to find someone who can help get him out of this mess, his own mother is paraded before his eyes in an increasingly horrifying tableau of perverts and sodomites. It gets worse when a lavish estate serves as a front for a twisted BDSM nightmare, with Elena Kenny starring as the main attraction!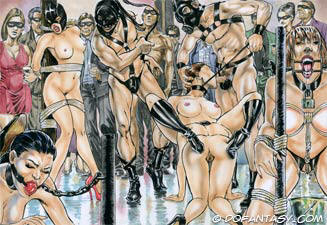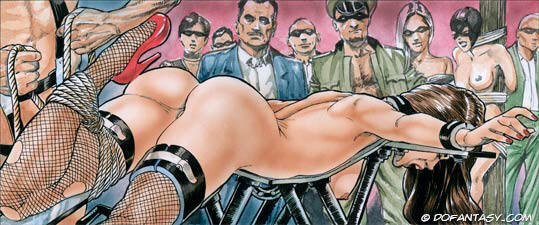 But the worst is yet to come. Maybe Matthew needs a little incentive… maybe he should be brought along, to watch what a mother would do for her wayward son…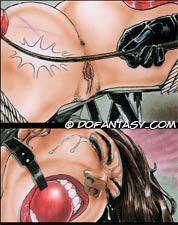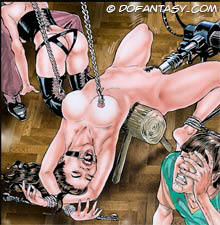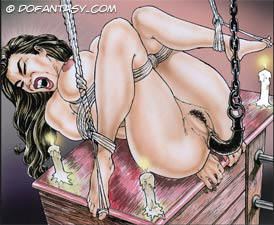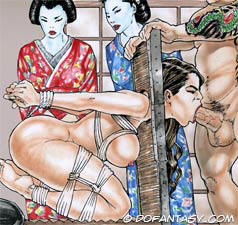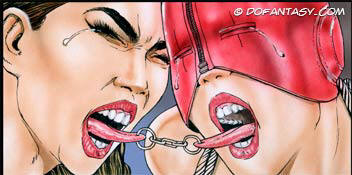 _______________________________
DEJAN RETURNS WITH ANOTHER SHOCKING HORROR SHOW OF TWISTED AND PERVERTED PROPORTIONS! THIS MARVELOUS MASTERPIECE OF MALE MACHISMO AND FEMALE FRUSTRATION WILL LEAVE YOU ON THE EDGE OF YOUR SEAT, BEGGING FOR MORE! BEAUTIFUL ELENA WILL BE DEFILED AND DESTROYED IN THIS ORGASMIC EXTRAVAGANZA OF EPIC PROPORTIONS! AND STAY TUNED FOR THE SHOCKING ENDING THAT YOU WON'T SEE COMING! YOU DON'T WANT TO MISS THIS AMAZING ISSUE, BROUGHT TO YOU HERE EXCLUSIVELY AT DOFANTASY.COM!!!
YOU DON'T WANT TO MISS THIS COMIC… IT'S HOT, HOT, HOT!!!!!