Use our On-Line 100% Secure Encrypted Shopping Cart Ordering System. Simply browse
our site and Click the ADD TO SHOPPING CART buttons to place items in your Shopping Cart
[ HOME ] [ COMICS ] [ MOVIES ] [ NOVELS ] [ CD-ROM ] [ Order info ] [ Help ] [ ARTIST SITES ] [ SEARCH ]
[ Disclaimer ] [ CATALOGUE ] [ Copyright ]
FANSADOX COLLECTION 480
THE HOTTIES NEXT DOOR - Part 9 - PREDONDO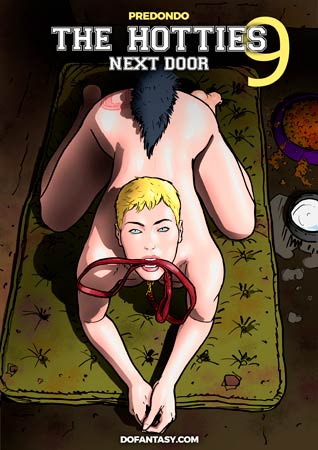 NEW IN PDF ELECTRONIC VERSION!
Adult Comic Album by PREDONDO.
HIGH RESOLUTION PDF deluxe edition
40 full color comic pages!
-COMPLETE, UNABRIDGED VERSION-

A HOT, YOUNG ROCK STAR GETS IN DEEP TROUBLE IN THE DEEP SOUTH WHEN SHE WINDS HER WAY INTO THIS WET AND WILD WORLD OF BACKWOODS HORRORS!

IT'S BAD ENOUGH THAT LOVELY LUCY IS A WOMAN IN THESE PARTS… IT'S EVEN WORSE AS AN EXOTIC, ASIAN PUNK! SHE'LL LEARN THE HARD WAY THAT THERE'S ONLY ONE USE FOR WICKED WOMEN IN THESE PARTS… WHETHER SHE WANTS TO OR NOT…

IMPORTANT NOTICE - DISCLAIMER
All characters are 18 years old or older. This is an entirely fictional work based on cartoon characters for adult entertainment. It shows no real people or events. The characters are shown participating in CONSENSUAL role-play for their own personal satisfaction, simulating activities which involve sexual dominance and submission. No actual toons were harmed in the making of this comic.


THE STORY SO FAR...

D

ana and Holly Taylor were two young, innocent, teenage girls who started a wild party while their parents were away. Things got off to a bad start when their perverted, redneck neighbor, Keith, got tired of watching the cockteasing sluts dancing dirty next door. He took the girls along with their brunette friend Vera, to his sick soiree of sex, bondage, and pain!

But it was only going to get worse, especially when the girls' shapely MILF mother, Mrs. Taylor, is brought along, deep into the woods where nobody will find them. Mugshots, alligator poachers, and a brainwashed doggie girl are just the start of this conga line of humiliation, suffering, and sexual slavery. Even the law up on high is of no help. It's as corrupt and depraved as the rest! As the Taylor family descends deeper and deeper into this sick swamp of sorrows, the girls begin to accept their cruel, twisted fate…

IN THIS COMIC...
Mary Lou is a desperate slavegirl not quite housebroken and intent on escaping. When her "friend," the exotic Asian Lucy is captured and taken back to the precinct, Mary Lou makes her way home.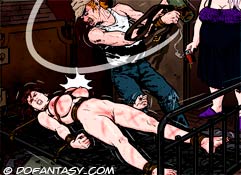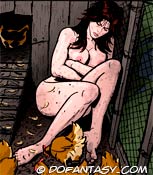 Big mistake!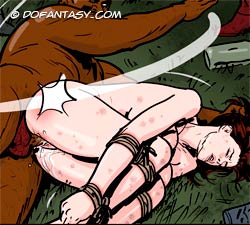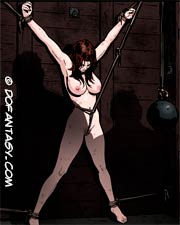 Mary Lou's stepfather, Clem, was the one who "introduced" her to the life of bondage sexual slavery and submission… all for the price of whisky. As he "learns" his wayward stepchild in how wrong her freedom seeking ways have been, Mary Lou can't help but think back to when it all started… when she was dragged from her bed and sold… to KEITH MUGSHOT! Mary Lou's life of pain and sexual submission started then, and through the haze of her beating, she remembers every excruciating, humiliating, and sexually frustrating detail… whether she wants to or not!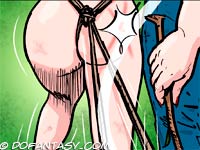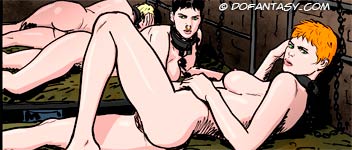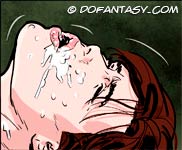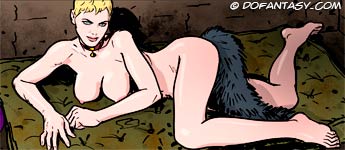 But even as Mary Lou stews in her own, private hell, things aren't looking good for the Taylor family either. They're being "maintained" by the Judge and his mean, black butler. Even when the girls think they're alone, horny doggie girl Gloria is keeping watch… when will it all end? Haven't those bastards done enough?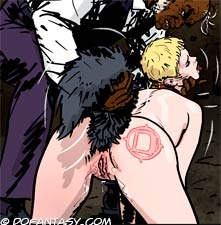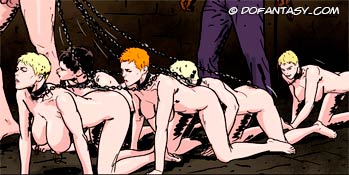 THIS AMAZING CONTINUATION OF THE "HOTTIES NEXT DOOR" SAGA IS HOT, HOT, HOT! FULL OF SICK SEX SCENES AND HOT, HORNY WHORES, YOU'LL LUST OVER EVERY BEAUTIFULLY ILLUSTRATED PAGE! PREDONDO IS ONE OF THE BEST ILLUSTRATORS IN THE STABLE, AND HIS THRILLINGLY TWISTED PICS WILL LEAVE YOU WANTING MORE, MORE, MORE! YOU DON'T WANT TO MISS THIS GREAT, GREAT ISSUE BROUGHT TO YOU HERE EXCLUSIVELY AT DOFANTASY.COM!!
!

VISIT PREDONDO'S SITE
FOR A COMPLETE LIST OF PREDONDO COMICS AND OFFERS