Use our On-Line 100% Secure EncryptedShopping Cart Ordering System. Simply browse
our site and Click the ADD TO SHOPPING CART buttons to place items in your Shopping Cart
[ HOME ] [ COMICS ] [ MOVIES ] [ NOVELS ] [ CD-ROM ] [ Order info ] [ Help ] [ ARTIST SITES ] [ SEARCH ]
[ Disclaimer ] [ CATALOGUE ] [ Copyright ]
FANSADOX COLLECTION 481
BREEDERS: THE NEXT GENERATION part one - SLASHER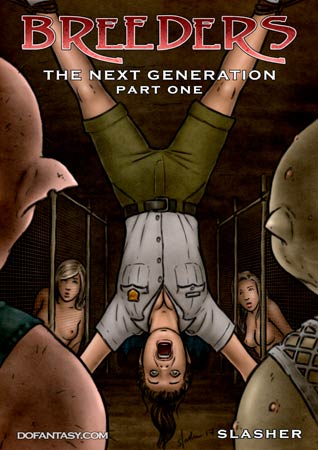 NEW IN PDF ELECTRONIC VERSION!
Adult Comic Album by SLASHER.
HIGH RESOLUTION PDF deluxe edition
full color 43 comic pages!!!
-COMPLETE, UNABRIDGED VERSION-
<![if !vml]>
<![endif]><![if !vml]>
<![endif]>

THERE'S SOMETHING DARK AND DANGEROUS THAT'S TERRIFYING TRAVELERS IN THIS WILD WOODLAND FAR OFF THE BEATEN PATH.

RANGER MAKAYLA WOODRUFF IS SENT OFF LOOKING FOR TWO YOUNG GIRLS GONE MISSING. IS THEIR DISAPPEARANCE A FREAK COINCIDENCE, OR DOES IT HAVE SOMETHING TO DO WITH THE FIVE WHO HAVE DISAPPEARED BEFORE THEM?




IMPORTANT NOTICE - DISCLAIMER
All characters are 18 years old or older.
This is an entirely fictional work based on
cartoon characters for adult entertainment.
It shows no real people or events.
The characters are shown participating in
CONSENSUAL role-play for their own
personal satisfaction, simulating activities
which involve sexual dominance and
submission. No actual toons were harmed
in the making of this comic.

These backwoods have always been a strange place, even to the people who know them quite well. The roads are shaped to the land itself, not the other way around like everywhere else. When it gets dark, there are no lights to guide you home, and the dense clusters of trees look awfully similar when you're scared… or trying to run away from something. Even those who are familiar with these woods get lost in them. When those who know the woods can't even find their way, what possible hope is there for clueless tourists who don't know better… or even worse, for those who think they do?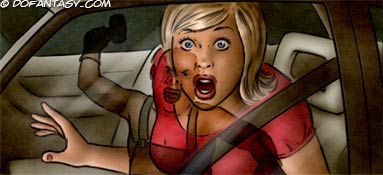 Legend even describes of monsters who live in these parts. There are the ones that you're familiar with: bigfoot, el chupacabra, alien abductions, or giant snakes or crocodiles. Then there are the ones you aren't, that are local to their specific time and place. Maybe a mutant race of pig men, or the bog creatures who live deep in the muck and mire…

These woods themselves seem to harbor a strange secret. More than a few tourists have gone missing in these parts, and there seems to be a pattern: young, beautiful women who think themselves strong and independent. It's a mystery why they vanish from the face of the Earth, never to be seen again. One wonders just what kind of creature might have taken them. One wonders what that creature would do to them when they are trapped, all alone and helpless…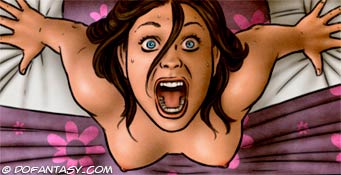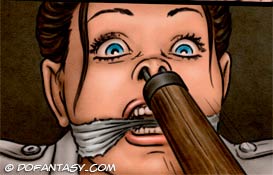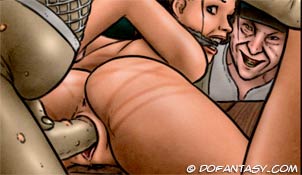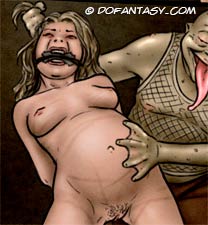 SLASHER RETURNS WITH ONE OF THE MOST PERVERTED AND HORRIFYING COMICS YET MADE! WHAT HAS HAPPENED IN THESE WILD AND UNTAMED WOODLANDS SINCE LAST WE CAME?! WHO IS STILL AROUND, AND WHO HAS DISAPPEARED, NEVER TO BE SEEN AGAIN?! SO MUCH HAS HAPPENED, AND YET SO MUCH HAS YET TO BE REVEALED! IT'S A NEW TWIST TO A FAMILIAR STORY, BUT THIS COMIC IS THE BEST ONE YET! YOU DON'T WANT TO MISS THE EXCITING AND AMAZING "BREEDERS" SERIES, ESPECIALLY THIS NEW CHAPTER, BROUGHT TO YOU HERE EXCLUSIVELY AT DOFANTASY.COM!