Use our On-Line 100% Secure Encrypted Shopping Cart Ordering System. Simply browse
our site and Click the ADD TO SHOPPING CART buttons to place items in your Shopping Cart
[ HOME ] [ COMICS ] [ MOVIES ] [ NOVELS ] [ CD-ROM ] [ Order info ] [ Help ] [ ARTIST SITES ] [ SEARCH ]
[ Disclaimer ] [ CATALOGUE ] [ Copyright ]
FANSADOX COLLECTION 491
HER NEW STEPFATHER - SLASHER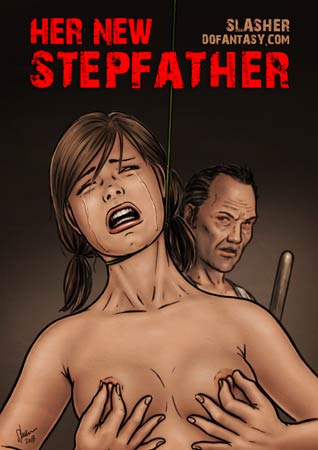 NEW IN PDF ELECTRONIC VERSION!
Adult Comic Album by SLASHER.
HIGH RESOLUTION PDF deluxe edition
40 full color comic pages!!!
-COMPLETE, UNABRIDGED VERSION-
THIS DIRTY AND ACTION PACKED COMIC IS SIZZLINGLY SLOPPY WITH HOT AND HEAVY ACTION THAT WILL LEAVE YOU SATISFIED AND ACHING FOR MORE!
TEENAGE AMY THOUGHT HER NEW STEPFATHER WAS HOT STUFF. BE CAREFUL WHAT YOU WISH FOR… YOU MIGHT GET MORE THAN YOU WANTED!
IMPORTANT NOTICE - DISCLAIMER
All characters are 18 years old or older.
This is an entirely fictional work based on
cartoon characters for adult entertainment.
It shows no real people or events.
The characters are shown participating in
CONSENSUAL role-play for their own
personal satisfaction, simulating activities
which involve sexual dominance and
submission. No actual toons were harmed
in the making of this comic.
Things sure have changed for good old "Sam." He's cleaned up his act, and he's taken a turn for the better. Sam tries to make sure he's a different man, now. Far from the "perverted sadist" that he thought he was in the past, Sam tries his best to get into the warm, comfortable groove of suburban life.

It doesn't hurt that he has a hot, redheaded MILF who's more than eager to do dirty and nasty things in the bedroom. Better to keep it there, where no one else can see it.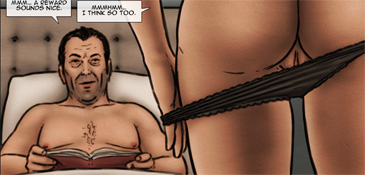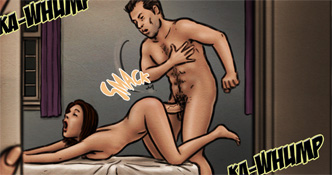 Unfortunately for Sam, someone else does see his dirty little acts and his dirty, little dealings with his MILF of a newlywed wife: his shocked and innocent stepdaughter!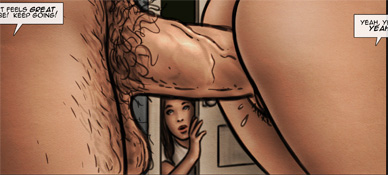 Amy is young, tight, and driven by hormones and horniness. Sam's a good looking catch, even if he won't acknowledge it. It's not "appropriate" and it's not "cool," but it's not like they're related or anything. Society's making a big fuss over nothing. They're too stuck in a rut to try new things. What could be the harm? That old guy could use some excitement in his dull and boring life… and Amy will be the one to give it to him.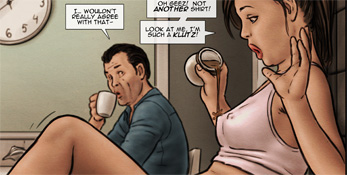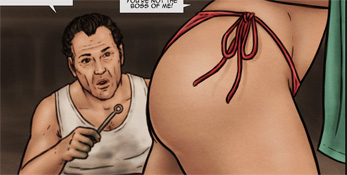 Little does Amy know that she's making a big mistake. Some things are better left buried, as Amy will find out to her dismay…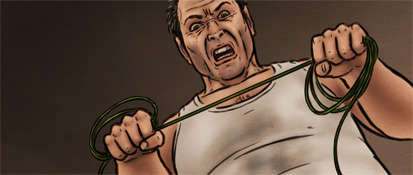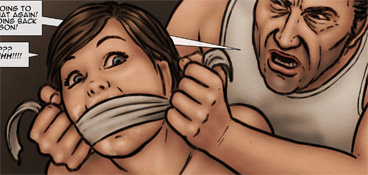 SLASHER BRINGS YOU ANOTHER COMIC FULL OF WILD AND EXCITING SCENES! SOMETIMES A MAN TRIES TO DO THE RIGHT THING, BUT THEN LIFE COMES KNOCKING AND CHANGES EVERYTHING… FOR THE WORSE! SAM'S INNER DEMONS WILL COME OUT AND RUIN POOR, UNSUSPECTING AMY IN ONLY THE FILTHIEST AND DIRTIEST WAY IMAGINABLE! CATCH THIS CRAZY COMIC WHILE YOU CAN, BROUGHT TO YOU HERE EXCLUSIVELY AT DOFANTASY.COM!
IF YOU'RE HUNGRY FOR A COMIC THAT PUSHES THE ENVELOPE IN EVERY WAY POSSIBLE,
LOOK NO FURTHER. THIS IS IT!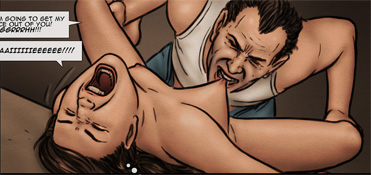 CLEVER, EXCITING DIALOGS BY NAJ!