Use our On-Line 100% Secure Encrypted Shopping Cart Ordering System. Simply browse
our site and Click the ADD TO SHOPPING CART buttons to place items in your Shopping Cart
[ HOME ] [ COMICS ] [ MOVIES ] [ NOVELS ] [ CD-ROM ] [ Order info ] [ Help ] [ ARTIST SITES ] [ SEARCH ]
[ Disclaimer ] [ CATALOGUE ] [ Copyright ]
FANSADOX COLLECTION 492
A TALE OF CHINESE SLAVERY part 4: 四 - CELESTIN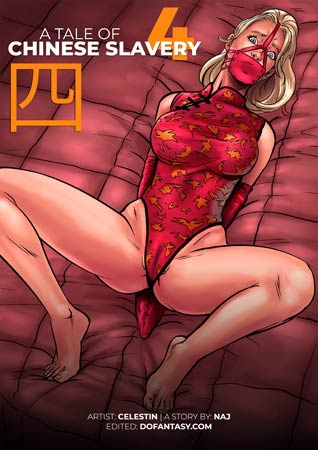 NEW IN PDF ELECTRONIC VERSION!
Adult Comic Album by CELESTIN. Story by NAJ
HIGH RESOLUTION PDF deluxe edition
40 full color comic pages!
-COMPLETE, UNABRIDGED VERSION-

BACK BY POPULAR DEMAND, THE FOURTH AND FINAL INSTALLMENT OF THE "A TALE OF CHINESE SLAVERY" SERIES!
YOU DON'T WANT TO MISS THIS EXCITING CONCLUSION TO HANNAH MASTERSON'S STORY! THE ENDING WILL SURPRISE AND SHOCK YOU FOR SURE!
IMPORTANT NOTICE - DISCLAIMER
All characters are 18 years old or older.
This is an entirely fictional work based on
cartoon characters for adult entertainment.
It shows no real people or events.
The characters are shown participating in
CONSENSUAL role-play for their own
personal satisfaction, simulating activities
which involve sexual dominance and
submission. No actual toons were harmed
in the making of this comic.
COMIC OF THE MONTH IN NOVEMBER AT BDSMartwork.com
click here for more info
The Story so Far...
Hannah was a bright, young girl with her whole future ahead of her. An incorrigible bookworm, her sorority sisters attempted to break mousey Hannah out of her shell by inviting her to a coed party held in the sorority basement. Hannah agreed… but maybe she shouldn't have… One minute, she's talking with a handsome, young, foreign exchange student… then the next thing she knows, she's a bound, gagged, and helpless sex slave!
Her mistress is Chyou, an arrogant, Chinese bitch living in a luxurious penthouse suite with her rich, sugar daddy husband in downtown Shanghai. Chyou always wanted a pretty, white, fat-titted "cow" to play with… and Hannah was her latest, unlucky fuckslut! Hannah is introduced to a world of horrifying PAIN and humiliating, lesbian, SEXUAL SLAVERY… whether she wanted it or not!
But sooner or later, even the funnest toys get boring, and Chyou wanted to exchange out Hannah "Meimei" with fresher meat. But even the best laid plans of mice and men often go awry, and nobody is prepared for what will happen next…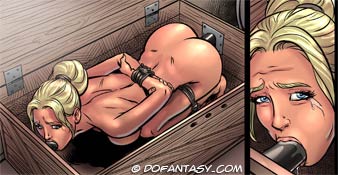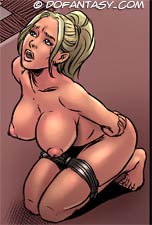 In This Comic…
Be careful what you wish for, little Meimei. At the end of her rope and with no one else to turn to, Hannah "Meimei" Masterson will sink lower than she ever has before. It's a dark world in the seedy underbelly of Shanghai, but Hannah doesn't have any other choice. Where once she was a bright and promising college student with great grades and a great future, now she's just a whore… just a piece of meat… to be used as her "owner" sees fit.

But even worse than that, Hannah finds herself fitting in better than she had thought, and better than she'd expected. Could it be that Hannah is… enjoying herself? Could it be that there is some light at the end of the tunnel?

Lives will change, roles will reverse, worlds will be upended, and nothing will ever be the same. THERE'S NO GOING BACK ONCE YOU REACH THIS COMIC'S CLIMACTIC CONCLUSION!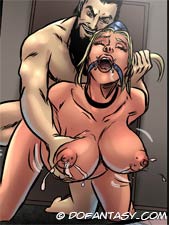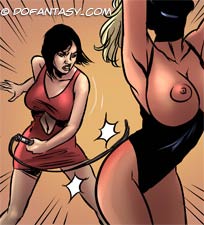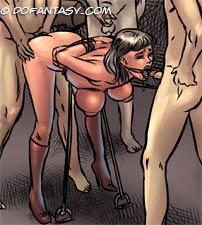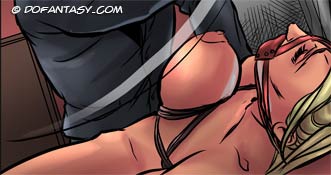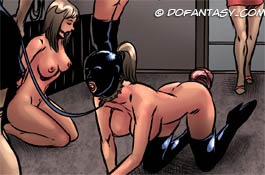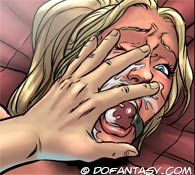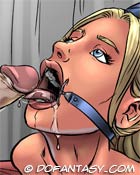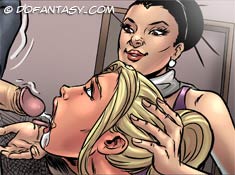 BROUGHT BACK BY POPULAR DEMAND, CELESTIN MASTERFULLY CRAFTS THE FINAL, INTIMATE, AND EXPLOSIVE FINALE TO THE THRILLING "TALE OF CHINESE SLAVERY" SAGA! THE LIVES OF THE CHARACTERS YOU'VE COME TO KNOW, LOVE, AND HATE WILL DRAW TO THEIR ULTIMATE END, AND YOU WON'T BELIEVE WHAT HAPPENS AT THE ENDING! THIS COMIC WILL LEAVE YOU DRAINED DRY, SHOCKED, AND UTTERLY IN DISBELIEF! YOU DON'T WANT TO MISS THIS TALE'S LAST SHOW, BROUGHT TO YOU HERE EXCLUSIVELY AT DOFANTASY.COM!!
BUT EVERY ENDING HAS A NEW BEGINNING…