Use our On-Line 100% Secure Encrypted Shopping Cart Ordering System. Simply browse
our site and Click the ADD TO SHOPPING CART buttons to place items in your Shopping Cart
[ HOME ] [ COMICS ] [ MOVIES ] [ NOVELS ] [ CD-ROM ] [ Order info ] [ Help ] [ ARTIST SITES ] [ SEARCH ]
[ Disclaimer ] [ CATALOGUE ] [ Copyright ]
FANSADOX COLLECTION 502
PRIVATE DICK part 3 - HAWKE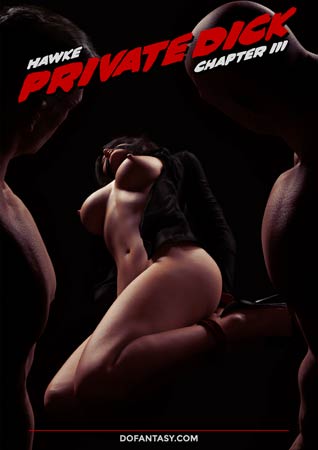 NEW IN PDF ELECTRONIC VERSION!
Adult Comic 3D Album by HAWKE.
HIGH RESOLUTION PDF deluxe edition
20 full color comic 3D pages!
-COMPLETE, UNABRIDGED VERSION-
THINGS GET REAL HOT IN THIS DARK, DARK TOWN WHEN MARCUS COLT DELIVERS A SKINNY STOOL PIGEON TO HIS THUGGISH EMPLOYER IN THIS FINAL, UNBELIEVABLE FINALE!
LITTLE JOEY IS HAPPY THE ACCOUNTANT IS IN HAND, BUT JOEY DECIDES TO "RENEGOTIATE" THE DEAL, AND PRETTY, LITTLE VERA CARTER IS DEFINITELY ON THE MENU!

IMPORTANT NOTICE - DISCLAIMER
All characters are 18 years old or older.
This is an entirely fictional work based on
cartoon characters for adult entertainment.
It shows no real people or events.
The characters are shown participating in
CONSENSUAL role-play for their own
personal satisfaction, simulating activities
which involve sexual dominance and
submission. No actual toons were harmed
in the making of this comic.
Marcus The Story So Far…

Marcus Colt is a private detective in this tough part of town. He's been hired by a small time thug intent on getting back an accounting ledger stolen by a stool pigeon accountant trying to buy his way out of the business. A former enforcer, Marcus Colt broke into the law firm expecting to cut and run, but when vivacious Vera Carter, a paralegal working late on the case, catches Marcus Colt redhanded, he decides to take the brunette babe along for the ride. She'll be perfect bait to flush the rat out!

With the goods in hand, both stool pigeon and slut, Marcus Colt goes to the docks to meet with his "employer," blowhard boy boss Joey, but things don't go according to plan…


In This Comic…

In this exciting and dramatic conclusion, things go south real quick in this gritty film noir epic. When things are this bad for big boys with big toys, what hope does little Vera Carter have of getting out with her dignity intact… or alive? Down on the docks under the cover of night, Marcus Colt plans to make a quick exchange and get away with his paycheck for a dirty deed well done, but when Colt's employer, brash boy boss Joey, gets a different idea, things get real bad, real fast.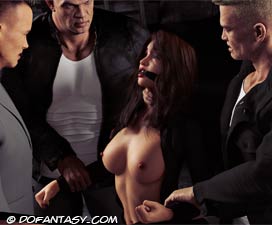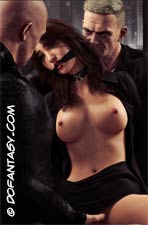 Joey might not be the smartest or the strongest cock on the block, but he's got the muscle to back him up. Marcus goes down in a hurry, and when Joey's goons look in the car for the stolen evidence, they find a little "tip" waiting for them inside…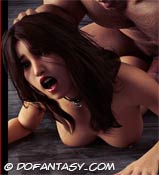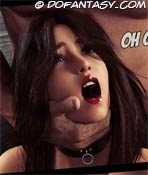 Things are looking bad for Vera Carter! If a crooked private detective like Marcus Colt has no qualms about roughing her up, what will three vicious gangsters do to her? It's dark down on the docks, and there's nobody around to save her. Marcus Colt is out for the count, and Joey and his boys think they deserve a little dessert! Will she get out alive, or will she end up swimming in concrete high heels with her accountant client at the bottom of the river?!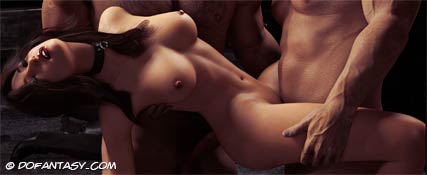 YOU DON'T WANT TO MISS THIS FINAL, FANTASTIC FINALE OF THE "PRIVATE DICK" SERIES! HAWKE MAKES SOME OF THE MOST SUMPTUOUS, SENSUAL, AND SEXY BDSM THAT YOU'LL FIND ANYWHERE! DELICIOUS LITTLE VERA CARTER IS GOING TO GET A TASTE OF HOT, HARD, AND DIRTY ACTION WHEN THESE FILM NOIR THUGS HAVE THEIR WAY WITH HER AND HER TIGHT, THROBBING HOLES! WILL VERA CARTER GET OUT OF THIS MESS ALIVE, OR IS SHE DOOMED TO AN UNDIGNIFIED DEATH?
GET THIS COMIC QUICK, HERE EXCLUSIVELY AT DOFANTASY.COM!