Use our On-Line 100% Secure EncryptedShopping Cart Ordering System. Simply browse
our site and Click the ADD TO SHOPPING CART buttons to place items in your Shopping Cart
[ HOME ] [ COMICS ] [ MOVIES ] [ NOVELS ] [ CD-ROM ] [ Order info ] [ Help ] [ ARTIST SITES ] [ SEARCH ]
[ Disclaimer ] [ CATALOGUE ] [ Copyright ]
FANSADOX COLLECTION 73
HELL'S NUNNERY - TEMPLETON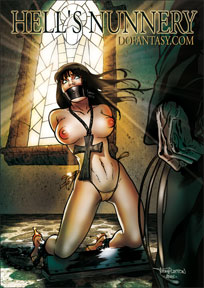 NEW IN PDF ELECTRONIC VERSION!
Adult Comic Album by TEMPLETON
HIGH RESOLUTION PDF deluxe edition
45 full comic color pages by Templeton
-COMPLETE, UNABRIDGED VERSION-
A WEIRD SLAVE HOUSE FOR
VERY SPECIAL CUSTOMERS...
IMPORTANT NOTICE:
All characters are 18 years old or older.
All action is simulated and no
actual people are involved in it.
The authors/publishers do not condone
any kind of violence.
These comics are completely fiction
and for adult entertainment.
In a demented nunnery in Central America, beautiful girls from all over the world are held as slaves to be rented to wealthy customers.
This is the story of two of these unfortunate girls.
The first one is Jill, a young American girl of 19. She's just arrived at the awful place and Seņor Matanzas, a fat old bastard over 50, has rented her for a full month as his personal and private slave after checking the house catalogue.
Seņor Matanzas is a pervert wealthy enough to indulge in such expensive entertainment. Jill surely will pay back every cent he paid for her...
Besides sex, the man enjoys himself humiliating the girl. No reason is needed for all the mistreatment other than the money he paid and the whim of the moment...
____________________________
Gagged, severally tied and almost naked, Jill is sent to Seņor Matanzas for a full month of slavery...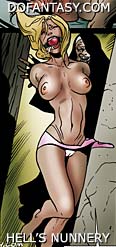 Dawn comes after the first night of servitude... The night has been interminable for the young girl. A full night of evil...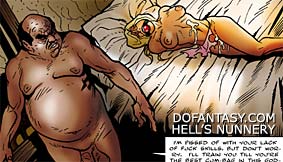 After the first attack of lust is over, the old bastard downgears into a more relaxed style...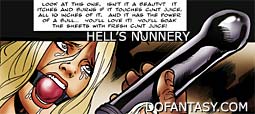 ...and some games too...
Seņor Matanzas keeps the girl busy 24/7...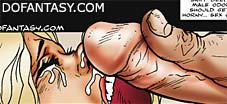 She attends ALL his needs...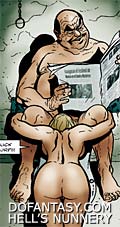 ____________________________
The second heroine is Raquel Carvajal, a young dark haired beauty of 18. Her mother has been killed by an evil woman, now married to her stepfather.
Raquel's stepfather introduces the girl to her new mother... The scene can't be more humiliating for the beautiful young girl...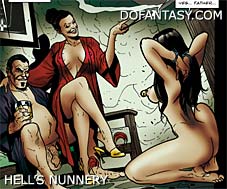 The stepmother soon explains what sort of mother-daughter relationship she's expecting...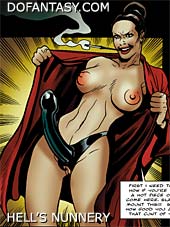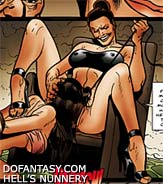 But Seņor Matanzas and the Carvajals meet and young Raquel is rented to him. The old sadistic bastard will have now 2 young slavegirls to play with...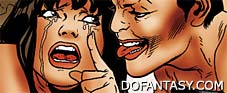 I'll rent you to that old bastard, daughter.
Be nice to him if you know what's good for you...
If Raquel's experience was an abyss of humiliation and pain in the hands of her step-parents, now it'll be even worse under the thumb of the crazed Seņor Matanzas who's cruelty knows no limits.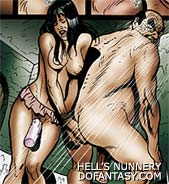 Don't miss this comic.
Witness the terrible fate of the two young beauties enslaved in
A BREATHTAKING SEQUEL TO 'THE CONVENT'
VISIT TEMPLETON SITE FOR A COMPLETE
LIST OF TEMPLETON COMICS AND OFFERS