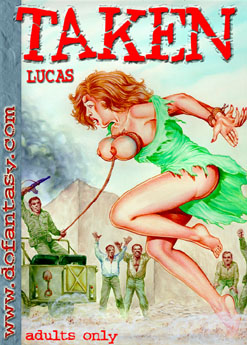 New in English!!!
by LUCAS
Illustrated by PAUL

HIGH RESOLUTION PDF deluxe edition
127 pages beautifully illustrated by PAUL

In ENGLISH. Available electronically in PDF format. See bottom of page.

IMPORTANT NOTICE - DISCLAIMER
All characters are 18 years old or older.
This is an entirely fictional work based on
fantasy characters for adult entertainment.
It shows no real people or events.
The characters are shown participating in
CONSENSUAL role-play for their own personal
satisfaction, simulating activities which involve
sexual dominance and submission.
No actual characters were harmed in the making
of this novel

This is a tale of hard sex, bondage and humiliation. The action begins with a woman chase in the heart of darkest Africa, and ends in a dark, damp dungeon in the remote Brazilian Mato Grosso, passing through Rio, Tokyo and Coconut Grove, one of White Corporation's farms for sex slaves on a desert island, a beautiful Pacific atoll.

The illustrations are more realistic than ever before. They are the perfect complement to this exciting tale, and make it a unique work, a new classic.
THE NOVEL:
'White Corporation' is an organization that operates in a sinister commercial area. It robs beautiful young women and holds them in its warehouses in the most inhuman conditions. Later they are auctioned off to the highest bidder.
This story has three main characters:
Claudia Moore, a young top model who has become an international celebrity thanks to her scandalous relationship with the son of the President of the Republic.
Rebecca, a young American journalist from a good family who wants to get an interview that will help her make her mark as a journalist.
Jasmine, a young Brazilian half-caste who is fed up with her job as a secretary and goes to an audition in a samba school...
Claudia Moore is seized in the heart of Black Africa where she has flown, she supposes, to shoot a perfume spot. A rich South American businessman called Valdes is prepared to pay any price to get her...
Rebecca, the young journalist, will not hesitate to use and humiliate Ben, a shy young coloured boy. Ben is the son of an important businessman who nobody has been able to interview. Rebecca sees her opportunity, but will pay dearly for her egoism and contempt for Ben. And Ben will get a beautiful present from his rich father…
Jasmine finds the audition horribly embarrassing. She goes because she needs the work and she wants to get out of the office where her boss harasses her. Several days later, in Tokyo, the multimillionaire Yano Yakamoto watches the video of the audition. Jasmine is the sex slave he has always dreamed of…
Lucas tells the story in great detail, from the disappearance, the "storage" of the victims in the warehouse, the humiliating auctions and the training to be slaves in the hands of their criminal masters.

FROM THE NOVEL:
The dinner was another aberration. Claudia More listened with dread to a spine chilling conversation.
"I always pierce the nipples on my females," said Mrs. Cara easily. "I do it live with a red hot needle."
"I also," added One, "pierce their clitorises."
"If I like bumming one specially" added Two, more communicative now due to the alcohol, "I pierce the septum of her nose… Yes, don't look like that MM, it's the truth. I get on them when they are held just with their noses to the floor and their knees fixed; I even leave their hands free. I promise you that that keeps them in a nice position with their backs arched and their bottoms well presented…"
This made Claudia dizzy.
As the champagne flowed the conversation became more torrid.
"Have you seen the nipples on this slut?" It was One who was speaking to Mrs. Cara.
"I saw them in the famous advert," answered the woman.
"They are conical and pink with virtually no aureoles… Note how they press against the nightdress." Saliva ran between One's lips as he spoke.
"Yes of course. I'll pierce them as soon as I get home, at the bases and the tips. I always wanted to have a pair of nipples like that…"
"You will if I let you buy her," smiled One.
Claudia moved in her cage… and it wobbled at the end of its chain.
"She seems a little skittish," joked One.
"On my farm," Two was speaking again, drunk. "I have two slaves that were celebrities when they were free. Independent, superior sluts, that liked to kick men in the balls with their independence and provocation…"
"Yes, just like our little friend," joked One.
"Don't interrupt me, fuck it!" shouted Two looking at One challengingly. One shut up.
"As I was saying," he went on after another swallow, "on the farm I keep them nude at all times, they just wear high heeled ankle boots and have fat dildos in their cunts and their asses."
Claudia couldn't believe her ears…
"I take them out for five minutes a day so they can do their business in front of me." Another swallow, the diners listened with their mouths open. "Then I have their filth collected and mixed with their dog food…" MM grimaced in disgust.
"Their mouths," went on Two, "are also sealed, with rubber penises that reach deep into their throats. Believe me it's fun sticking them in… They aren't even removed for feeding them."
"How is that done?" asked the woman with interest.
"Well how do you think? Like with geese… You city people have no idea."
"Excuse me but I don't understand," insisted the woman.
"The gags have a hole through the middle of them, I screw a syringe that is used for force-feeding geese to it and inject the dog food straight into their stomachs…"
"Brilliant!" Shouted the woman enthusiastically.
Claudia wanted to die. Her only hope, before he had spoken, was to end up with Two.
"Please, don't stop…" Mrs. Cara encouraged him, eager for more details.
Two was proud of the interest he had provoked so he went on. "I twist their wrists behind their backs and fix them to the tops of the collars they have around their necks. No… it's not what you think," he interrupted himself with a cruel smile. "I also unite their elbows at the small of their backs. I promise you that makes their tits stick out sublimely."
"And you never untie them?" Now One was interested. His "games" seemed like child's play compared to Two's extreme sadism…
CLICK HERE FOR THE SECOND PART: SLAVE MARKET