THE AUTHOR
For many years Allan Aldiss has been one the most popular and prolific writers of erotic fiction, specialising in stories of respectable Western women, in both past and present times, being degradingly incarcerated in harems under the supervision of strict black eunuchs.
We are lucky to be now able to start offering his stories to our clients especially as they are now being illustrated by Cagri, our own equally erotic artist. Aldiss and Cagri have come together to make a uniquely arousing combination.
Fully illustrated with sixteen stunning drawings by Cagri this is one story you simply can't afford to miss!
THE BOOK
Here is another of Allan Aldiss's best-selling stories of the shocking disciplining and control of Emma, a vivacious young married woman. But this story is also a story of forced breeding and domination of white women by black overseers.
Once again we meet the ruthless Ursula, her sinister friend Doctor Anna and the sadistic Haitian overseer, Sabhu, widely recognised as one of the most terrifying characters in the literature of the domination of young women.
In this story Emma herself tells how Ursula lures her to an isolated Castle in Eastern Europe. Here she joins other unsuspecting girls being prepared both physically and mentally for an unknown fate, but one that is evidently going to earn Ursula a lot of money.
She finds herself a helpless slavegirl in what seems to be an old fashioned Slave Market for wealthy Arabs, under the strict control of black overseers.
She tells the breathtaking story of the control that Ursula exercises over her, despite being married; of her own humiliating breaking-in in the castle and that of her American friend; of their constant fear of corporal punishment from Sabhu and his young black assistants; of their infibulation by the sinister Doctor Anna and other degrading preparations — but for what, they wonder?
But then come even more sinister happenings: intimate inspections by a cruel elderly Arab buyer. She feels terrified of the continual uncertainty hanging over her and why she has been brought here.
Indeed Emma has been earmarked for a strange fate.
Crack! Went Joseph's carriage whip, just behind my bottom. 'Up! Up!' he shouted and cracked his whip again. Exhausted, sweating and out of breath, but terrified of the long whip, I drove myself to raise my knees higher and higher. I longed to tell the horrible little boy where he got off, but Carole had warned me that one word of insolence, or even so speaking to the boy without permission, would get me ten strokes of Sabhu's cane. Already poor little Maja had been given ten strokes of the cane for slacking and protesting that she was exhausted. . 'Halt' the boy at last called out. 'Down on your backs.' Then came exercises that curiously seemed like pre-natal ones, aimed at strengthening our tummy muscles. I wondered why, but I did not dare to ask...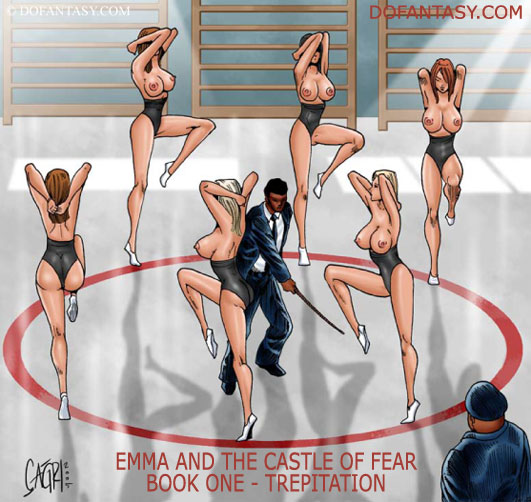 A new Allan Aldiss illustrated story that you can't afford to miss!